Electric Towel Warmers Heater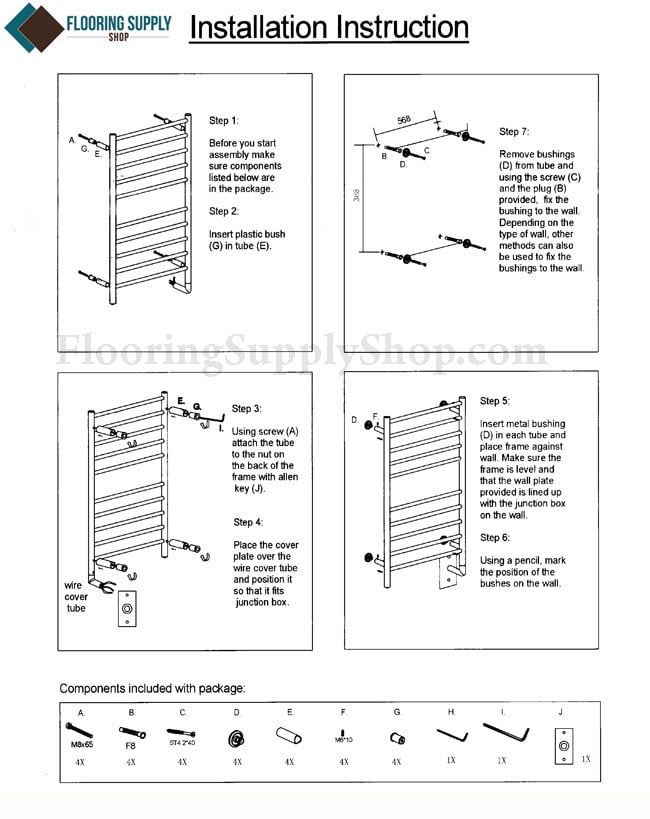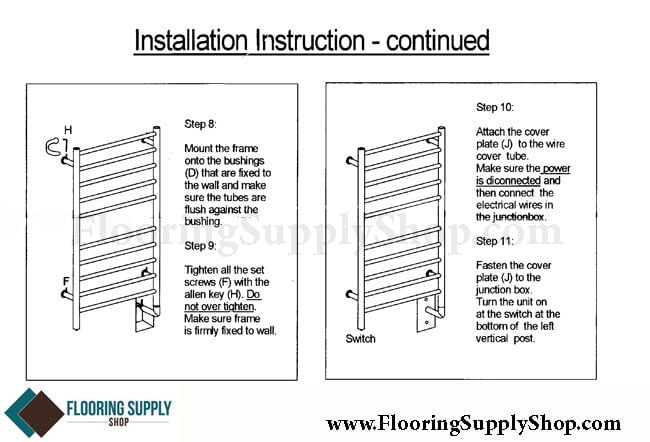 Types of safety measures
Warning: States a hazard which may pose serious injury or death if exact installation instructions are not followed.
Caution: States a hazard which may pose minor injury and/or product damage if installation instructions are not followed.
 Note: Helpful information which will facilitate installation.
Warning:
These units should be installed by certified electrician
 Follow these installation instructions carefully to ensure unit is properly attached to the wall.
To avoid a possible fire hazard, it is essential unit is mounted in accordance with guidelines states in these instruction.
Unit is intended for indoor use only.
Do not place unite inside shower, sauna, steam room, or wherever unit be exposed to water.
Do not place unit where, if the mounting hardware were to loosen, it could potentially fall into water (i.e., a bathtub. whirlpool, etc)
Cautions:
Ensure that unit is securely fixed to the wall. Unit is designed for drying towels. Under no circumstances should anybody climb on or hang on unit.
The fasteners provided with the installation kit are for convenience only and are not suitable for all installation conditions – it is the ultimate responsibility of the installer to ensure proper mounting hardware is employed in attaching the unit to the wall.
Surface of unit is hot when on.
Care and instruction:
Towels which contain soap or detergent residue may appear to have scorch marks; however, this is simply discoloration of the residue in the towels themselves. The unit does not reach a temperature sufficient to scorch towels.
The heated towel rails are constructed form 304 stainless steel. They are extremely durable. To maintain good appearance follow these simple care instructions:
2.1. For routine cleaning. Simply switch off the unit, allow cooling to room temperature, wiping with a damp cloth and buffing with a soft dry cloth.
2.2 Light scratches and blemishes may be removed by polishing the unit. Unit should be switched off and allowed to cool, before polishing with commercially available metal polish
Contact us:
If you have any questions or comment please contact us at:
Email contact@flooringsupplyshop.com Tel: 323 731 8453
Website: www.FlooringSupplyShop.com
Warranty: Two year limited warranty, with proof of purchase, will apply if all Terms and Conditions of sale are met and Installation instructions are adhered to. Warranties are for unit only not for labor
Benefit and used of Radiant Towel Warmer
The post Towel Warmers Installation and care instructions first appeared on Flooring Supply Shop Blog.