Eco Friendly Stone Polishing
Eco Friendly Stone Polishing
Environmentally friendly Diamond Stone Polishing Pads
In stock Ship Same Day
We offer eco-friendly alternatives to the products we use daily and help save our planet
Chemical free Diamond pads are an Eco-Friendly way to achieve a polish on Travertine, Marble, or Limestone Floors, countertops or walls. Pads will not remove but will work with little to moderate lippage. Easy to use, washable and reusable.
Avoid contaminating the Polishing Pads by using them only on a clean surface.
Pad contamination is a major problem. This is how most people ruin the pads; they don't wear them out.
Thoroughly clean and rinse the surface to be polished before using the pads.
Store the pads in the box making sure that the pads are NEVER diamond face to diamond face.
Stack them with the colored side up.
It is better to under use the pads than to overuse them.
Overusing the 200 grit brown Monkey Pad, the 400 grit black Monkey Pad, or 800 grit red Monkey Pad may result in a textured appearance or the "orange peel" effect. That can only be removed by honing the floor with a resin bond diamond pad.
You only need enough water to keep the surface wet; you don't need puddles.
Edge work can be done by using the 5" or 8" pads with a hand tool.
Do your share save our planet!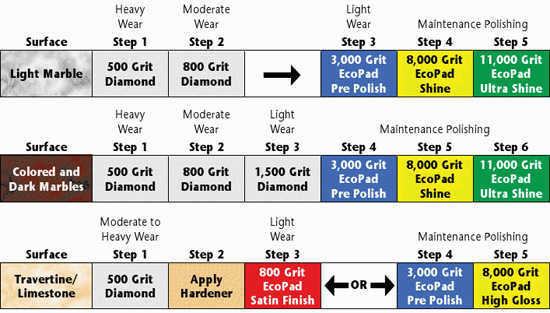 Eco friendly Instruction for polishing Granite and Marble - Video
Eco friendly Instruction for polishing Granite and Marble- Read