Flooring is an integral part of the house, which can significantly affect its appearance. Hence, it is vital to select the right flooring option for your home, which can make it look more attractive and appealing. Among the various flooring options available, more and more people are opting for slate, for residential as well as commercial buildings. Owing to its versatility and aesthetic appeal, it is increasingly being used in interiors as well as exteriors. Not only is it a feasible flooring option, but is also a great option for the walls, ceilings and roofs.
Slate adds elegance and sophistication to an interior, which other flooring options cannot. This sturdy natural-stone flooring option is formed when minute particles of silt and clay bind under high pressure and temperature. Owing to this process, slate gets its monolithic and ultra-fine texture. It is generally gray in color, but can also have shades of blue or green on it. However, it is also available in other colors like purple, brown and white pink, among others. You can make use of slate's different shades of color for creating unique designs for your flooring. Along with its diversity in colors, slate tiles are also found in varied shapes, thicknesses and finishes. You can combine these variable attributes to your advantage and come up with different flooring ideas for house.
In comparison to various other flooring options, slate is a more durable and long lasting material. Once installed, it can last for many years and you may not have to replace it with any other flooring; thus, proving cost advantage. Additionally, it also has low maintenance requirements, unlike some other flooring options such as hardwood flooring. Slate is also resistant to dirt, and requires regular mopping with mild detergent cleaning.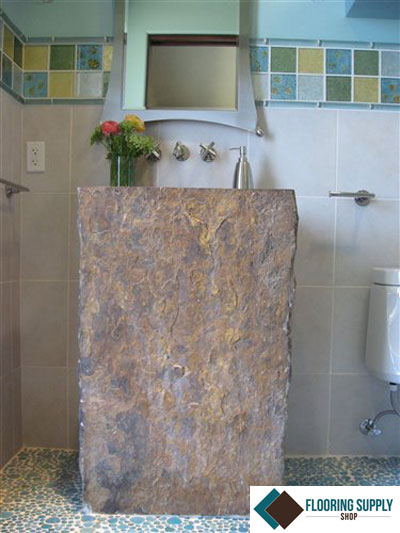 The fine molecular structure of slate renders several advantages over other flooring options. Along with being tough, it is also resistant to moisture, which guarantees firm footing and avoids slipping or gliding. Owing to this, slate is a great flooring option for high traffic areas, or areas that are exposed to water, like hallways, porches, kitchen and bathrooms. In addition, this anti-stain flooring option is also bacteria and allergen resistant, thereby reducing the risk of diseases. To top it all, slate is quite affordable as compared to most of the other available flooring options, like marble and granite.
Due to the various advantages offered by it, slate proves to be a great flooring option that can enhance the appearance of any décor. However, an important thing which one should always keep in consideration is that the installation must be done in the right manner. If the installation is not done properly, flooring may be susceptible to breakage.
Since slate is a heavy natural stone, it needs to be installed correctly on a strong, solid subfloor instead of a flexible subfloor. Once properly installed, it will last for several years, without much maintenance requirements. Hence, if you are planning to install new flooring, you should opt for slate, which has become a preferred flooring choice of many people.
To seal use Slate Sealer by Glaze n Seal that offers unsurpassed low gloss protection for slate, quarry, tile, and other dense tile. This easy to apply, fast drying, non-yellowing acrylic provides a barrier against oil, water, based stains, acids, and efflorescence indoors and outdoors. With excellent UV and abrasion resistance.
Copyright © 2010 FlooringSupplyShop.com
The post Slate A Great Flooring Option first appeared on Flooring Supply Shop Blog.
ceramic tiles
granite
hard surface
marble
Slate
Slate sealer
stone
travertine