Tiles are one of the most widely used home décor materials. Tiles are renowned for their high durability, and the aesthetic appeal provided by them to a room. It is due to these reasons that tiles are ideal for different areas of the house, such as the kitchen and the bathroom. Tiles can ideally be used as tabletops, flooring or a simple wall design. Although tiles can be used on different area, they are generally used to enhance the décor and the effectiveness of the bathroom.
You can easily find tiles made up of different materials; however, ceramic and porcelain are ideal for bathrooms. This is so, since ceramic and porcelain generally do not absorb water, thereby minimizing the chances of dirt settlement and mold. Furthermore, these tiles are easy to maintain and do not require regular cleaning.
Apart from the durability and maintenance aspect, the other major reason for the popularity of tiles is the wide range of colors and designs available. While selecting tiles for your bathroom you should decide on the size of the tiles, as well as the décor that you want. However, if you want a solid colored bathroom then size would not play such a major role.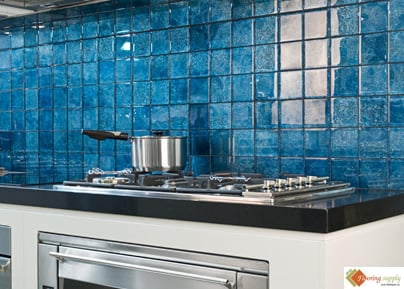 In case you plan to tile a small bathroom area then it is important to select light colored tiles. Light colors will reflect the available light in the bathroom, thereby making it look larger than it actually is. Furthermore, light colors will also give your bathroom an airy look, thereby making it a lot more comfortable. Along with the colors you should keep in mind that the designs on the tiles should not be too large. Tiles with extensive designs generally do not suit small bathroom areas.
In case you are looking for appealing shades in your bathroom then a mosaic tile design would be an ideal option. For example, you can use a mix of blue and white tiles, with blue tiles forming the lower portion of the walls and the white ones covering the rest. There are various complex mosaic designs available in the market for you to select from, as per your preference.
As far as the floor of the bathroom is considered you can either use the same designs as that on the walls, or you can opt for a completely new pattern. Generally, different designs on the wall and the floor help in balancing the colors of fixtures, in case they are different in color. If you are planning to install radiant heating system beneath the flooring you can go in for warm colored tiles. This will create a comfortable environment inside the bathroom, especially during the winters.
Tiles can be selected on the basis of their color, size, designs as well as material that they are made up of. In order to custom design your bathroom you can either use your imagination, or can take the help of a professional decorator. Whichever option you opt for, you can be sure that tiles are going to last for a long duration and will enhance the visuals of your bathroom.
Copyright © 2010 FlooringSupplyShop.com
The post Creating custom bathroom designs using standard tiles first appeared on Flooring Supply Shop Blog.
Bathroom Tile
ceramic bathroom tiles
Ceramic tile
Counter top tile
Flooring Tile
glass tile
granite
install tile
Los Angeles Tile
marble