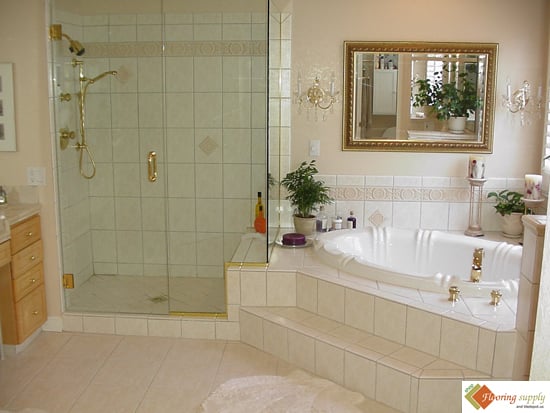 Although you have the option of using a number of different types of materials in your bathroom; most people prefer to use ceramic tiles due to the various benefits these offer. Tiles can be conveniently placed and come in a variety of designs, colors shapes and sizes. Most people prefer ceramic tiles since they are highly durable, resistant to dampness and easy to clean. However, there are a number of other tiling options that you can avail in order to make your bathroom more attractive and aesthetically appealing.
In case you have used ceramic tiles of the same color in your bathroom you can create a contrasting border by using tiles of different colors. Such an integration of colors will significantly enhance the aesthetic appeal of your bathroom.
The grout is an important aspect of your bathroom, and selecting a contrasting grout color can enable you to create an attractive color combination in your bathroom. For example, if you have white tiles in your bathroom, you can select grout colors such as red, blue or green.
You can mix and match the size of tiles that you use in your bathroom. It is not necessary to use the traditional sized tiles; you can easily pick from a number of different options that are available in the market these days. Use your creativity in order to achieve a look that is as per your requirements.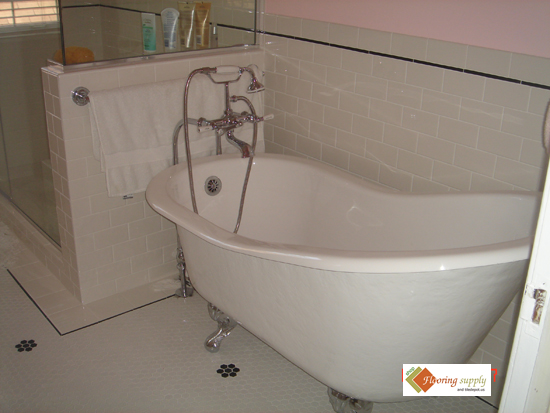 Another great tiling idea for your bathroom is to use metal tiles instead of ceramic. Metal tiles, although a bit costly, are in vogue when it comes to designing the bathrooms, and are being used widely. Metal tiles are generally used to integrate mosaic with stone tiles.
The color combination of the tiles is not meant only to enhance the looks of the bathroom but also to give a soothing sensation. Therefore, you should carefully select the colors of the tiles for the floor or the walls of your bathroom in order to have a comforting experience while taking a shower or lying in the tub.
The colors selected can also make your bathroom look large or small. Dark colored tiles generally reduce the perceived size of your bathroom, while on the other hand light colored tiles reflect light and make your bathroom area look more spacious.
Another idea to improve the aesthetics of your bathroom is to use multi-colored tiles in the shower area and in other parts of the bathroom. Or in case you want to use the same colored tiles in the entire bathroom you can arrange them differently in the shower area and the rest of the bathroom.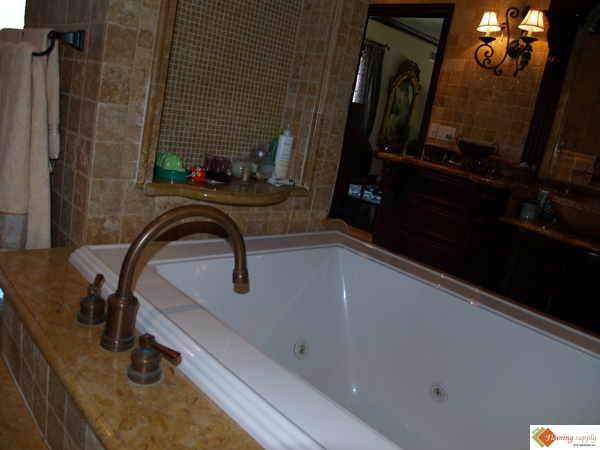 These are just a few of the many innovative ideas that you can make use of, while tiling your bathroom. In order to make the right choice of tiles to select for your bathroom you should visit the website of reputed tile suppliers such as FlooringSupplyShop; here you will be able to shortlist and select tiles of colors and designs that best suit your specific taste.
Copyright © 2010 FlooringSupplyShop.com
Check out our Installation Schemes Pattern and Tile Calculator
The post Tiling ideas for your bathroom first appeared on Flooring Supply Shop Blog.
Bathroom Tile
ceramic bathroom tiles
Ceramic tile
Counter top tile
Flooring Tile. stone
glass tile
granite
install tile
marble
Metal Tile