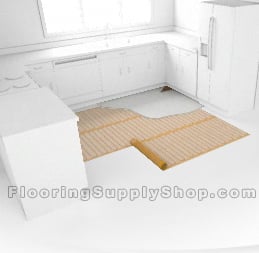 People around the globe have realized that by installing a radiant floor heating system they can reduce the discomforts caused due to cold floors in winters. However, apart from this obvious utility offered by a radiant floor heating system, it extends various other benefits to the users as well.
One such benefit offered by a radiant floor heating system is that it can be installed without hampering the visual aesthetics of a room. Due to the compact dimensions of these systems, they can be easily placed below the flooring and would not significantly raise the floor level. Further, these radiant floor heating systems are quite flexible and can be used along with any type of flooring; be it tiles, hardwood or carpet. The compact dimensions and flexibility offered by these radiant floor heating systems ensure that they can be used without worrying about their aesthetic impact on the house.
Not only do radiant floor heating systems warm the floor; they also help in maintaining a comfortable temperature inside the house. The problem with traditional heating systems is that the heat released by them gradually rises to the ceiling, thereby leaving the floors cold. Radiant floor heating systems will not only eliminate this temperature difference inside a room, but will also enable you to turn down your main thermostat by a few degrees. This reduction in the main thermostat will ensure that you achieve a significant saving in your power bills in the long run.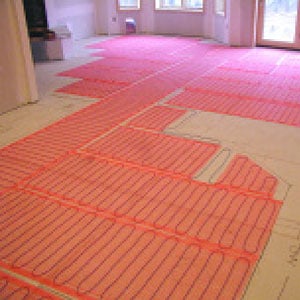 Most homes that use a forced air heating system have to install a humidifier as well to counter the effects of dry air. However, since a radiant floor heating system uses radiant heat, there is no effect on the moisture levels in the house, which further results in reduced electrical usage costs.
A number of reputed radiant floor heating products, like those manufactured by SunTouch, are available in the form of heating mats that can be cut into different shapes and sizes. This adaptability ensures that you can use these radiant floor heating systems as per your requirements. These radiant floor heating mats can be cut to create a warm patch below the shower or alongside your furniture. You can customize these systems as per yours specific requirements and create a warm and comfortable environment inside your house.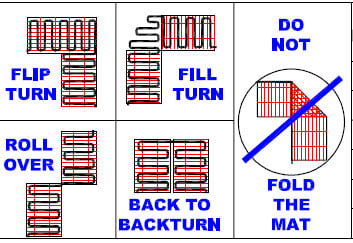 One of the prime benefits offered by a radiant floor heating system is its maintenance free working. Since these systems do not have moving components or complex circuits, they work effectively with minimal maintenance requirements for a long period of time. All that you need to do is install these radiant floor heating systems once and enjoy their benefits without unnecessarily spending time or money in repairs and maintenance.
It is due to such utility and convenience offered by radiant floor heating systems that they are widely replacing the traditional methods of heating in most homes. However, in order to enjoy these benefits you need to select a radiant floor heating system that is of the highest quality. So make the right purchase decision and enjoy the numerous benefits that are being offered by radiant floor heating systems.
Copyright © 2010 FlooringSupplyShop.com
The post Additional benefits of a radiant floor heating system first appeared on Flooring Supply Shop Blog.
DIY
electric floor heating
Radiant Floor heating
radiant heat flooring
SunTouch electric floor heating
SunTouch radiant heat flooring