Pre Pitch How To Install
Pre-Pitch
GOOF PROOF SHOWER FLOORS
Proudly Made in the USA
Pre-Pitch is the first product to be installed.
Pre-Pitch is a unique tool that creates the proper sub floor pitch needed underneath the pan liner to manipulate the water flow towards the weep holes that are an integral part of shower floor drains.
1. Begin Installing Pre-Pitch by first determining if the sub floor is level. If sub-floor is not level, a leveling compound should be used.

2. Layout how many sticks will be needed to accommodate the floor's particular shape.
3. Reverse mark each stick that needs to be cut to length. (If the wall is farther than 3 feet from drain, Extended Pre-Pitch sticks are available.)
4. Cut with PVC pipe cutters, hacksaw or dry diamond blade grinder. (Stick ends should be spaced less than 2 1/2 feet apart to make screeding easier.)
5. The thin end of Pre-Pitch should remain about 1/2 inch back from the edge of the drain's bottom flange.
This eliminates a step down after the drain's top flange is attached.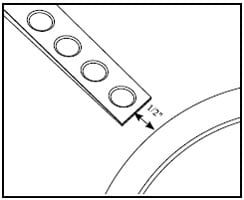 6. On Concrete, use 2-sided tape to hold Pre-Pitch in place while the area is being filled with mud.
On wood sub floor installations use screws or nails to secure Pre-Pitch to the floor. (Be sure the screws or nails are counter sunk so they do not puncture the liner.)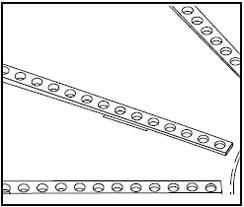 • Pre-Pitch is a unique, stay in place screeding tool designed for use underneath shower pan liners.

• Pre-Pitch is a unique tool that creates the proper sub floor slope needed underneath the pan liner to manipulate the water towards the weep holes that are integral part of shower floor drains.

• By having a pitch under the pan liner, water that passes through the mud bed is now directed to the weep holes instead of being trapped between the mud bed and the liner.

• This 'ponding' or collection of water is where many mold and mildew related issues originate.

• Easily cut with hacksaw, PVC cutters or grinder.

• Use on wood sub-flooring or concrete floors.

• Economical, lightweight non-rotting plastic.
A Shower Installed by Tiledepot using Pre Pitch, Quick Pitch, Kirb Perfect, and StringA Level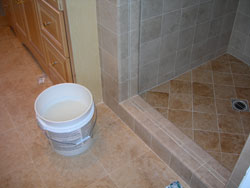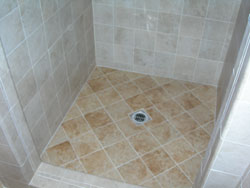 Frequently Asked Questions
What type of cement do I use?
We recommend 4 parts clean damp sand / 1 part Portland cement. Many tile distributors and home center stores offer it pre-blended and bagged
Why do I need to use Pre-Pitch?
Pre-Pitch produces a properly pitched sub-floor UNDERNEATH the pan liner to direct water towards the drains weep holes. This eliminates the ponding of water between the liner and the mud bed inside the liner, this will help eliminate mold and bacteria growth.
Your video shows wire lath and tar paper under Pre-Pitch, is this required?
Yes, only on wood sub floors. The wire reinforces the mud bed and the felt paper keeps the moisture from being absorbed into the wood sub floor.
How much of a pitch does it create?
Both Pre-Pitch and Quick Pitch create the code minimum requirement inch fall per foot.
What does reverse mark mean?
It's a way of measuring a cut without a ruler.
Do I use a weep hole protector with Pre-Pitch?
No. It's installed on top of the waterproofing, not under it.
Is Pre-Pitch attached to the sub floor?
Yes. The proper screws for wood and 2 sided tape for concrete are included in every Pre-Pitch kit.
How large of a shower will Pre-Pitch accommodate?
Just like Quick Pitch, Pre-Pitch will extend 6 feet out from the drain. They will both accommodate a 12 foot by 12 foot area with a centered floor drain.
Should I level the sub floor before I use Pre-Pitch?
Only when necessary. When the sub floor is not reasonably flat and level. In this case, a self-leveling compound or other means of leveling should be considered
Do I have to use your drain and liner?
Quick Pitch will work with all liners, liquid waterproofing and all standard adjustable shower drains.
What you recommend using, the liner waterproofing or liquid waterproofing?
We at tiledepot, with 20 years experience of installing and selling both products highly recommend using liquid Waterproofing Membrane on any of the liner out their such as Schluter Kerdi liner. The liquid waterproofing will eliminate the worried of seams, inside and or outside corners, apply an extra coat of thinset under the Schluter Kerdi liner. While the liquid waterproofing is easy to use roll or brush it and you done.
We at flooringsupplyshop.com thank you for your purchase of Pre-Pitch and are confident you will be pleased with its performance.
More links about Quick Pitch System
Watch the Video - Pre Pitch English
Watch the Video - Pre Pitch Espanol
How to Install Pre Pitch System - Quick Pitch with Composeal Vinyl - Quick Pitch Specifications - How to Install Kirb Perfect - StringA Level - How to Install Handi-kirb - Quick Pitch System Estimator