Quick Pitch Shower Slope System
GOOF PROOF SHOWER FLOORS
How to Install Quick Pitch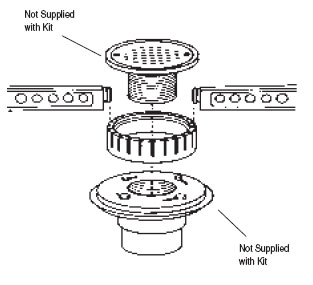 3 AVAILABLE KITS
Part No. QPK101 – Standard Installation Kit
Contents :
a) 1 – Center Ring
b) 6 – Float Sticks (1" to 1 3/4" x 36")
c) 1 – Installation Instruction Sheet
Part No. EFS103 – Extended Float Stick Kit
Contents :
a) 8 – Extended Float Sticks (1 3/4" to 2 1/2" x 36")
b) 1 – Installation Instruction Sheet
Part No. XFS101.2 – Extra Float Stick Kit
Contents :
a) 9 – Extra Float Sticks (1" to 1 3/4" x 36")
b) 1 – Installation Instruction Sheet
Preparation Overview
Quick Pitch, properly installed, will ensure a minimum drainage slope of 1/4" fall in elevation per 12" run.
The Quick Pitch center ring and float sticks are designed to stay in the floor providing reinforcement to the mud bed.
Quick Pitch also allows the drain riser to be adjusted up and down to compensate for the different thicknesses of tiles and to allow for removal at any time to clear any blockage.
Our Quick Pitch Standard Installation Kit® is designed for an approximate 36" x 60" area with the drain positioned in the center.
Our Quick Pitch Extended Float Stick Kit® is designed for those elongated or irregularly shaped installations where the distance from the drain to walls and corners exceed 36".
Before you start your installation, be sure that the drain flange, pan or liner and sub-flooring meet with all building and plumbing codes.
Using our easy to follow Five Easy Steps, one will quickly and easily achieve their desired results.
The tools and materials required for a successful Quick Pitch installation are as follows :
Shovel (used to mix mud and deposit on floor).
Trowel (used to pack down mud).
Screed Stick (used to spread and even-out mud — 1" x 2" x 35" wood board should be fine).
Mixing container (5 gal. pail or wheelbarrow to mix mud and transport to shower pan)
Sponge (approx. 2" x 4" x 6" utility sponge to sprinkle water over mixed mud in final step).
Water container (2 gal. or 5 gal. pail will work well).
Hacksaw (Float sticks cut easily, if needed).
Mud (a mixture of cement and sand. Premixes are readily available in most home centers and tile supply stores).
Five Easy Steps for Installation: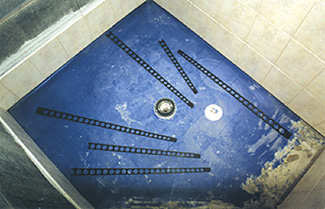 1) Unscrew threaded drain riser and position center ring on top of flange adapter bolts with the float stick socket openings pointing UP. Be sure the drain is level.
Note: The center ring is designed to sit on top of the flange adapter bolts. This clearance adds 1/2″ in height to conform to the 1 1/2″ minimum mortar bed requirement, allows for the Pre Pitch, and provides optimum efficiency for moisture to pass through to weep holes.
Weep hole protectors are recommended.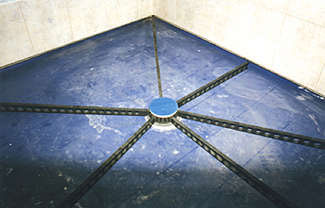 2) Preposition float sticks. Insert the male tab on narrow end of float stick into the selected female socket of the center ring so that the tops of float stick and center ring are flush. It is desirable for the float stick end furthest from the center ring to be approximately 2 – 2 1/2 ft. from adjacent float stick end.
Add extra or extended float sticks as needed. Cut sticks to desired length.
Reinstall drain riser into drain flange adapter to hold the center ring and float sticks in place.
Cover drain holes in cover plate with masking tape to keep drain clean during balance of installation. (Note: If a level line, where wall and shower floor meet, or a greater pitch is desired, sticks may be shimmed.
Pack mud under sticks to shim to desired height. It is not desirable or necessary for sticks to fit tightly into corners or against a wall.
Do not fit sticks so tight as to puncture or put pressure on pan.)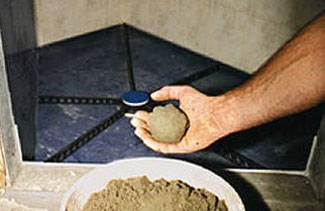 3) Mix the dry ingredients of your mud (1 part Portland cement and 4 parts sand) with your shovel or trowel. Add enough water to the dry admix (or premix) to bring this floor floating material to the consistency of a compact snowball.
This consistency will allow the material to be easily distributed, troweled, and tamped.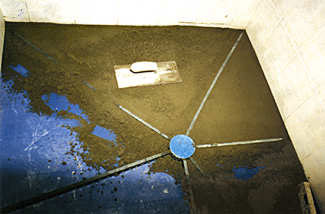 4) Starting with the area farthest from your exit, spread your moistened admix one section at a time.
Slightly over-fill the section and spread the mud with your trowel or screed stick by dragging it along the top surface of the float sticks.
Tamp or lightly compact the mud with your trowel.
5) After tamping and compacting, use your sponge to sprinkle water (approximately 1/2 gal.) over entire surface
LET DRY OVERNIGHT
Use latex-modified dry set mortar for your tile installation
Frequently Asked Questions
What type of cement do I use?
We recommend 4 parts clean damp sand / 1 part Portland cement. Many tile distributors and home stores offer it pre-blended and bagged
Explain why you manufacture 3 different Quick Pitch kits?
Standard Quick Pitch Kit (QPK-101) includes 6 sticks and the center ring that holds the sticks around the drain riser. This kit is for an area in which the walls on curb do not exceed 36 inches from the drain.
Extra Float Stick Kit (XFS-101.2) includes 9 standard sticks and is generally needed for curved custom showers or showers with more than 4 walls. Also for use where drains are 36 inches or less from the walls.
Extended Float Stick Kit (EFS-103) include 8 sticks that attach to the ends of the Standard Sticks extending the sticks up to 72 inches. Keep in mind that if Extended Float Sticks are needed you will most likely need Extra Float Sticks because the float sticks need to be 2-2 ½ ft. from each other at the furthest ends from the drain for easier screeding so more float sticks will be need.
Does Quick Pitch produce a level perimeter?
If a level line is desired shim sticks with mud under the stick end to raise them up to a level line, then screed to the top of the sticks as normal.( Keep in mind that a shower where the drain is 4-6 inches from the wall as in the video, is an installation you would not want a level line as this would create a volcano effect at the drain. In this instance let Quick Pitch does the job as designed it will create the perfect slope as in the video.)
Will Quick Pitch work for off center drains?
Yes. Our installation video demonstrates an installation with the drain at one end as in a tub being removed to create a shower.
Won't Pre-Pitch and Quick Pitch together double the pitch to ½ inch?
No. The Quick Pitch Center Ring rests on top of the flange bolts of the drain which raises the system up to allow for the Pre-Pitch and eliminating the doubling of the pitch.
Do I have to use your drain and liner?
Quick Pitch will work with all liners, liquid waterproofing and all standard adjustable shower drains.
What you recommend using, the liner waterproofing or liquid waterproofing?
We at FlooringSupplyShop, with 20 years experience of installing and selling both products highly recommend using liquid Waterproofing Membrane on any of the liners out there such as Schluter Kerdi liner. The liquid waterproofing will eliminate the worry of seams.  On inside and/or outside corners, apply an extra coat of thinset under the Schluter Kerdi liner. The liquid waterproofing is so easy to use you simply roll or brush it on and you're done.
Will Quick Pitch work without using Pre-Pitch?
Quick Pitch creates the mud bed inside the liner and it is not recommended. It is improper and against code to build a shower without some type of pre sloping of the sub floor.
What should I use to set the tile to the mortar bed?
A latex modified thin set is recommended.
Is cracking ever an issue where the float sticks are in the mud bed?
No, the float sticks are designed to allow the cement mix to surround them and become reinforcing as wire.
We at flooringsupplyshop.com thank you for your purchase of Quick Pitch® and are confident you will be pleased with its performance.
More links about Quick Pitch System
Watch the Video – Pre Pitch English
Watch the Video – Pre Pitch Espanol
How to Install Pre Pitch System – Quick Pitch with Composeal Vinyl – Quick Pitch Specifications – How to Install Kirb Perfect – StringA Level – How to Install Handi-kirb – Quick Pitch System Estimator – Ebbe Square Drain with Quick Pitch – Quick Pitch with Roll-on or Vinyl
The post Quick Pitch pre made slope first appeared on Flooring Supply Shop Blog.