Suntouch Vs Warmlyyours
SunTouch Floor Heating vs. WarmlyYours Floor Heating
SunTouch and WarmlyYours (TempZone) are both using a heating wire secured to a supporting material, still, there are major differences between these two electric floor heating systems.
In this section you will see why SunTouch is your best choice for your floor heating.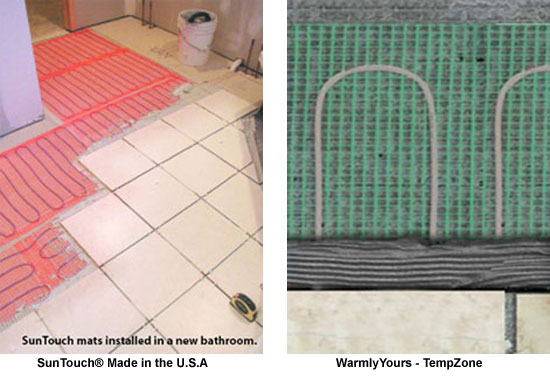 Heating Wires
Heating Wires (The Heart of the System)
SunTouch uses twin, multi-stranded, oxygen-free copper heating elements for redundancy, longevity and to reduce Electro-magnetic Field (EMF) for safety.
Click here to see all abut the Electromagnetic fields (EMF) and how SunTouch is your best choice of safety.

Products using a single heating element, can produce from 150 to 350 times more EMF than SunTouch.
SunTouch uses Aramid to reinforce and add longitudinal strength to their heating wires, in case the wire is pulled during or after installation. Our dual-wire technology also allows us to start the mat at the thermostat and end at any other location in the room
A single-wire product such as WarmlyYours - TempZone MUST begin & end at the same location to complete the electrical circuit, making the installation more complicated.
Our PEX jacket material has been successfully used in radiant floor heating applications for over 30 years. We also use a fully shielded grounding jacket around our heating elements and it extends up our power lead to the grounding wire in the junction box for the thermostat. This gives SunTouch the highest degree of safety as well as using our power lead without a conduit in remodeling situations, as it is equal to romex wiring.
Heat Output
SunTouch has a heat output of 12 Watts/sq. ft. This allow us to cover up to 150 sq. ft. from one 120 Volt thermostat.
WarmlyYours - TempZonehas 15 Watts/sq. ft. products and the can only cover up to 120 sq. ft. before needing a second thermostat.
SunTouch at 12 Watts/sq. ft. produces over 40 Btu/Hr/sq. ft. With over 25 years of radiant floor heating experience, we know most room heat losses are around 30 Btu/Hr/sq. ft., and floor warming requires even less heat, so 12 Watts/sq. ft. is more than sufficient in a reasonably well insulated home.
Open Weave Design
The heating elements in a SunTouch mat are woven to the underside of the mat, which we feel is more secure than just attaching with a thread.
Our mat allows itself to be flipped and turned 90 and 180 degrees to fill in virtually any shape and the wire can be easily released and attached to the floor to fit angles or curves.
Our open weave mesh is 85% open, which meets the TCA & ANSI recommendations for 80% thinset contact with the substrate & the tile or stone surface above. This open mesh allows the thinset to more fully bond to the surfaces above & below the heating mat.

SunTouch received a moderate-commercial rating from testing at Tile Council of America (TCA). Moderate-commercial is approved for anything except for vehicular traffic (automobiles, fork trucks, etc.).
Wire Spacing
Wire spacing is typically determined on not exceeding the UL maximum allowable exterior wire temperature for a floor warming application which is 90 degrees C. Since SunTouch uses 12 Watts/sq. ft., we can space our elements further apart and still meet the UL temperature limit.

Wire spacing is not the main issue in laying out a floor. For example, when heating a bathroom floor, the mats should start at the vanity and then go to the wall as the vanity is the critical space to heat ones toes. The spacing away from the wall can vary from 2" to 8", depending on the specifics of the layout. Also, the SunTouch dual-wire has twice the heating elements per foot as a single-conductor wire, which results in a lower element temperature and greater longevity.
Loudmouth
Our Loudmouth was the industry leader in monitoring floor warming mats during installation. With our dual-wire design, the mat can be tested the entire time during installation. Single-wire designs can only be tested when the two ends are brought back together at the thermostat. So if a single-wire product is damaged during installation before a monitor can be attached, then the installer doesnt know where the product has been damaged. Also, our Loudmouth has a test button & green battery indicator light to let the installer know if his battery is working properly.
Warranty
The SunTouch warranty is now 25 years. WarmlyYours - TempZone is 10 years.
The Company
SunTouchis owned & operated by Watts Water Technologies, a 125+ year old company with world-wide assets and manufacturing locations. Watts is a manufacturer.
WarmlyYours is a master distributor, as they outsource their mats from India.

SunTouch manufacturers all our mats in Springfield, MO. SunTouch is a division of Watts Radiant, who has been involved in radiant floor heating for over 25 years.
Our products are proudly MADE IN THE U.S
Service
With SunTouch mat, SunTouch WarmWire or SunTouch UnderFloor, you dont need a day, two or sometime few days to get an estimate, 99% of our customer can figure out what the need, SunTouch made to be simple and easy to figure out and use.
We also here to help when you have a question or need an advice. We have the best respond timing most of the time in minutes. We have in stock any size or product for any shape or type of room. With SunTouch your order ship same day you place your order, or you can stop by our store and pick up your warming floor to start your project immediately
Try our new improved Flooring / Heating Estimator
Use the Flooring and Floor Heating Calculator below to determine the number of Tiles, Thinset, Grout and SunTouch Heating System amounts required to complete your tiling and heating project.
The Estimator Calculator also has the option of returning the cost to heat your floor with our SunTouch heating system.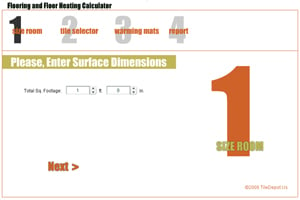 Click here for SunTouch VIDEO Library
SunTouch vs. Product A - SunTouch vs. Product B
SunTouch Floor Heating Mat Links
SunTouch Mats Specifications and installation procedure - UnderFloor Specification - Mats Installation and Spec
SunTouch Floor Heating Spool Links
WarmWire Order Instruction - WarmWire Strap - WarmWire Installation Guidelines
Heating Controls Links
Programmable SunStat Spec - Owner's Manual Programmable SunStat - Owner's Manual Non-Programmable - Non-Programmable SunStat Spec
Misc SunTouch Links
25 Years Warranty - Loudmouth Monitor - EMF - Frequently Asked Questions - Repair Heating Wire - Low price Guarantee Policy