Constructing Your Shower Using Blanke Aqua Shield Sheet Waterproofing Material and Drain
Note: Unlike Vinyl, Chloraloy and Roll-On Liners, Pre-Pitch will not be used in this application. Quick Pitch Kits (#XFS-101.2 and #EXT-103) with Quick Clips (#QC-109) will be the tools of choice.
1. Determine the size and shape of your shower including the Ebbe Drain and its location.

2. With the roughed-in 2 x 4 curb in place, measure the distances from the drain to the walls, curb and corners.

Note: Quick Pitch Extra Float Sticks #XFS-101.2 are 36″ in length. If the distances are greater, Quick Pitch Extended Float Sticks #EXT-103 kits will be required.


3. Starting in a corner, measure by 2–2 1/2 foot increments around the perimeter of the shower making sure a Float Stick will be positioned in each corner.
Note: The closer the Float Stick ends are to each other, the easier the screeding of the mud mixture will be.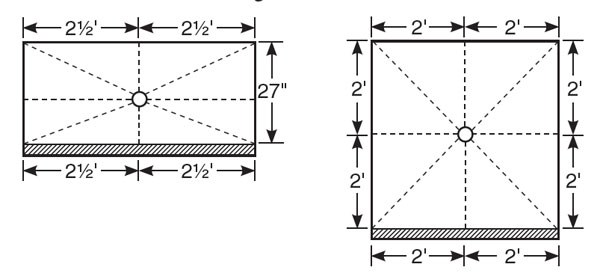 Note: Determine which type of shower drain you will be using. Quick Pitch Kits #QPK-101 come supplied with a center ring designed for standard shower drains to attach the float sticks. If a Ebbe square drain or 3" drain is to be used, the Universal Center Ring (#QPUCR-108) is available.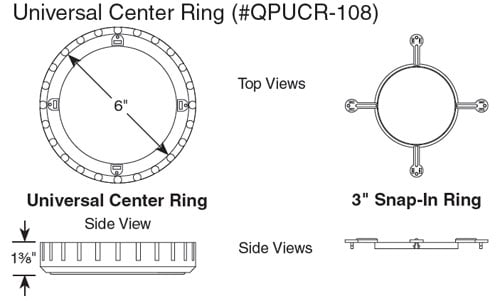 4. After determining how many Float Sticks, both Standard and Extended, are necessary, you will need 2 Quick Clips (#QC-109) for every 36″ run.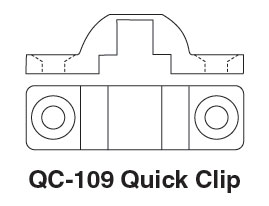 5. To determine the quantity of Kirb Perfect #543 sections needed, measure in 30″ increments. Curb sections are 30″ and have dove tail connectors to attach to one another and will accommodate any length or angles.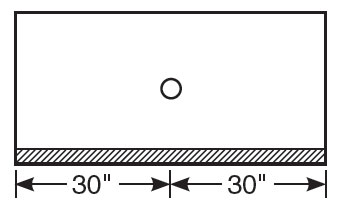 6. To figure the liner size (Blanke Aqua Shield Sheet Water Proofing), measure the shower compartment length, width and wall height so the liner will go up the walls to the height of the ceiling or to where the tile ends and over the curb. Pre-formed inside and outside corners and Blanke Aqua Shield Banding are necessary and are available for this material, so be sure to figure all corners.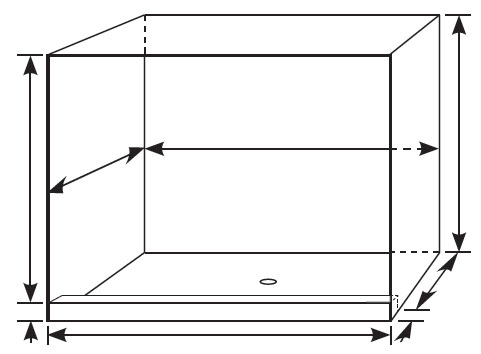 7. Once you have figured the kits and liner necessary for your Goof Proof Shower, you will need to figure the amount of bedding mud (mixture consist of 1 part Portland cement and 4 parts clean sand) necessary to fill the kits. Using the square footage of your shower floor, multiply by 9.5 lbs. per sq. ft. (i.e. 3 x 5 = 15 sq. ft. x 9.5 lbs. = 143 lbs.). This amount should accommodate all kits.
8. After all materials are gathered you will want to watch the instructional DVD a time or two to gain confidence in the steps necessary to complete you Goof Proof Shower.
More links about Quick Pitch System
Watch the Video – Pre Pitch English
Watch the Video – Pre Pitch Espanol
How to Install Pre Pitch System – Quick Pitch with Composeal Vinyl – Quick Pitch Specifications – How to Install Kirb Perfect – StringA Level – How to Install Handi-kirb – Quick Pitch System Estimator – Ebbe Square Drain with Quick Pitch – Quick Pitch with Roll-on or Vinyl
More links about Blanke Corporation
Quick Pitch with Blanke Aqua Shield –  All about Blanke Permat – Blanke SecurMat Installation – Blanke SECURMAT Overview – Blanke Permat Installation – Blanke Permat Warranty –  Blanke UNI-Mat PRO vs. Schluter Ditra
The post Quick Pitch with Blanke Aqua Shield first appeared on Flooring Supply Shop Blog.