SunTouch Radiant Floor Heating Mat120 sq
$1,820.00
Description
SunTouch Electric Radiant Floor Heat Mats 3 feet
Size: 3' x 40'= 120 sq. ft
Available Voltage: 240 Volt only
These electric radiant heated floor mats are made using thin, open-weave construction. This allows thinset or self-leveling mortar to flow through the mat, which easily bonds with the underlying material. The braided twin wire design of these mats creates ultra-low EMF when measured 1/2 inches above the wire.
SunTouch is the safest and easiest-to-install heating mat in the industry. It is Listed by UL for the U.S. and Canada, and tested by Tile Council of America for all residential and moderate commercial applications.
All mats have the "S-pattern" wire construction and produce 12 watts/sq. ft.
Just a few benefits of SunTouch mats are:
1. The industry's first thin,
open-weave construction allows thin-set or self-leveling mortar to flow through the mat and easily bond with the underlying material. This one-step application adds only 1/8" thickness over a normal tile installation.
2. The industry's first single power lead
construction makes mats easy to install and simpler to connect to the control.
3. The industry's highest-quality heating wire
using Aramid reinforcing, ETFE high-temperature insulation, XLPE (PEX) jacket, and oxygen-free copper alloys for corrosion resistance, temperature resistance, abrasion resistance, and longevity.
4. The industry's first twin-wire construction
creates ultra-low EMF.
5. 120-VAC and 240-VAC models
available for small residential to large commercial applications.
6. The industry's only shielded and fully grounded 10-ft.
power lead provides safety and job site durability. Power leads are color-coded for 120 VAC or 240 VAC.
SunTouch electric radiant heated floor mats are designed to warm stone and tile floors in bathrooms, kitchens, entries and sun rooms
Roll out SunTouch on your subfloor or suspend SunTouch UnderFloor between your floor joists. Either mat is easily installed. See our product sections for complete details on your next radiant floor heating project.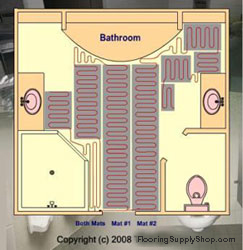 Click on the image above to see our installation demonstration
SunTouch Mats Specifications and installation procedure
Alternate pricing available - Contact us for pricing.
Toll free 877 880 8453 or Email contact@flooringsupplyshop.com