Tile Grip the Non Slip solution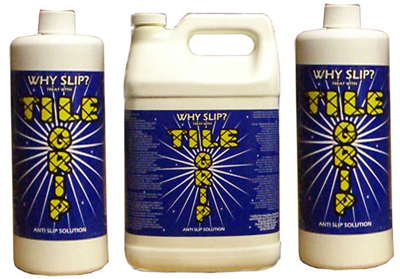 Application
Clean treated surfaces only with acid-free and non-abrasive cleaners.
A PH of 8.5 – 9.5 are best. DO NOT use bleach or ammonia.
1. Begin with a clean surface.. Sealers and/or waxes must be removed.
Always treat a small area or a sample piece of tile FIRST before treating the floor.
2. Apply Tile-Grip to a dry, clean surface. Using a brush or sponge, agitate until foaming. Let stand for five to ten minutes. Repeat.
3. Between agitations, check for gripping effect by pressing and pushing forward (with fingers). If you feel little or no resistance, repeat the agitation process.
Please note: Marble surfaces typically require less processing time.
When over-processed, marble may become hazy and may need buffing to restore. Conversely, some porcelain may require a longer processing time as curing is low on some floors and higher on others.
When resistance level is satisfactory, rinse treated area thoroughly with clean, unsoiled water.
For use with marble
When treating marble be very certain to test it on a small area before treating the entire floor.
Marble is much softer then tile or stone and TILE GRIP has tendency to cure very quick. Cure time can be from 3 to 5 minutes and it's done, If it cures too fast it can diluted with water.
Start diluted with water. Start to dilute by using 3 parts TILE GRIP to 1 part water. If you find the solution is still too strong add more water to reduce the strength until satisfied with the amount of dilution.
Very Important; Do not allow the solution to dry on the marble. Keep it wet until satisfied with the resistance and rinse immediately with clean water when finished. Do not leave the job without rinsing. Should the marble develop too strong and needs to be diluted
Material Safety Data Sheet
Per 29 CRF 1910.1200
Product identity (as labeled): TILE GRIP anti slip solution
Contact Phone Number: (323) 731 8453
Hazardous Ingredients/Identity Information
| | | | | | |
| --- | --- | --- | --- | --- | --- |
| CAS# | Ingredient | 0/0 | OSHA PEL | ACGIH TLV | Other |
| 79-14-1 | Hydroxyacetic acid | >11 o/o | N/A | N/A | N/A |
| 127087-87-0 | Surfactant | >6 o/o | | | |
| 7732-18-5 | Inert | >83 o/o | | | |
PHYSICAL/CHEMICAL CHARACTERISTICS
| | | |
| --- | --- | --- |
| Boiling point: ………………..112C | SPECIFIC GRAVITY (H20 =1) | 1.04 |
| VAPOR PRESSURE @20C | vapor is water …………Melting point | N/A |
| VAPOR DENSITY (air=1) | vapor is water …………Evaporate rate: | less than 1 |
| SOLUBILITY IN WATER | complete ………..pH | 3 +/- .2 |
| APPEARANCE & ODOR | mild odor | |
FIRE & EXPLOSION HAZARD DATA
| | |
| --- | --- |
| FLASH POINT: | None |
| FLAMMABLE LIMITS | LEL – N/A UEL – N/A |
| EXTINGUISHING MEDIA: | None |
| SPECIAL FIRE FIGHTING PROCEDURE | use breathing equip in case of gases. |
| UNUSUAL FIRE & EXPLOSION HAZARDS: | Prolonged contact with metals may release potential explosive Hydrogen gas |
| | |
| --- | --- |
| STABILITY: | Stable. |
| INCOMPATIBILITY: | Strong oxidizing agents. |
| CONDITIONS TO AVOID: | Freezing. |
| HAZARDOUS DECOMPOSITION PROD: | None. |
| HAZARDOUS POLYMERIZATION: | Will not occur. |
HEALTH HAZARD DATA
EMERGENCY FIRST AID PROCEDURES:
| | |
| --- | --- |
| Ingestion: | Give large quantities of fluids and seek medical attention. |
| Skin: | Wash with soap and water. |
| Eyes: | Rinse or flush with running water at least 15 minutes. |
SPECIAL PROTECTION INFORMATION
| | |
| --- | --- |
| RESPIRATORY PROTECTION: | Use with adequate ventilation. |
| PROTECTIVE GLOVES: | Standard. |
| EYE PROTECTION: | Standard. |
| OTHER PROTECTIVE EQUIP: | Rubber boots suggested, not mandatory. |
Legislation:
The American with Disabilities Act passed by Congress provides that all Public, Municipal and Commercial Buildings must maintain floors that have a co-efficient of friction of 0.60 in order to be considered safe to walk on. This Act provides strong penalties for not keeping within the law
TILE GRIP was developed to improve the coefficient of friction on walking areas that are slippery when wet. Materials such as: ceramic tile, marble, quarry tile, terrazzo, stone, porcelain and smooth concrete can now be safer to walk on.
TILE GRIP is a liquid Bio-degradable solution that creates a microscopic tread that increases the coefficient of friction on various types of natural materials such as, Marble, Ceramic Tile, Quarry Tile, Travertine, smooth Concrete, Porcelain Tubs and Porcelain Tile. When treated as prescribed the area will meet or exceed the requirements of the American Disabilities Act.
Floors can be treated without sandpaper like coatings or concern of discoloration.
It is not to be used on metals, fiberglass, wood or any resin type products.
TILE GRIP is also recommended for porcelain bathtubs and showers. This is an effective treatment that works by creating microscopic pores on the treated surface. These pores create a vacuum effect when wet, therefore improving traction, reducing slippery conditions and preventing injury from slip and falls. It is recommended that very heavy traffic areas be treated annually.
More Facts
TILE-GRIP is easy to apply, safe to use, and environment friendly. Its effects are long-lasting but regular cleaning maintenance is required for continued resistance. Clean surfaces only with acid-free and non abrasive cleaners only.
A pH of 8.5 – 9.5 is best. (NO bleach, ammonia, vinegar or acid cleaners should be used). Wax products and sealers will clog the microscopic pores and a slippery condition can return.
Newly installed Tile or Marble should not be treated for at least 30 days from day of installation. Previously installed older floors can be treated right away and walked on when treatment is completed.
For more information, send a contact us at contact@flooringsupplyshop.com
STORAGE
Store in a cool, dry place, away from high heat or open flame.
Keep container lid
closed when not in use. Normal care should be taken to minimize leaking
containers.
Packaging
Quart container (32 oz.)
One Gallon container (128 0z.)
5 Gallon Pail
55 Gallon drum
Large Quantity and Wholesale prices are available Contact flooringsupplyshop.com for more information.
Why Slip? – treat it with Tile-Grip
KEEP OUT OF REACH OF CHILDREN.
Sealers Links
Glaze N Seal Wet Look 2000 –  Glaze N Seal Wet Look II – Miracle 511 Impregnator Sealer
– Glaze N Seal Multi Purpose Sealer – Stone Defender Aerosol Grout Sealer – Glaze n Seal Stone Color Enhancer and Seal
Cleaning and Care links
Glaze 'N Seal Heavy Duty Cleaner – Glaze N Seal Paint and Sealer Stripper – Miracle Porcelain Ceramic Cleaner
Anti Slip Links
InvisaTread Application Instructions – InvisaTread Product Description – Glaze 'N Seal Grip N Seal – Tile Grip Anti Slip
The post Tile Grip the Non Slip solution Specifications and Data first appeared on Flooring Supply Shop Blog.