InvisaTread Product Description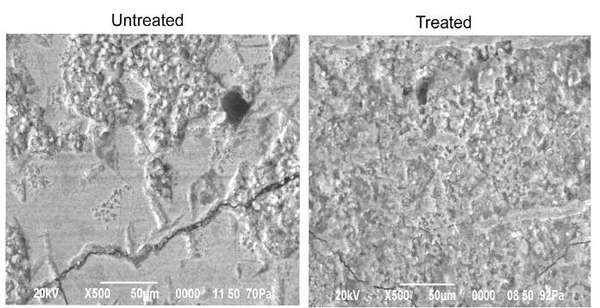 500x Magnification
Anti-Slip Solutions, LLC is a specialty chemicals company that produces InvisaTread® and Traction Wash

. InvisaTread® is a water based chemical treatment used to treat most hard mineral surfaces to increase the coefficient of friction (COF) of the surface. Increasing the COF creates added traction to help reduce the risk of slip and fall accidents at home, around the pool and at work. InvisaTread® is not a coating that will rub off, but rather a safe and effective chemical process that does not alter the color or apparent texture of the surface. Everything is on a microscopic level and invisible to the naked eye as supported by the below SEM (Scanning Electron Microscope) pictures furnished by Simpson Gumphertz and Hager. InvisaTread® is the only product of its category that can safely be sold at retail and installed by anybody. Unlike other anti-slip solutions, InvisaTread® does not require professional installation and is safe to self install.
InvisaTread® is entirely made in America. Take Action, Gain Traction!®
For more questions and additional surfaces please contact customer support at 888-877 (TILE) 8453 or support@flooringsupplyshop.com
Copyright © 2010 FlooringSupplyShop.com
The post InvisaTread Product Description first appeared on Flooring Supply Shop Blog.