Upgrading Old version Ebbe Square drain To Series E4400 Grates With PVD Finishes
Instructions:
The E501 Upgrade Kit is used to re-size an older ebbe square drain opening within a completed shower to accept a new ebbe PVD Finish Drain Grate, eliminating the need to tear out the old drain and tile.

Items you will need:
1.ebbe E40K 4″ square drain upgrade kit containing:

(Template Shown Upside Down)
Router Template
Hex Key 

1/4″ Router Bit With Guide Bearing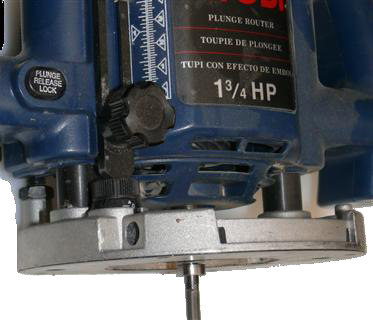 2. Router with a 1/4″ collet
Step 1
Install the bit as far into your 1/4″ router collet as the bearing will allow and tighten. Adjust the height of the router base plate so that the top of the bearing is even with the bottom of the plate as shown above.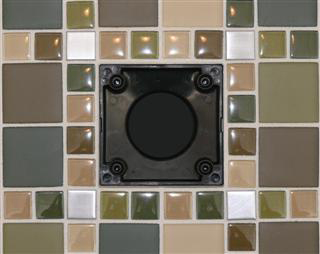 Old EZ4400 Drain Installed Into A Tiled Shower Floor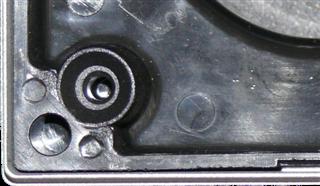 Close-up view of an Ebbe EZ4400 Drain
NOTE: You will be using a router to remove unwanted plastic material at each corner and along each straight edge. This is necessary to allow the new grate to fit within the newly cut plastic opening.
Step 2
Insert the template into the square drain opening on the shower floor. Four "L" shaped legs will fit within the drain opening as pictured.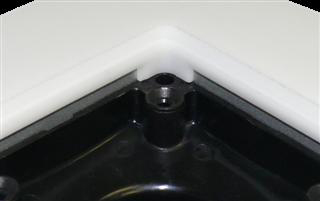 Step 3
Adjust the four set screws down until each is in contact with the tile. This is to stabilize the template and keep it from tipping outward when routing. Make sure that the template is stable all around before cutting.
Step 4:
Place the router base plate flat against the template and the bit within the opening away from the edge and turn the router on. Cut in a clockwise direction around the entire perimeter of the opening. Corners will require more time. Remove all material at each corner. Do Not use excessive outward pressure along perimeter edges as this may create too much clearance.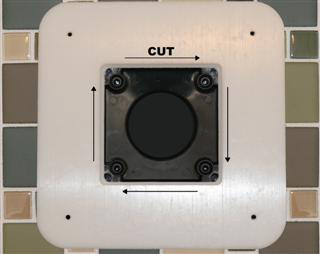 Step 5
Remove the template, vacuum up the router shavings and insert the new grate into the opening. Repeat step 4 with more outward pressure if more clearance is needed. You are now ready to enjoy the benefits of the new E-Series drain grates with the PVD finish for years of easy trouble free maintenance on your square shower drain.
Cleaning Suggestions
Do Not use cleaners containing ammonia, bleach or acid.
Use a mild detergent (such as dish washing soap). Do Not use abrasive cleaners.
Rinse and be sure to wipe the entire surface dry.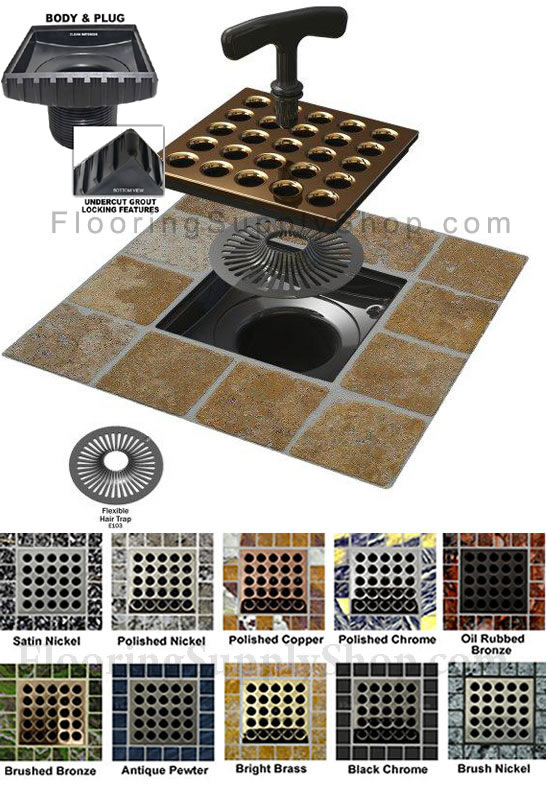 Ebbe Square drain Links
Ebbe Shower Drain Installation –  Questions & Answers Ebbe Square Drain – Ebbe Square Drain with Quick Pitch – Upgrading To Series E4400 Grates With PVD Finishes – Converting Commercial Drains To Ebbe Drain
Copyright © 2010 FlooringSupplyShop.com
The post Upgrading To Series E4400 Grates With PVD Finishes first appeared on Flooring Supply Shop Blog.