How to get the most from your Cheetah Pads

Always use squeegee wand to rinse the floor Do not use a sinner turbo or SX-12 Style tool These are great tools for high production cleaning but leave behind abrasives that you can't see which will cause your Cheetah Pads to work slower and wear our prematurely.Failure to follow this one step will yield poor result and wear out your pads three times as fast as normal.
Always rinse the floor thoroughly between each stepDouble check the surface after rinsing to make absolutely sure you have completely removed all abrasive residue step, a visual check isn't good enough.

Move your floor machine as shown in the picture aboveUse small circular cover lapping pattern and stand at a 45 degree angle to the grout joints, this helps minimize picture framing and breakage of pads when there is significant to serve lippage. The picture above depicts one pass softer stone require 1-4 passes and harder stone need 3-6 passes.
Use more weight and spend more time on green marble and less time on surfaces that cut quickly (Limestone, Travertine, and lighter colored Marbles
Rinse Pads thoroughly after use and store in breathable bag or box

When polishing soft stone remove all weights from floor machine
Desired Finished Look
| | | | |
| --- | --- | --- | --- |
| Condition of Surface | Dull Honed Finish | Satin Honed Finish | High Glossy Polish |
| Heavily Damage | Step – 1 Cheetah then Monkey pad (Dull Hone) | Step -1 & 2 Cheetah then Monkey pad (Satin Hone) | Step – 1, 2, 3 & 4 Cheetah then Monkey pad Polish 11,000 |
| Moderate Scratches and Etching | Step – 2 Cheetah then Monkey pad (Dull Hone) | Step – 2 Cheetah then Monkey pad (Satin Hone) | Step – 2, 3 & 4 Cheetah then Monkey pad Polish 11,000 |
| Light Scratches and Etching | Monkey pad (Dull Hone) | Monkey pad (Satin Hone) | Step – 3 & 4 Cheetah then Monkey pad Polish 11,000 |
| Slightly Dulles Finish | N/A | Monkey pad (Satin Hone) | Step – 4 Cheetah then Monkey pad Polish 11,000 |
| Routine Maintenance | Monkey pad (Dull Hone) | Clean with Red Pad | Monkey pad Polish 11,000 |
.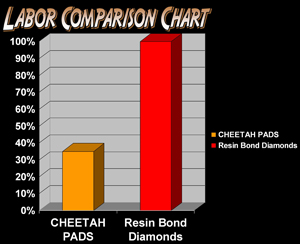 The above information may vary depending on the user and "other methods and products" being used. Cheetah Pads require less steps that cut faster than many resin discs therefore reduce labor.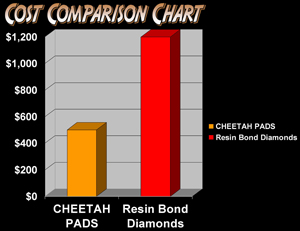 The above information is based on the assumption that the operator keeps the following products on his/her truck to be prepared for all marbles, travertines, limestone and terrazzo surfaces.
Resin Bond Diamond Discs- 6 of each of the following grit pads at an average of $20.00 each. 50,100,200,400,800,1500,3000 that's 42 discs at $20.00 each or $840. These discs can range in price from $5.95-$35.00 depending on quality and other factors.
Since no one polishing product works equally well on ALL types of stone, most restorers carry an arsenal of products so they are ready for any given situation or complication that may arise. A variety of Polishing Powders, Polishing Pastes, Marble Crystallizes, Buffing Pads etc can easily add up to far more than $500 even if small quantities are purchased. Obviously there are variables. Some restorers use only the highest quality tools and products and are willing to pay more for that quality, others use what ever is cheap and easily accessible. The purpose of these charts is merely to make a comparison of the average investment with traditional systems vs. Cheetah Pads. This comparison does not take into account the use of smaller resin diamond discs for edge work, counter tops, repairs and details.
Eco Friendly Stone Polishing Pads Video's
The post How to get the most from your Cheetah Eco Pads first appeared on Flooring Supply Shop Blog.