StringA-Level

System
For shower wall tile installations in any standard or custom configuration
Specifications
Designed primarily for shower wall tile installations, the STRINGA LEVEL Tile Support System is for use on any wall mounted tile installation where tiling begins above the floor.
The system is a set of reusable tools that eliminate time wasting straightness and level problems with wood stringers.
The system is comprised of interlocking sections with level vials that are used in series to form a continuous angle support shelf on which the first course of tile rests.
The sections are temporarily attached to the wall with user supplied screws and washers through multiple slots in each section.
Available in kit and component form with illustrated usage instructions.
Flexible Section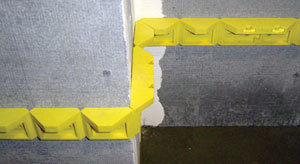 This 13″ long section has four living hinges that conform to curves, inside and outside corners. A level vial set in each end makes it easy to maintain level around corners.
This section can be attached to another Flexible Section, or a Rigid Section, and has five slots for attaching to the wall. Molded of yellow plastic and is 13 15/16 " long x 11/4″ wide x 2″ high.
No. SL-1300-FS STRINGA-LEVEL Flexible Section, This the 13″ long yellow plastic section for curves and corners.
Rigid Section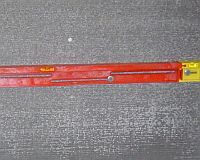 This 27″ long section is for straight walls and has a single level vial in the center. It can be attached to another Rigid Section, or a Flexible Section, and has four slots for attaching to the wall.
Molded of red plastic and is 26 7⁄8″ long x 1 1/4 " wide x 2″ high.
No. SL-2700-RS STRINGA-LEVEL Rigid Section, This is the 27″ long red plastic section for straight walls.
STRINGA-LEVEL Replacement Vials
No. SL-78-RV 7/8″ Vial, for use with the No. SL-1300-FS Flexible
Section. Sold five vials per package.
No. SL-138-RV 1 3/8″ Vial, For use with the No. SL-2700-RS Rigid
Section. Sold five vials per package.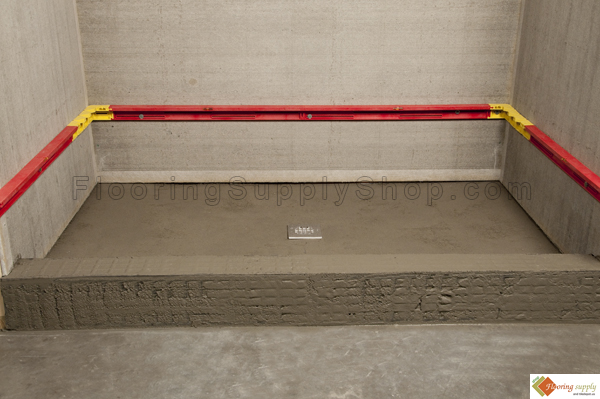 Step by Step Installation instruction
1. Roughly step off how STRINGALEVEL will best fit your particular project (as in cornering, entering and exiting a radius, incorporating the use of rigid section…etc.)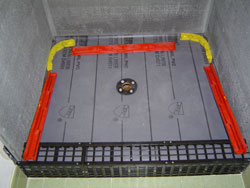 2. Determine desired layout reference point and mark wall.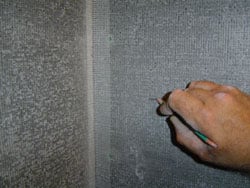 3. Hold first section to mark and secure one end of STRINGA-LEVEL to wall using backer board or drywall screws. The use of 1/4 inch washers is also recommended to prevent damage to screw slot edges. Extend piece making sure bubbles are in the level position and screw in opposite end.
NOTE: Be sure not to over tighten screws. Just snug against wall is all that is necessary to hold STRINGA-LEVEL in place.
Finish by screwing the inner slots as needed.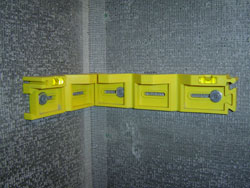 4. Interlock following sections by sliding the ends into one another and repeat the securing procedure. (If STRINGA-LEVEL does not configure perfectly to your situation, simply continue without interlocking.)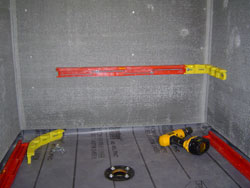 Begin stacking your material.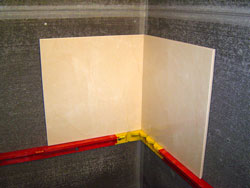 6. After material has set, unscrew STRINGA-LEVEL to remove.
7. Gently scrape and/or sponge clean to ensure years of continuous service.
Should any leveling bubbles get lost or broken, replacements are available thru our store or website.
Frequently Asked Questions
Do I purchase pieces individually?
StringA-Level is available separate or in kits. The Standard Kit (SLSK-0204) includes 4 red rigid sections and 2 yellow flexible sections. It will cover a 3′ x 5′ or smaller shower. The Contractor Kit ( SLSK-1010) includes 10 of each. Both kits include a storage bag. The flexible and rigid sections and each of their corresponding bubble vials are also available individually.
Why should I use washers?
Durock, Hardi Board, high/low thread type screws have ribs under the head that helps embed them into the hard material. Over time, these ribs start to take a toll on the slots by shredding them. The use of washers prevents this from happening.
What do I do if StringA-Level doesn't layout perfectly?
Individual sections do not need to interlock in order for StringA-Level to be useful. Their strength and accuracy won't be compromised if sections cease, then begin again around outside corners. Inside corners can be bridged instead of the flexible pieces fitting in tight, etc.
We at Flooring Supply Shop thank you for your purchase of STRINGA-LEVEL

and are confident you will be pleased with its performance.
More links about Quick Pitch System
How to Install Pre Pitch System – How to Install Quick Pitch System – Quick Pitch Specifications – How to Install Kirb Perfect – StringA Level – How to Install Handi-kirb
The post StringA-Level Tile Support System first appeared on Flooring Supply Shop Blog.