Free 8 hours training class event
Cheetah Pads Are Being Hailed As
"The Most Important Breakthrough For Stone Restoration In 20 Years"
Hurry, Act Now! Space is extremely limited!
It's a No-Brainier!
GET ONE FULL-DAY OF HANDS-ON STONE RESTORATION TRAINING
ABSOLUTELY FREE!!!
Simply buy one set of 17″ or 20″ Cheetah Pads and we will spend 8 hours teaching you how to MAXIMIZE RESULTS AND PRODUCTIVITY by utilizing the fastest, most innovative, eco-friendly stone restoration system on the planet!
Get all the tips first hand from the inventor and mad-scientist himself, Dana Kothrade! Learn how to save time, save money, and go green! No boring power-points and lengthy classroom lectures!
Hurry, Act Now! Space is extremely limited, Free training class event to be held on NOVEMBER 4th and DECEMBER 9th!!!
FREE Lunch!
FREE Training Manual!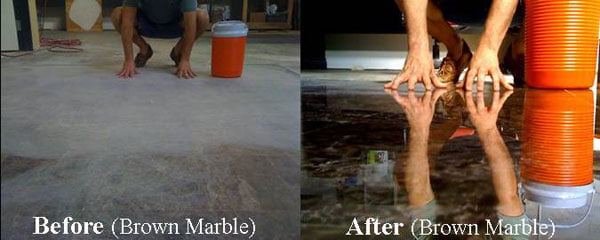 Top 5 Reasons Why You Should Try Cheetah Pads:
1. Cheetah Pads can reduce your labor costs by as much as 70%
2. Lower your material cost by up to 75% using Cheetah pads and water only! No expensive diamond disks or crystallizers ever needed!
3. 100% eco-friendly! With the Cheetah Pads you never have to worry about using any harsh chemicals around children, pets, and even yourself!
4. Achieve results better than factory finish in half the time!
5. Cheetah Pads make stone restoration easier than ever before. If you can count to 4 you can polish a floor!
GET YOUR SET TODAY!
Stone Restoration without 20 Years of Experience
The Fastest Stone Restoration System On The Planet!!!
Diamond Pads That Perform Stone Restoration in Half The Time
Very easy To Use
Up to 70% reduction in labor
As much as 75% lower cost
Work well on any floor buffer, orbital or planetary machine
No heavy duty equipment required
Extremely fast cutting
No chemicals used, only water
No acidic components
Extreme concentration of micro abrasives
Works incredibly well on ALL Marbles, Travertine, Limestone, Terrazzo and Polished Concrete
Chemical free Diamond pads are an Eco Friendly way to achieve a dull hone on Travertine, Marble, or Limestone Floors, countertops or walls.
Use on floors walls or countertops with little to no lippage (uneven tiles).
Pads remove wear and provide a variety of appearance levels from dull hone (no shine) to highly polished.
Safe on all stones and tile, will not damage any stone
Professional strength formula.
Environmentally Friendly

Made in the U.S.A
Eco Friendly Stone Polishing Pads Video's
The post Cheetah Pads Free Training Class new Dates first appeared on Flooring Supply Shop Blog.
Cheetah Pad
earth day
Eco Friendly Stone Polishing
eco stone
Eco-friendly
EcoPads
ecostone
energy conservation
Environmentally friendly flooring