Glaze N Seal Wet Look Ii
Wet Look II Sealer
by Glaze N Seal
PRODUCT DESCRIPTION
An environmentally superior water-based sealer designed to give the surface that deepened, "wet look" appearance - once only achievable using a solvent- based product! It can be used Indoors or outdoors on most concrete, masonry and unglazed tile surfaces Revolution chemistry decreases drying time and increases water and grease rsistance And, it's VOC compliant
USES
Exposed Aggregate, Natural & Manufactured Stone, Slate, Brick, Stamped Concrete and Tile
Coverage
150 to 600 square feet per gallon depending on porously of surface
FEATURES
• Use indoors and outdoors
• Environmentally superior formula
• Excellent repelling of oil and grease stains
• "Wet Look" high gloss appearance
• Faster drying, long lasting protection
• Never yellows
• Greater rsistance to scuffing and scratching
PREPARATIONS
Prior to the application of Glaze N Seal products, floor surface must be thoroughly clean and dry. Remove all dirt, oil, grease, paint, defective waxes, efflorescence and surface sealers with Glaze N Seal cleaning agent and strippers.
If acid is used, all residues must be removed prior to application.
Application Procedure
Do not shake container, Apply 2 – 3 light coats with a good quality sponge, sponge mop, brush, or low pressure / airless sprayer.
Do Not allow product to puddle.
Sealer will be milky while on application but will dry clear within 15 -20 minutes. Additional coats are recommended on more porous surfaces or heavily used areas, Each coat should be dry to the touch before applying another coat.
Apply in temperatures between 55°F and 80°F - avoid using in direct sunlight, Clean up applicators with water immediately.
MAINTENANCE
Sweep or mop surface regularly. A light maintenance coat may be applied every 1 or 2 years..
Limitations
Avoid heavy usage for up to 72 hours, Do not allow to freeze, Sealer will continue to fully cure up to 10 days.
| | |
| --- | --- |
| Base | Aqueous Acrylic Co-Polymer |
| Density | 8.3 Pound per gallon |
| Solids | Minimum 18% |
| Appearance | Milky white - dries clear and transparent |
| Tukon Hardness | +8.0 |
| Perfective Index | 1.53 |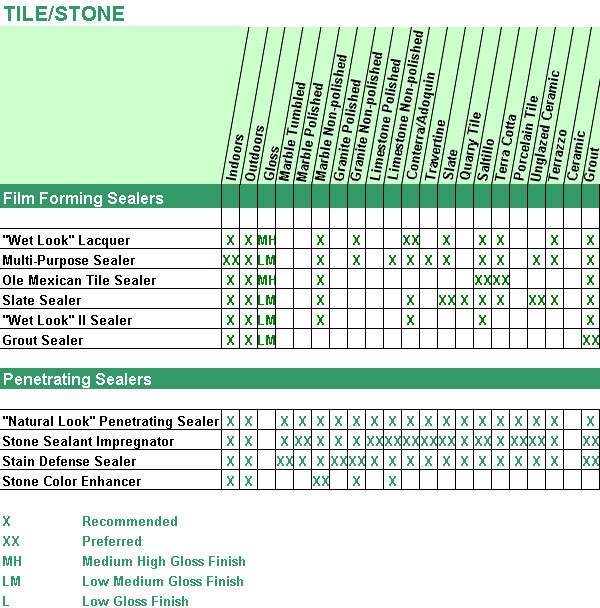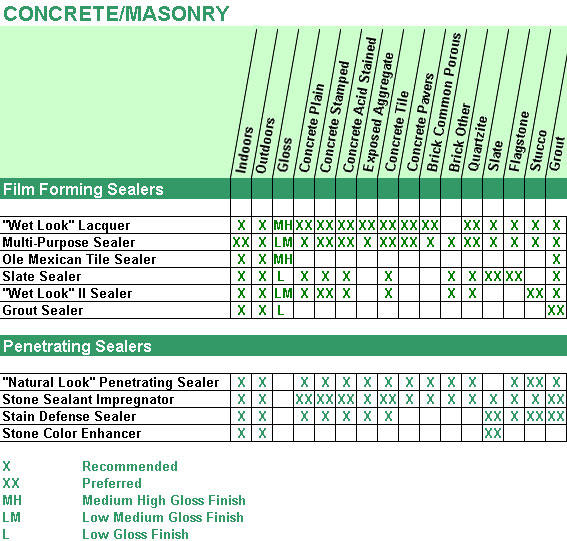 PACKING
| | | |
| --- | --- | --- |
| PRODUCT | Pack Size | LBS |
| 1 Gallon | 6/gallon | 9 lbs 1 gallon / 51lbs case of 6 gallon |
| 5 Gallon Pail | Pail | 5lbs |
| 55 Gallon Drum | Drum | 490 lbs |
KEEP OUT OF REACH OF CHILDREN
Sealers Links
Glaze N Seal Wet Look 2000 - Glaze N Seal Wet Look II - Miracle 511 Impregnator Sealer - Glaze N Seal Multi Purpose Sealer - Stone Defender Aerosol Grout Sealer - Glaze n Seal Stone Color Enhancer and Seal
Cleaning and Care links
Glaze 'N Seal Heavy Duty Cleaner - Glaze N Seal Paint and Sealer Stripper - Miracle Porcelain Ceramic Cleaner
Anti Slip Links
InvisaTread Application Instructions - InvisaTread Product Description - Glaze 'N Seal Grip N Seal - Tile Grip Anti Slip