Glaze N Seal Wet Look 2000
Wet Look 2000 Lacquer
by Glaze N Seal
PRODUCT DESCRIPTION
A revolutionary Low-VOC crystal clear acrylic coating designed to protect and beautify concrete, masonry and tile surfaces,.
This supper-tough film gives a rich "Wet Look", resists chemicals, abrasion and stains
"WET LOOK" 2000 utilizes the same resin system as Glaze 'N Seal's original Lacquer, thereby providing the same dependable performance. It contains unique low VOC solvents creating an environmentally-responsible formula.
USES
Protect garage floors and driveways from oil stains.
Eliminates concrete dusting and freeze-thaw problems.
Protects patio and barbecue areas from food and grease stains.
Saturation with Glaze 'N Seal will actually harden old and deteriorating mortar and plaster for added life.
Independent laboratory tests rate Glaze 'N Seal Superior for abrasion resistance, Sunlight resistance and stain resistance qualities.
SPECIAL NOTE
"WET LOOK" 2000 is fully compatible with Glaze 'N Seal original Lacquer and may be used over it for recoating purposes.
"WET LOOK" 2000 fully complies with strict South Coast Air Quality Management District Requirements.
"WET LOOK" 2000 has improved coverage up to 15-20% greater than other formulas. Adjust application accordingly with thin. Even coat.
FEATURES
• Covers 125 - 500 Sq. ft / gal (1st coat) 50% greater on 2nd coat
• Dry Time - 1 hour
• Non-Yellowing • Use Indoor or Outdoors
• Fast Drying and Long Lasting • Apply with Brush or Sprayer
• Prevents Staining • High Solids
• Strong Resistance to Efflorescence
PREPARATIONS
All surfaces must be free of efflorescence, dirt, oil, wax, grease and defective paint or sealers.
If acid is used, all residues must be removed prior to application.
Use Glaze N Seal Neutralizing Rinse to neutralize surface.
Allow to dry thoroughly before applying "WET LOOK" 2000.
APPLICATION
Apply 2-4 light even coat ( depending on porosity of surface) with a natural brush or low pressure / airless sprayer ( with metal or Teflon tip) Do Not allow product to puddle.
Allow 1-3 hours between coats, 24 hours before light use.
Apply in temperatures between 55°F and 80°F avoid using in direct sunlight. Use only in well ventilated areas.
Helpful Hint: Use lacquer thinner or acetone for easy clean up.
IMPORTENET: Product contains petroleum distillates. Read product label carefully or consult with dealer for more detailed preparation, application and caution information.
MAINTENANCE
To protect the sealer and extend life (indoors) use Glaze, N Seal Floor Polish (Regular or Matte Finish) as a traffic coat. Sweep and damp mop floor frequently.
SPECIAL NOTE
Always test a small area of surface to verify protection and appearance. NOT RECOMMENDED for glazed tile, marble, dense brick or dense slate. If in doubt test surface. Do Not use where hydrostatic pressure is possible.
| | |
| --- | --- |
| Color | Clear |
| Odor | Sweet |
| Glass Transition | +50 |
| Density | 7.7 lbs |
| Tukon Hardness | 12 - 13 |
| Coverage | 12 to 500 sq. ft / gal (1st coat) |
| Drying time( at 68°F, 50% RH) | |
| Dry to touch | 1/2 - 2 hours |
| Recoat | 2 - 3 hours |
| Open to light traffic | 24 hours |
| Open to heavy traffic | 2 - 3 days |
| Leveling | Excellent |
| Dry Time | 1 hour |
| Flash Point | 37°F |
| Application Temp | 50°F to 80°F |
| Chemical Resistance | Excellent |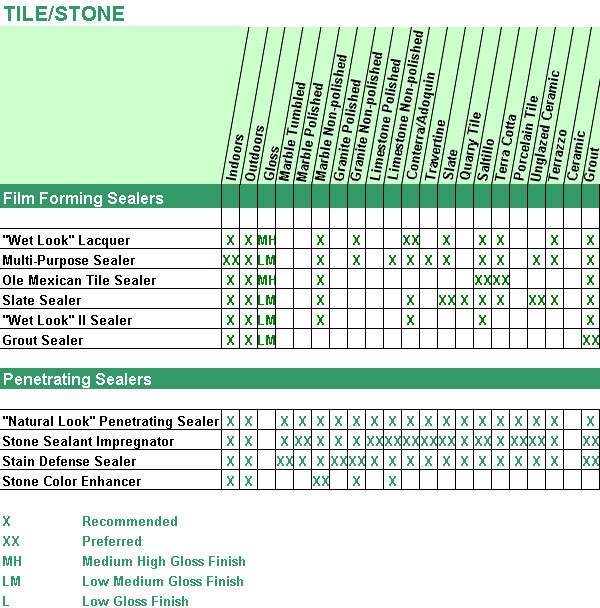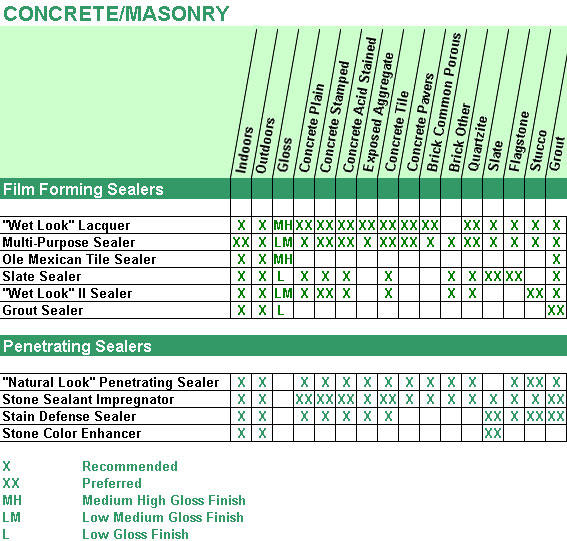 KEEP OUT OF REACH OF CHILDREN
PACKING
| | | |
| --- | --- | --- |
| PRODUCT | Pack Size | LBS |
| 1 Gallon | 6/gallon | 9 lbs 1 gallon / 51lbs case of 6 gallon |
| 5 Gallon Pail | | 45lbs |
| 55 Gallon Drum | | 490 lbs |
Sealers Links
Glaze N Seal Wet Look 2000 - Glaze N Seal Wet Look II - Miracle 511 Impregnator Sealer - Glaze N Seal Multi Purpose Sealer - Stone Defender Aerosol Grout Sealer - Glaze n Seal Stone Color Enhancer and Seal
Cleaning and Care links
Glaze 'N Seal Heavy Duty Cleaner - Glaze N Seal Paint and Sealer Stripper - Miracle Porcelain Ceramic Cleaner
Anti Slip Links
InvisaTread Application Instructions - InvisaTread Product Description - Glaze 'N Seal Grip N Seal