Glaze N Seal Multi Purpose Sealer
Multi Purpose Sealer Concrete, Tile & Masonry Sealer
by Glaze N Seal
Formulated Specifically For
QUARRY TILE ... MEXICAN & PAVER TILE ... SLATE ... FLAGSTONE ... COLORED AND HARD TROWELED CONCRETE ... BRICK ...TERRAZZO ... STAMPED CONCRETE ... EXPOSED AGGREGATE CONCRETE ...
PRODUCT DESCRIPTION
A clear acrylic water base finish designed to protect and beautify tile, concrete and masonry surfaces.
Glaze 'N Seal protects against all organic stains including cooking oil, grease and beverages.
It may be used indoors or outdoors and is extremely easy to apply and maintain. Non-yellowing formula.

USES
• Water seals, protects and improves appearance of all unglazed tile, stamped and exposed aggregate concrete, brick, natural and manufactured stone, stucco and slate.
• Use as a base for interior finishes such as Glaze 'N Seal Acrylic Floor Polish.
• Use to seal concrete and masonry surfaces prior to painting or apply over painted surfaces for added protection and improved appearance.
• Use indoors and outdoors.
FEATURES
• Repels Oil and Grease Stains
• Non-Flammable
• No Harmful Vapors
• Cleans up with Water
• Easy to Apply
• Water Repellent
• Reduces Efflorescence
• Recoatable
PREPARATION
All surfaces must be free of efflorescence, dirt, oil, wax, grease and defective paint or sealers. If muriatic acid is used, all acid residue must be removed prior to application of sealer.
Do not allow acid to dry.
Use Glaze 'N Seal Neutralizing Rinse to neutralize surface before sealing.
APPLICATION
Apply two or more coats of sealer (do not allow it to puddle). Make sure each coat is dry to the touch before applying second coat; usually one to three hours.
Allow additional drying time in moist climates.
It can be applied with a brush, wax applicator, or spray-equipment dependent on porosity and roughness of surface.
Clean tools with water before sealer dries.
Apply between 55º and 80ºF. If it is necessary to apply sealer on a warm day in direct sunlight, slightly dampen the surface to be sealed with a fine spray of water prior to application of the sealer. Allow 72 hours curing time against heavy moisture and bulk water.
Sealer will continue to gain strength for up to one week.
Important Note: Always test a small area of surface to be sealed to verify penetration and satisfaction of sealed appearance.
COVERAGE
100 to 400 square feet per gallon dependent on porosity of the surface.
MAINTENANCE
Glaze 'N Seal Floor Polish is recommended as a protective finish over the sealer (indoors only). Sweep and damp mop floor frequently.
PACKAGING
Concrete, Tile & Masonry Sealer is packaged in quarts, gallons, 5 gallons and 55 gallon drums.
| | |
| --- | --- |
| BASE | Aqueous Acrylic Co-Polymer |
| TUKON HARDNESS | +6.0 |
| FRICTION LEVEL | Excess 6.3 |
| GLASS TRANSITION POINT | 34C |
| DENSITY | 8.58 pounds per gallon |
| REFRACTIVE INDEX | Approx. 1.4077 |
| SOLIDS Excess | 16% |
| APPEARANCE | Milky White - Dries Clear |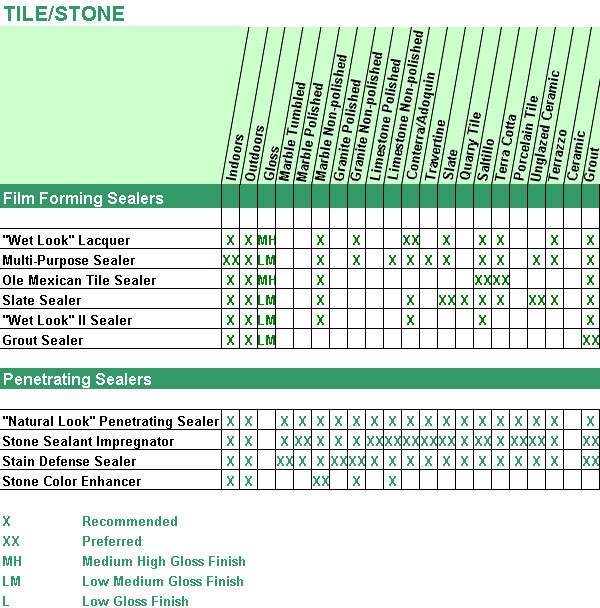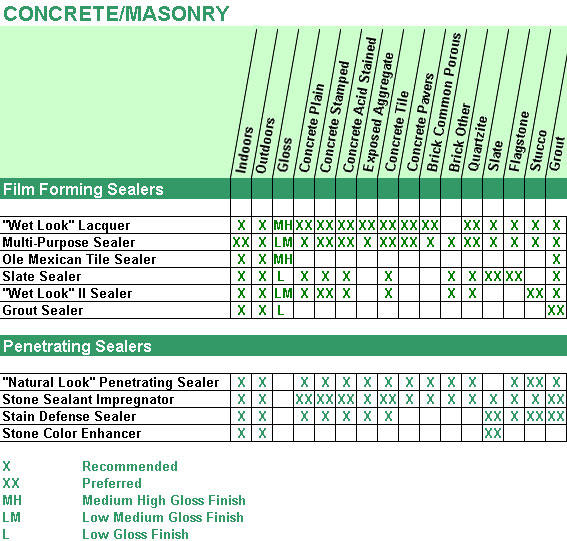 KEEP OUT OF REACH OF CHILDREN
Sealers Links
Glaze N Seal Wet Look 2000 - Glaze N Seal Wet Look II - Miracle 511 Impregnator Sealer - Glaze N Seal Multi Purpose Sealer - Stone Defender Aerosol Grout Sealer - Glaze n Seal Stone Color Enhancer and Seal
Cleaning and Care links
Glaze 'N Seal Heavy Duty Cleaner - Glaze N Seal Paint and Sealer Stripper - Miracle Porcelain Ceramic Cleaner
Anti Slip Links
InvisaTread Application Instructions - InvisaTread Product Description - Glaze 'N Seal Grip N Seal - Tile Grip Anti Slip