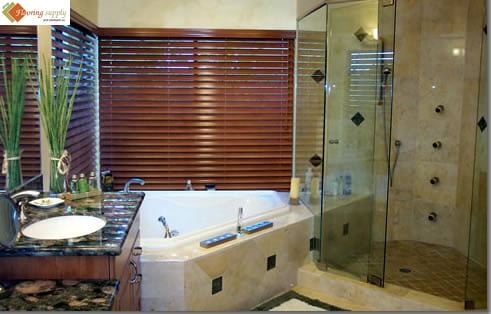 Bathroom is an integral part of every house and generally these are designed keeping functionality in mind, thereby most of the bathrooms are cramped and small. Sometimes, it is so cramped that there is not even enough space to move around. Most of the bathrooms are stuffed with tub, shower, sink, shelves and other necessary things in a small area. As a result, the place looks cluttered, probably the most disorganized room in the entire house.
In case, your bathroom is also small and cramped which you wish to renovate into a beautiful and functional bathroom, then there are several steps which can take, without having to incur heavy expenses. Foremost, for the walls of the room, choose light colors where stripes can do the trick as it help elongates the walls' appearance and the space seem bigger. Moreover, you must choose an even lighter shade for the ceilings, as compared to the walls, as it will make surface recede from view and enlarge small space. You can use light colored tiles, paints or wallpapers with small prints as large, bold prints can make the place look cluttered. The most important factor is to keep it simple or otherwise it will impede all the efforts to maximize your bathroom space.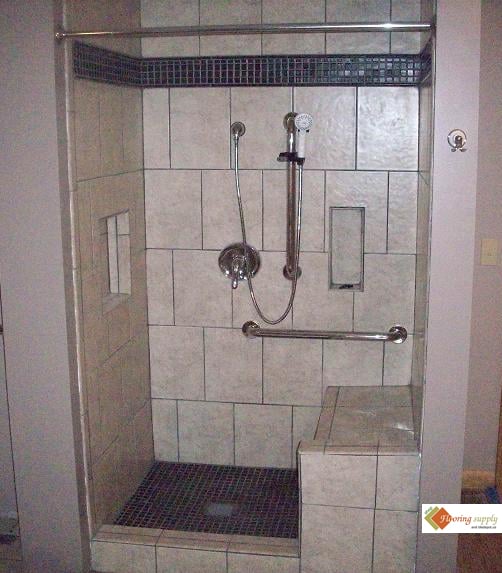 Another simple way to address the lack of space in your bathroom is maximize the storage around sink where you can add vanity or shelves under the sink for cosmetics, toiletries and other belongings. In case you already have a vanity, then you can increase its storage capacity through simple modifications. Add shelves or half shelves, wire racks on the inside of cabinet doors, built-in nooks and include pullout elements, similar to the kitchen cabinetry, such as towel rods, shelves and wastebasket.
Apart from vanity, another simple option is to use shelves for placing pretty much everything you need. You can either mount it on the wall or recess it into the walls, without taking up the limited floor area. Amongst the different shelf options available in the market today, corner shelves are your best bet, which can easily hold all the indispensable items. In case there is scope for some space, you can even opt for free-standing shelves as these can be easily moved around for your convenience.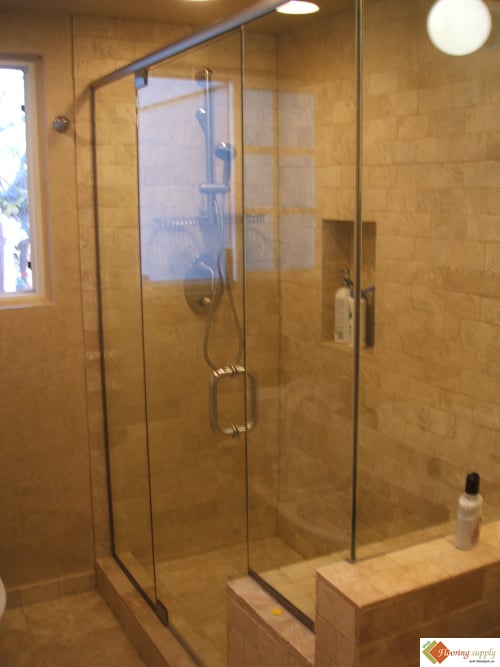 In addition, you can even use a lot of mirror in your bathroom as it easily creates an illusion of space. To further camouflage the lack of space in the small bathroom, you can use two mirrors placed opposite to each other as it creates an illusion of a never-ending room. Further, instead of shower curtains which clutter the view, you can use clear glass shower doors as it does not obstruct the space or its view. Moreover, keep the doors, trims and accessories in soft colors, such as pastels which reflect light or better yet, of the same color as that of walls so as to make the space appear wider.
Hence, these simple steps can help you maximize your bathroom space, without having to compromise on utility or aesthetic value.
Copyright © 2010 FlooringSupplyShop.com
The post Maximizing your bathroom space first appeared on Flooring Supply Shop Blog.
Bathroom Accessories
Corners shelves
niches
ready to tile recess
shower recess
shower recessed shelves
Shower Seats
Tooth Brush Holder
Towel Bars