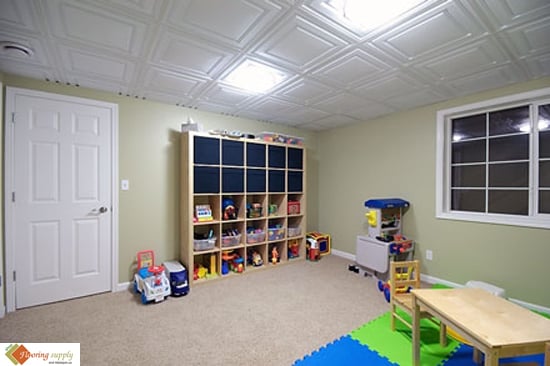 Suspended ceilings are referred as dropped ceiling or false ceiling, which give the perfect example of modern architecture and construction. These are hanged from the ceiling joists with a metal grid thereby creating a space between the ceiling and the joists where pipes or duct work can be installed and worked on.
Suspended ceilings not only improve the décor of the house but also provide several advantages as well. These ceilings can be installed with utmost ease in any room or building, home or supermarkets. Apart from their practicality in installation, suspended ceilings also offer fire resistance, bacteria & humidity resistance, and insulation at a very less price.
Suspended ceilings are cheaper to install under existing ceilings as compared to renovating the old ceilings. Suspended ceilings are especially useful in industrial and commercial settings where buildings must adhere to strict fire safety rules, as the ceiling tiles offer fire resistance.
Suspended ceilings provide bacteria and humidity resistance, and for this reason these are widely demanded in hospitals. Apart from the medical sector, these are also used as fixed panels in places like changing rooms or shower rooms, as these kinds of places tend to have a lot of humidity. This in turn prevents these places from getting damaged.
Suspended ceilings are highly useful as you can keep cables, pipes, unsightly wires and ducts stacked inside them, which are easily accessible when you want to get some maintenance work done. These tiles can be taken out with ease, and you can conveniently access things which require constant attention.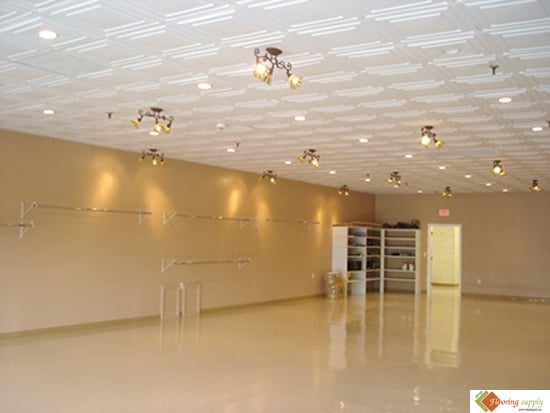 Besides being a protector to your house against fire threat or moisture attack, suspended ceilings also provide insulation. This is because when ceilings are installed, a static layer of air between the main ceiling and the drop ceiling is created, which acts as a great insulator. The lower ceiling reduces the amount of airspace in the room, which subsequently warms up the place, thus lowering the heating bills.
Not only do these ceilings provide thermal insulation, but are also used as acoustic insulation, as these are capable of reducing noise. One can also choose the tiles with a decibel value that provides extra soundproofing. Suspended ceilings are available in many different designs and can be easily adjusted with new panels being fitted into the ceiling grid. Several different textured and designer panels are available in the market that one can select from. Also, these ceilings come in different shapes and colors that can add beauty to your home or workplace.
Suspended ceilings are rapidly gaining popularity, as these are easily demountable, which and can thus easily uphold the ceilings. These can be conveniently replaced by detaching the grids, and thus are better than permanently implemented ceilings, which are difficult to change in the future. The tiles used in suspended ceilings can also incorporate lights inside, which can hide the bulbs and give the place a contemporary and sophisticated look. With all these benefits, your confusion for insulation and renovation must be over.
Pictures provide by Ceilume – the Smart Ceiling Tile
Copyright © 2010 FlooringSupplyShop.com
The post Benefits of Suspended Ceilings first appeared on Flooring Supply Shop Blog.
ceiling
decorative ceilings
decorative tin ceilings
drop ceiling
embossed metal
embossed metal ceilings
metal ceiling
suspended ceiling
Tile ceiling
tin ceiling panels