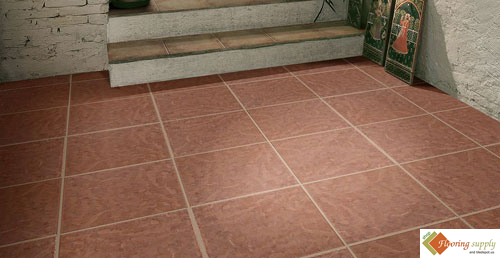 Many homeowners choose tile flooring for their home as these are durable, attractive and available in an assortment of colors. However, over the years, tiles look dull and dated; hence, you need to change them. Instead of tearing them apart, an inexpensive and fast way of changing the look is to paint the tiles.
There are different types of tile paints available in the market, though the most commonly used ones are enamel and latex paints. Latex is a water soluble paint which is comparatively less dangerous than enamel. Enamel paint is soluble in thinner or alcohol which air dries to a hard and glossy finish. Though this paint lasts longer, one needs to be careful while using it because of its fume content.
An important factor to keep into perspective while choosing the paint is the area where the tile is installed. The wear and tear as well as the exposure to moisture the area is subjected to, plays a significant role is assessing whether a certain type of paint is right for a particular room or not. You cannot use latex-based paint in rooms which have high foot traffic because it tends to chip with the slightest impact. The tiles in such areas should be refinished, which not only make it long lasting but also enhances the look.
You also need to choose the right color which complements the decor of the room. The right color contrast can drastically change the look of the place, making it more appealing. You can even use two or more different colors to make beautiful patterns and designs. Only caution while doing this to have a proper layout and work accordingly. This requires certain amount of skill, hence do not do it on your own if you lack the artistic bent of mind. Instead take help of professionals to get beautiful floor designs and add uniqueness to your home.
Painting is not a daunting task and you can easily do it on your own. Before you start painting you need to thoroughly clean the tiles and grout, to remove the dirt and other buildup. You can use bleach or hydrogen peroxide for removing the molds and mildews on the grout. Once done, thoroughly rinse it with water. After cleansing, the next step involves sanding the tiles so that, the paint sticks to it. You can either use fine grit sandpaper or an electric sander. After sanding, remove all the dust.
Next apply primer on the tiles, use the one that is recommended for glossy surface. It is advisable to apply two coats and after it has dried sand it again. After this, clean the whole surface and once done, you can paint the tiles. Painting can be done by brush or spray paint. The spray paint offers better and faster results, in comparison to painting done by brush. Moreover, spray paint tends to dry quickly. Give enough time for the paint to dry before you step on the floor. Once painting and drying is over, your home will have a whole new look.
Copyright © 2010 FlooringSupplyShop.com
The post Paint Your Tile Floor for a New Look first appeared on Flooring Supply Shop Blog.
Ceramic tile
Do It Yourself
flooring materials
reglaze bath tub
tile paint
tile repair