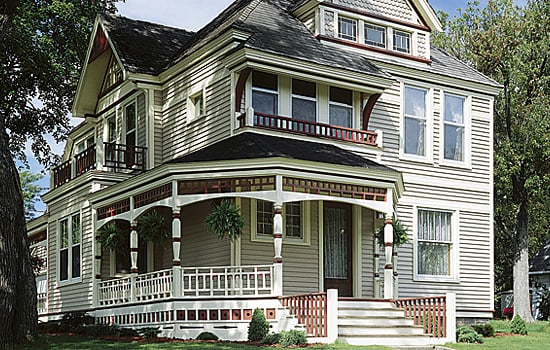 Most homeowners feel that renovating a house means painting the house, updating landscape, or adding new features like windows. However, these are not the only ways to enhance the appearance of the exterior of one's home. A convenient and not so tiresome option of improving the overall look of your house is to install new sidings. Sidings can dramatically change the appearance of the home's exterior and there are many different types of sidings available in the market. Depending upon their preference and budget, they can easily choose among the numerous attractive options.
Amongst the various options available, vinyl sidings are probably the most widely used option. Available in a wide range of styles, colors and qualities, these prefinished sidings meet the expectations of many homeowners. The vinyl sidings have improved steadily over the past few years. The vinyl sidings look similar to horizontal wood sidings, but these do not require as much maintenance as latter. Though these can be applied over old sidings, it is much easier to apply these over solid sheathing.
Vinyl sidings are quite sturdy and do not rust or corrode, but as these get older, they tend to become brittle. These are available in a wide range of colors in different clapboard widths, textures, and horizontal & vertical styles. These resist humidity, sun, wind and rain, as well as do not attract termites. The vinyl sidings are also available in a wide range of decorative classic millwork, including shutters, dentil moldings, corner posts, as well as door and window surrounds.
Apart from vinyl sidings, one may even opt for metal sidings that are robust, sturdy, and durable. Mostly available as aluminum and steel sidings, these offer better energy efficiency that translates into lower heating and cooling costs. Another great siding option is the wood siding which is available in different patterns that can be applied horizontally as well as vertically. These sidings are generally applied over solid sheathing and building paper layer. The wood sidings are available in a wide range of lengths, widths, thicknesses, and patterns. One may choose amongst tongue and groove siding, wooden lap board, and split log siding, which are quite popular. Availability of so many different options help in adding uniqueness to the home's exterior and can last for many years, with proper maintenance. One needs to take proper care of wood sidings to prevent damages caused due to pest infestation or mold growth.
Homeowners also have the option to choose stucco siding that is fabricated using Portland cement, lime, sand, and water. These sidings are long lasting, easy to maintain, and fire resistant. The stucco sidings are applied over a lath base in three coats, which ensure durable, strong, and seamless exterior. One may even install these over mesh, having an expansive acrylic-polymer finish, that contract and expand with the changing weather. This flexibility helps in minimizing cracks, thereby ensuring longevity. Besides these, there are many other siding options that homeowners can choose.
With so many different types of sidings available, it is easy for homeowners to create an attractive exterior of their home, as per their choice and budget.
Copyright © 2010 FlooringSupplyShop.com
Pictures provides by CertainTeed Corporation
The post Different Siding Options for Your Home first appeared on Flooring Supply Shop Blog.
brick siding
home siding
siding
siding colors
siding installation
Siding prices
vinyl siding