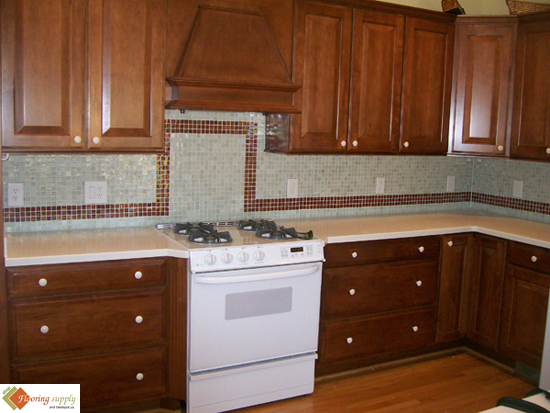 Kitchen is an integral part of any house, where the family can sit together and enjoy fun time together. Kitchen thus should look attractive and enticing to every member of the family. One of the easiest ways of making a kitchen look appealing is by installing backsplash in the kitchen. The backsplash protects the wall at the back of the stove and the sink from heat and water splashes. Framing the sink and the stove, by installing attractive designs in this area can drastically change the overall look of the kitchen.
Kitchen backsplash is not difficult to design and one can use this option to add to the aesthetic value of the room. It is available in a wide range of options, in terms of material, colors, designs, patterns and others; thereby, suiting the preference and budget of several homeowners. One of the simplest and most affordable kitchen backsplash options is the ceramic tiles that are available in an array of attractive colors, patterns, and sizes. One can either select a color similar to the color of the wall or create contrast by using distinct colors. In order to avoid making the backsplash flat, one can use ceramic tiles with embossed designs, such as vegetables, fruits or some intricate geometrical patterns.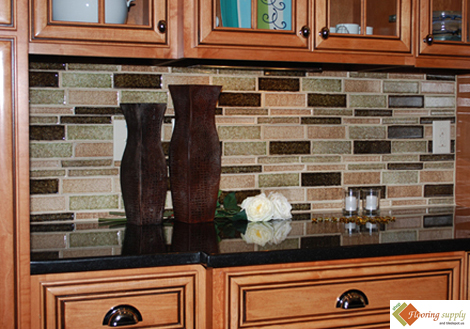 Homeowners may even choose slate, terracotta, marble, or other stones that gel with the decor of the kitchen. For a contemporary look with an ultra-urban appeal, homeowners can choose metal backsplash, which are often available in copper and tin. With the help of metal backsplash, especially stainless steel backsplash, one can easily achieve lean, sleek and smooth finish. The metal backsplash especially looks great with wooden cabinets and polished granite counter tops.
Besides these, homeowners can also use mosaic tiles that are available in glass, metal, and ceramic. Mosaic tiles provide the option to create a large number of interesting designs and add uniqueness to the kitchen. Other options include murals and hand-painted tiles in subtle colors and designs. Homeowners can even go for picture frame designs that can create a focal point above the cook-top for more elaborate tile pattern, mural or mosaic. Niches and ledges can even add interesting and useful elements to the kitchen. Generally placed behind cook-top or above the sink, these are used for displaying colorful bottles, plants or others.
With so many options, homeowners have a wide range of choices and can easily choose amongst them as per their preference. Since it is not such a daunting task, it can easily be done by DIY enthusiasts. In case you plan to install kitchen backsplash while remodeling your kitchen, you need to be methodical and organized. Having chosen the backsplash option, you need to measure the area carefully where you want to install the backsplash. Put down the math on paper and make sure to keep a consistent space in between tiles, which can easily be achieved with the help of tile spacers. Next, cut the tiles into desired dimensions, with the help of tile saw that can be rented from market. Thereafter, apply adhesive on the area as well as on the back of the tile and set it firmly on the desired area. It is generally advised to work from center towards the edges. Once the adhesive is dry and tile is set, grout between the tiles; leave it for 48 hours and thereafter apply a sealer over it, for protection against water.
With little bit of effort and planning, you can easily change the entire look of your kitchen to make it more appealing.
Copyright © 2010 FlooringSupplyShop.com
The post Simple Kitchen Backsplash Ideas for DIY first appeared on Flooring Supply Shop Blog.
Backsplash. Tile trim
kitchen backsplash
molding
shower backsplash
stone trim