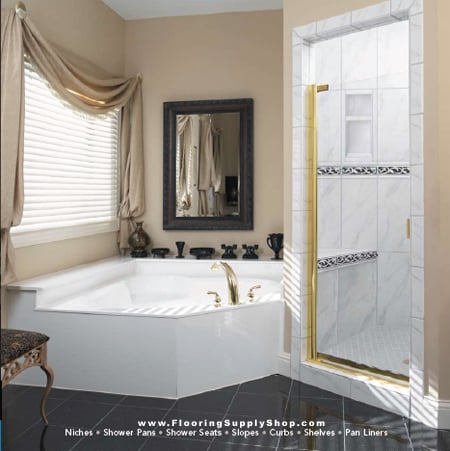 If you have decided to make improvements to your current property, one important area which needs special attention is your bathroom.  According to most realtors, the kitchen and bathroom are the two areas that catch the attention of  home buyers the most.  Even if you have no plans to sell your house, you can still make your bathroom attractive to win loads of compliments from your friends and guests.  Besides, it is the place where you get a chance to relax your senses.  So it deserves special treatment.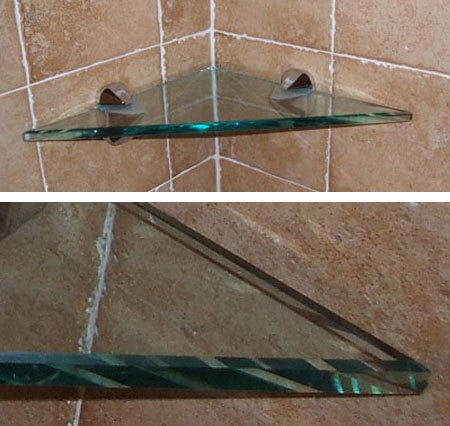 You can use bathroom accessories to add a touch of elegance to your bathroom. One accessory that is a must for your space is the bathroom shelf. Bathroom shelves are not only items of great utility, but also have aesthetic value.  They can be used to store cosmetics, hold appliances and stack towels.  Bathroom shelves are simply perfect for providing upright storage in a small bathroom with limited floor space.
If you have installed a shower vanity in your bathroom, shower shelves is what you need to hold essential cosmetic items without making the place look crowded.
Although shower shelves are available in different materials including wood, metal, and plastic, glass shelves could be an ideal choice to make your bathroom look less crowded and larger.  In addition, glass shelves come at a reasonable price and also can be installed easily.  Besides, glass shelves are also popular for being naturally corrosion resistant.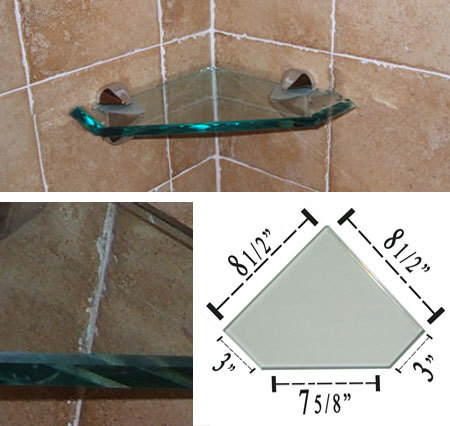 The choice of tempered glass shower shelves will depend upon your storage needs and the weight bearing capacity of the shelves. It is always advisable to go for glass shelves with more weight bearing capacity for the simple reason that your storage needs may increase over time.   The capacity of a glass shelf to bear load is determined by its thickness and the method of installation.  Some manufacturers also offer tempered glass shelves.  These are made hard especially by heat treatment.  These shelves can be chosen if you want your bathroom shelves to bear greater load.
Tempered glass shelves come with 2 sided bullnosed finish polished edge and two brackets. These shelves can be installed in just a few seconds using the tracking style. In this type of installation, you need to screw long metal vertical strips on studs down the wall, insert metal brackets (wood brackets are also available) at the desired heights and then lay your glass shelf across the brackets. You can also easily change the height of the shelves along the strip to accommodate taller items, if required in the future.  Although two parallel metal strips are used in this type of installation, a third strip may be needed for additional support if you have chosen a heavy glass shelf. It is important to note that if you cannot find a stud for all brackets, you may use a molly screw for the central bracket. While choosing glass shelves for your bathroom, do not forget to check for the maximum recommended weight they can bear.
Tempered glass shelves can also enhance the aesthetic appeal of your bathroom. This is because they are available in many finishes:  brass, brushed nickel, satin chrome, and chrome.  When it comes to shapes available in tempered glass shelves, you may go for the popular quarter round or triangle shaped shelves. So, you may choose a finish and shape that best complements the overall decor of your bathroom.
So, by simply making a few additions to your bathroom, you can not only give it a more organized look, but also enhance its overall appeal.
Copyright © 2010 FlooringSupplyShop.com
The post Choosing Bathroom Shelves: Get the Best first appeared on Flooring Supply Shop Blog.
Bathroom glass shelves
custom glass tempered
shelves for shower
Shower Shelf
Tempered Glass Shelves