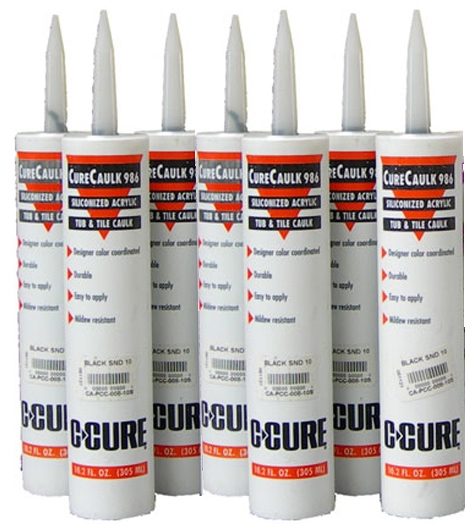 Caulking refers to the process of sealing the joints and seams where movement is expected by using a high quality sealant. Although it looks like an insignificant job, caulking holds a lot of significance as far as the durability of the tiles and the sub floor is concerned. Generally, a tiling job involves grouting the tiled surface area to holds it together and to make it watertight. Further, grouting is also done to enhance the aesthetics of the tiled area. However, a homeowner has to decide on whether caulking is the better option or grouting as far as the expansion joints are concerned.
One of the most commonly used caulking material is Silicone based, and has a clear texture with a flexible and rubbery finish. This caulking substance is available in a wide variety of colors to suit the particular color theme of a room. However, in case you are planning to use the caulk in high moisture areas such as the kitchen and the bathroom you should select a caulking substance specially created for such areas. This will ensure that the caulking substance is able to withstand mold growth as well as mildew growth.
Caulk is ideally used in areas where there is a joint between two surfaces, for example between the wall and the floor. Further, caulk could also be used where two walls meet, around sinks, faucets as well as around bath tubs. It is due to the high flexibility provided by caulk that it can withstand any structural movement without cracking.
Although caulking is an integral aspect of a home renovation job, it is important to apply it properly for maximum effectiveness. Most DIY enthusiasts usually fail to either estimate the correct size of the caulking area or to set a smooth layer. This is the reason why their caulking job does not lead to a watertight joint. In order to ensure maximum effectiveness out of your caulking job you should use a high quality caulking gun to set the material along the joint.
The trick to ensuring a proper caulking job is to cut the caulking tube at the right place and at the right angle. After applying a layer of caulk you should smoothen it either by using a damp cloth or your fingertip. This step is important since any opening in the caulked area will compromise its integrity. One trick to ensure that you do not leave any gap while caulking on a wooden area is to apply a layer of paint first. The paint will clearly highlight any gaps and nail heads in the wooden surface, thereby enabling you to caulk in effectively.
Thus, we can see that caulking is important, especially for expansion joints and for areas where two surfaces meet. Not only does an effective caulking job ensures waterproofing of the joint, but provides high stability and enhanced aesthetic appeal. However, you should either take the help of an expert of should use a high quality caulking gun to ensure an effective and precisely finished caulking job.
Copyright © 2010 FlooringSupplyShop.com
The post The basics of caulking first appeared on Flooring Supply Shop Blog.
Caulking
Non-Sanded Caulking
Sanded Caulking
Sanded Grout Mortar