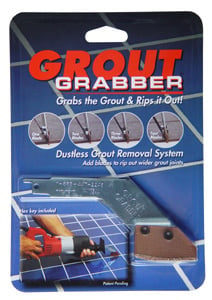 Grouting is an important aspect of a tiling job since it helps in binding the tiles together, and enhances the look of the floor as well. The problem is that grout between the tiles can get discolored or crack.  In such a situation, you would be required to either clean the discolored grout, or remove the cracked one and end up repeating the grouting process.
Cleaning the grout is a much easier process than removing it.  People can easily clean grout by using detergent powder, bleach,  or hydrogen peroxide. The real problem comes when the grout has to be removed since there is an imminent danger of damaging the tiles during the removal process.  People who use a chisel and hammer to remove the grout often crack the tiles while removing the grout.  You can always call in a professional to fix the problem. However, if you purchase an effective hand or power tool you can save money by doing it yourself.
If you wish to remove the grout yourself and have a reciprocating saw in your toolkit you just need to purchase the latest Grout Grabber tool to convert your reciprocating saw into an effective grout removing tool.  Grout Grabber consists of a set of special carbide grit blades that can be easily attached to a reciprocating saw.  These blades have been specially designed to make the job of removing grout effective and convenient.  The unique curved bottom of these blades ensures that you are able to easily initiate, and complete your grout removal process.

Not only can you use the Grout Grabber tool to remove damaged grout, but you can also use it to remove any thin-set that has emerged out of the grout. Further, Grout Grabber can be effectively used in between tile joints ranging from 1/8" to 1/2".  This ensures that you are able to use this tool irrespective of the design and layout of your tiled floor or walls. You can easily add or remove the blades to configure this tool as per the specific tile joint size in the floor or the wall of your house.
Once you have removed the damaged grout it is important to wash the tiled area well before re-grouting.  This will ensure that all the grout and dust is washed away before a new layer of grout is installed.  Grout Grabber will enable you to remove grout conveniently without making a mess.
By using such an effective grout removal tool you will be able to ensure that the grouting job is completed in an effective and affordable manner.  You will further save on a lot of expenses by using Grout Grabber since you will not have to purchase any additional hand tool or power tool to remove the damaged grout from in-between the tiles Because  it is easy & convenient to use, you will not be required to hire any external help.  This  further adds on to your savings.  So go ahead and use Grout Grabber in order to effectively complete a 'Do-It-Yourself' grout removal job in your house.
Click Here to View Action Video
Copyright © 2010 FlooringSupplyShop.com
The post Remove Grout the easy way first appeared on Flooring Supply Shop Blog.
Grout cleaner
grout cleaning
Grout Grabber
Grout Removal Tool
Replacement Blades