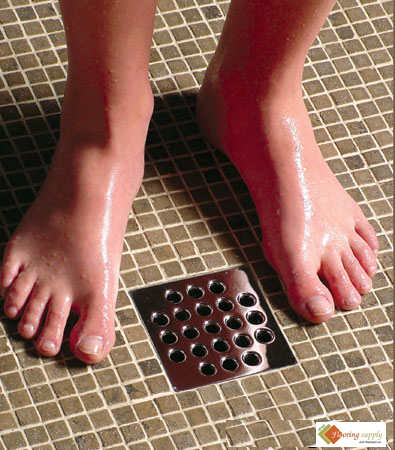 Ebbe Square shower drains are slowly becoming more commonplace in new bathrooms. There are several advantages that homeowners and contractors alike are beginning to see. Ebbe drains are grate drains that will screw in to most standard drain fittings.
One of the biggest benefits of Ebbe drains is how easy they are to maintain. With the new square drains cleaning out any clogs is as easy as grabbing the drain puller, popping the head off, and cleaning the drain out. No more worrying about removing screws, and best of all no more clogged pipes. Another benefit of the square Ebbe drains is the many finishes they come in. There are more than eight different finishes of all different colors. No more having to worry about matching chrome to any design you come up with.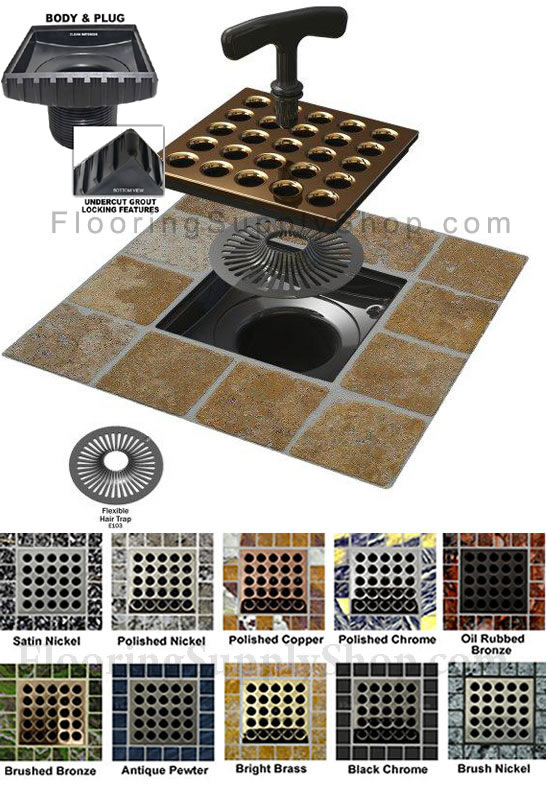 For a contractor the benefits of a square Ebbe drain are even more important. These drains are marketed specifically to any tile installers. The square drain makes installing tile much easier. Most of the time you won't have to cut any of the tiles while installing them. Even if the tiles end up needing to be cut you will be working with straight edges. No more dealing with grinding down tiles for those rounded cuts. The square shape also means that the grout will be much easier to apply and that you are much more likely to have a nice looking product in the end.
Ebbe Square floor drains are considered to be a drain head upgrade which means that they will have to be put on as replacements to the round drain head that came with the shower. While an extra step might sound like a negative it really doesn't add any work at all. You simply have to unscrew the original drain head and pop the new one in. You might as well be changing a light bulb. After your 30 seconds of additional work you will save a large amount of time that would have been spent cutting, especially with more difficult materials like glass.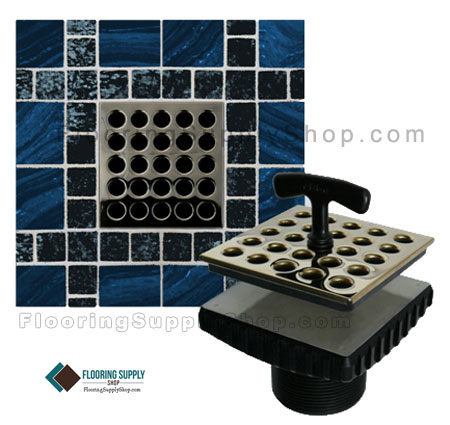 These drains are a great investment that will last the lifetime of your shower. If at any time the styles change you can simply take out one square drain and replace it with another without a problem. Square Ebbe drains have a lot to offer to both contractors and the homeowners alike. Eventually they will be the standard in all new showers.
This allows you to know you're in good hands when the time comes to take a shower in a unit that will stand up to performance. This also means an easier time cleaning the shower after you use it and throughout the years. You will be able to have all the right things when the time comes to get everything you need for a healthy, clean shower each and every time you want to take a great shower without having to worry about anything before or after you take one.
You can learn more when you visit www.flooringSupplyShop.com.
Copyright © 2010 FlooringSupplyShop.com
The post Square Ebbe Drains in New Bathroom Construction first appeared on Flooring Supply Shop Blog.
colors shower drain cover
drain grate
drain strainer
Ebbe shower drain
Ebbe Square shower drain cover
light commercial shower drain
residential shower drain
screwless drain grate
Shower construction