Pro Set Thinset
Data and Specifications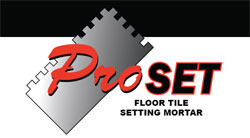 Product Description
ProSet

is an economical thin-set for basic tile jobs. ProSet can be mixed with water or an acrylic additive, like ProCure,

for non-porous tiles. Just add water and mix — no blending of powders required!
Areas of Use
When mixed with water
• Interior and exterior floors and countertops
• Concrete, mortar beds, masonry, cement backer boards
When mixed with ProCure

Acrylic Additive
• Exterior floors and countertops
• Non-porous tile
Limitations
Do not apply to wood, plywood, parquet, asphalt sheeting, vinyl wallboard, metal, glass, fiberglass or sponge-backed vinyl flooring. Do not use to install resin-backed stone.
Applicable Standards
Meets or exceeds ANSI A118.1 for dry-set mortars.
Surface Preparation
Surface must be dry and free from dirt, oil and other contaminants that will prevent a good bond. Glossy or painted surfaces must be sanded and cleaned. Surface temperature must be between 50oF (10oC) and 100oF (38oC). Concrete must be fully cured before ProSet is applied.
Mixing
Thoroughly mix 6 quarts (5.68 L) of clean, cool water and 50 lb. (22.68 Kg) of ProSet together to a smooth, paste-like consistency. Or use 6 quarts (5.68 L) of ProCure acrylic additive in place of water. Let stand for 5–10 minutes, stir again and use. Stir occasionally to keep workable, but do not add more water.
When properly mixed  troweled ridges will stand firm.
Application
Using the fl at side of trowel, apply skim coat of mortar to the surface. Apply additional mortar with notched side of trowel held at a 45o angle to the surface, combing in one direction. Press tile firmly into place. Adjust tile promptly.
Do not spread more material than can be tiled in 15 minutes or while material is still sticky to the touch. If mortar dries, remove and replace with fresh material. Material in bucket will remain workable for up to 2 hours. Temperatures may vary working conditions.
Curing
Allow to cure for a minimum of 24 hours before grouting, depending upon temperature and humidity.
Clean-Up
Clean with soap and water.
Coverage
70–90 sq. ft. per 50 lb. bag when applied with a 1/4" X 1/4" square-notched trowel.
Packaging
• 50 LBS. (22.7 KG) Bag
• White or Gray
Storage
Store in a cool dry area. Keep from freezing.
Safety
Contains Portland cement. Wear rubber gloves and eye protection. Avoid eye contact or prolonged contact with skin. If eye contact occurs, flush with water for 15 minutes. Consult physician immediately. This product contains free silica.
Do not breathe dust; wear NIOSH approved respirator.
KEEP OUT OF REACH OF CHILDREN.
DO NOT TAKE INTERNALLY.
Warning
Western States Wholesale, as blender of processed material in the State of California, we are required by Proposition 65 to warn that one or more of the components in this product, contains chemicals known to the State of California, to cause cancer, birth defects, or other reproductive harm.
AVERAGE COVERAGE PER 50 LB. (22.7 KG) BAG
| | | | |
| --- | --- | --- | --- |
| | 1/4" X 1/4" (6.4 mm X 6.4mm) | 1/4" X 3/8" (6.4 mm X 6.4mm) | 1/2" X 1/2" (6.4 mm X 6.4mm) |
| Product | Square-notched Trowel | Square-notched Trowel | Square-notched Trowel |
| ProSet | 75 Sq. Ft. (7.0 M2) | 65 Sq. Ft. (6.0 M2) | 39 Sq. Ft. (3.6 M2 |
C-Cure Frequently Asked Questions
Grouts and Caulking Links
C-Cure Sanded Grout – C-Cure Non-Sanded Grout – C-Cure Caulking – Grouting Data Sheet
Waterproofing links
Pro Red Waterproofing 963 – SealGuard Waterproofing
Misc Setting Material Links
C-Cure MultiSet 917 – C-Cure Thinset 911 – C-Cure Thinset 910 – C-Cure Pro Full Contact 907 – Pro-Set Thinset – PermaBond FastSet 904 – PermaBond Ultra Mastic 1002 – Dry-Set Mortars Coverage – Non Shrink Grout
The post Pro Set basic Thinset first appeared on Flooring Supply Shop Blog.