Non-Shrink Grout – Multipurpose Repair Material
Rapid Crete Is a line of multipurpose, fast-setting cement products for general concrete repair, anchoring, industrial grouting, and formed work. Rapid Crete is a high performance blend of rapid
setting cement and s to portland cement repair materials and may be applied using similar methods.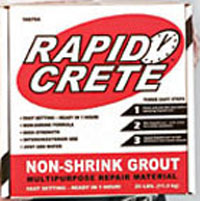 Product Description
RapidCrete

Non-Shrink Grout is a a quick setting multipurpose repair material, ideal for jobs that require strength, durability and low shrinkage.
Areas of Use
• Concrete Repair • Industrial Grouting • Anchoring • Casting • Underlayment • Interior/Exterior
Surface Preparation
Surface must be clean and free from dirt, loose debris, oil, sealers, and other contaminants that will prevent a good bond.
Glossy or painted surfaces must be roughened and cleaned. Immediately prior to application, the repair surfaces must be thoroughly saturated with water, but leave no standing water.
Mixing
Mix 4 parts RapidCrete

Non-Shrink Grout to 1 part clean cool water. To extend working time, use cold water.
For faster setting, use hot water. Place the water in a clean container and then, while stirring with a mixing device, add Non-Shrink Grout.
Keep stirring until you achieve a lump free mixture.
Application
Quickly place the Non-Shrink Grout and apply the fi nishing texture. RapidCrete

Non-Shrink Grout can be trowled smooth or textured with a fl oat.
Apply grout in thicknesses from 1/2-in to 6-in. Do not apply on frozen surfaces.
Curing
Under normal conditions at 70ºF (21ºC), RapidCrete

Non- Shrink Grout will begin to set in 15 minutes and achieve full strength after approximately 1 hour. Temperatures may affect working and curing times.
Clean-Up
Clean with water before material dries.
Coverage
Approximately 1/2 cubic foot per 55 lb. bag.
Packaging
• 10 LBS. (4.5 KG) Box
• 25 LBS. (11.3 KG) Box
• 55 LBS. (25 KG) Bag
Compression Strength
• 2800 PSI (1 hour)*
• 4200 PSI (24 hours)
• 7500 PSI (28 days)
* After initial setting time.
Ideal Depth
RapidCrete

Non-shrink Grout is idealy suited for depths of 0" (feathered edges) to 4". Always apply RapidCrete

products at full depth desired, do not work in layers.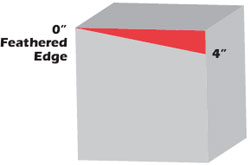 Storage
Store in a cool dry area. Keep from freezing.
Safety
Contains Portland cement. Wear rubber gloves and eye protection.
Avoid eye contact or prolonged contact with skin. If eye contact occurs, flush with water for 15 minutes. Consult physician immediately. This product contains free silica.
Do not breathe dust; wear NIOSH approved respirator.
KEEP OUT OF REACH OF CHILDREN. DO NOT TAKE INTERNALLY.
WARNING
Western States Wholesale, as blender of processed material in the State of California, we are required by Proposition 65 to warn that one or more of the components in this product, contains chemicals known to the State of California, to cause cancer, birth defects, or other reproductive harm.
C-Cure Frequently Asked Questions
Grouts and Caulking Links
C-Cure Sanded Grout – C-Cure Non-Sanded Grout – C-Cure Caulking – Grouting Data Sheet
Waterproofing links
Pro Red Waterproofing 963 – SealGuard Waterproofing
Misc Setting Material Links
C-Cure MultiSet 917 – C-Cure Thinset 911 – C-Cure Thinset 910 – C-Cure Pro Full Contact 907 – Pro-Set Thinset – PermaBond FastSet 904 – PermaBond Ultra Mastic 1002 – Dry-Set Mortars Coverage – Non Shrink Grout
The post Non-Shrink Grout – Multipurpose Repair Material first appeared on Flooring Supply Shop Blog.