Composeal Blue Vinyl Shower Pan Membrane
Flexible Waterproofing for Floors – Walls – Roof Deck / Terraces – Under "thick bed" Tile Installations
PRODUCT PRESENTATION
COMPOSEAL is a blue flexible PVC waterproofing membrane manufactured in 30 and 40 mil thickness in widths of 48″, 60″ and 72″, packaged in 100 ft.and 50 ft. rolls. Unlike ready made units of plastic or metal, COMPOSEAL can be formed to fit any dimensions or drain locations.
USES, APPLICATIONS
COMPOSEAL is used as a concealed waterproofing membrane for showers, Roman tubs, whirlpool bath enclosures, fountains, roof decks and terraces. COMPOSEAL cannot be used as a liner for pools containing fish or water plants.COMPOSEAL is also used extensively in renovation and remodeling, and in the northern climates, as a liner for outdoor hockey rinks.
OVERALL PRODUCT IN PLACE
COMPOSEAL is used generally under tile or marble as a waterproofing membrane beneath a "thick set" mortar bed of 1 ¼"-2″ above a substrate of wood or concrete.
INSTALLATION
Before placing pan, see that the sub-floor is sloped toward drain ¼" per foot using cement mortar if necessary, and is free of loose objects or projections such as nailheads or gravel.
Make turn-up along walls not less than 3″ above curb line, allowing sufficient material to fasten to outside face of curb.
Notch wood studs to ½" to the height of the pan to allow COMPOSEAL to be flush with face of the studs. For metal studs, use furring strips (¼" to ½") above the top of the pan.
Fasten 3″ or higher above the top of curb. Use flathead roofing nails or staples on wood studs. Use drywall screws and washers on metal studs.
Fold corners outside pan as illustrated. Allow for plumb surface by turning corner folds of pan out of way between studs and notch studs or use furring strips mentioned above to maintain a flush surface. Do not cut pan corners.
Use bold-down clamping-ring type drain with weep-holes. Set so subdrain lip is flush with subfloor.
Trim for drain exactly to size of drain opening. Do not trim out to bolt holes, but pierce to accommodate bolts with a tight fit.
Use butyl caulk or equal between pan and subdrain. Plug subdrain and fill pan with water and let stand for 24 hours to insure clamping ring is tight and pan undamaged. Bolt clamping ring firmly. Place a small amount of gravel or other porous material at weepholes so they remain clear when setting bed is poured. In areas under the jurisdiction of the UPC/IAPMO plumbing code, a 15 lb. felt underlayment is required under 30 mil shower pan liners. (The City of Los Angeles no longer requires this underlayment.) No underlayment is required for use with COMPOSEAL 40 mil thickness.
COMPONENTS, PARTS
COMPOSEAL's multi-purpose, preformed corner/curb protector is available to reinforce waterproofing at all corners and curbs. These protectors are sold in pairs and can be used for all outside corners as shown in the 3 illustrations to the right. Compotite does not recommend inside corners which, when cut, weaken the installation.
CODES, CERTIFICATION
COMPOSEAL 30 and 40 comply with the three major plumbing codes: UPC-IAPMO, SBCCI and BOCA. COMPOSEAL has separate municipal approval where required, e.g. City of Los Angeles, City of Philadelphia (40 mil), Metropolitan Dade County and Commonwealth of Massachusetts. (Approval is no longer required in New York City for concealed PVC waterproof membrane).
COMPOSEAL also complies with the Corps of Engineers specs for PVC shower pan material (para 5.8.3.2 15 p1-18) and meets the requirements of FHA Publication 4900.1.
WARRANTY: COMPOSEAL 30 and 40 are warranted against failure for any reason, and in the event of failure, replacement material will be supplied at no charge. This warranty applies only to the membrane itself and not to the manner of installation over which we have no control, and it does not extend to consequential damage or other implied responsibility. COMPOSEAL should last the life of the building.
OPERATION, MAINTENANCE
COMPOSEAL requires no maintenance and should last the life of the building.
MATERIALS, FINISHES
CEMENT WELDING: COMPOSEAL may be welded by the use of a flexible vinyl solvent cement which gives instant contact strength. COMPOSEAL SOLVENT CEMENT is available for this purpose. Use only Compotite approved PVC cement for seaming and welding Composeal. Lay sheets with an overlap of two inches with upper lap edge towards direction of watershed. Fold back top edge and apply the cement to both surfaces. Place together after surfaces become tacky, about two minutes, and press or roll with a roller, first lightly so as to avoid slippage, then firmly, but not so hard as to distort the material
Technical Data
COMPOSEAL 30 and 40 meet the engineering requirements of the American Society for Testing and Materials (ASTM) and the Ceramic Tile Institute (CTI). ASTM D4551 is the test standard established by ASTM
"for PVC flexible sheeting which is used with mastic, bedding or coating for construction of concealed water-containment membranes in applications where there is potential for costly secondary damage from water leakage and very long term reliable performance is essential. The tests are intended to ensure quality and performance."
COMPOSEAL 30 and 40 meet and surpass these ASTM standards.
COMPOSEAL 30 and 40 also meet the CTI requirements for waterproof membranes.
TESTED MATERIAL
CERAMIC TILE INSTITUTE OF AMERICA
These tests were conducted by the United States Testing Co., Test Report No. LA 63554, Smith Emery Co., Test No. T-88-122A-B, and Truesdail Laboratories, Report # 24371-1.
Installation Details
TYPICAL DRAIN DETAIL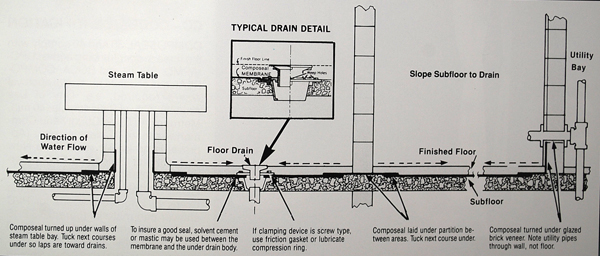 Glass Mesh Mortar Units on Walls
Standard Shower* Installation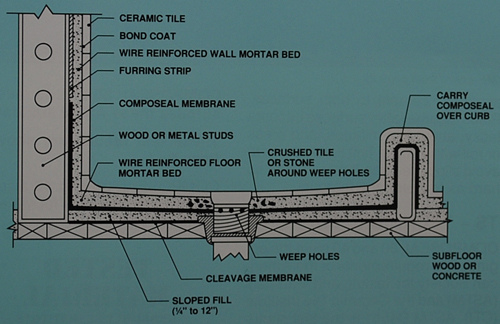 Wood Stairs* (Exterior)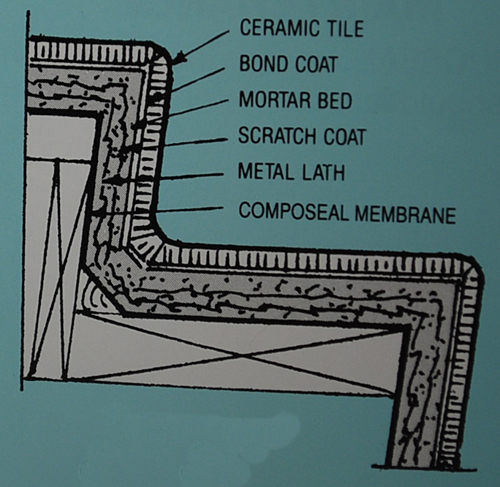 Cement Mortar Bed*

Tile work shall comply with recommendations of "Handbook for Ceramic Tile Installation" published by the Tile Council of America, Inc., P.O. Box 2222, Princeton, N.J. 08543
* These drawings based on sketches in "Handbook for Ceramic Tile Installation."
Engineering Properties
ASTM D 4551 Spec
Grade 30
ASTM D 4551 Spec
Grade 40
Composeal Test Results .030
Composeal Test Results .030
Thickness, inches
0.30″
0.40″
0.31″
0.42
Tensile Strength. lbs/in. width
60-lb min.
80-lb min.
89-lb (2870 psi)
113-lb (2700 psi)
Tensile Strength. at 100% elongation
30-lb min.
40-lb min.
43-lb
57-lb
Ultimate elongation before breaking
300% Min
300% Min
400% +
400% +
Tear Resistance. lbs/in width
185-lb min.
250-lb min.
260-lb
263-lb
Pinholes
None
None
None
None
Micro-Organism Resistance (fungus, mildew, mold)
No Growth
No Growth
No Growth
No Growth
Chemical Resistance:
Distilled H2O % wt. change*
1% max
1% max
+ 0.4%
+ 0.4%
Soapy H2O % wt. change*
2% max
2% max
+ 0.5%
+ 0.3%
Alkali, pass/fail (hydrostatic)
Pass
Pass
Pass
Pass
Shrinkage, dimension change at 158 F ASTM 1204
5% max
5% max
1.3%
2.9%
Volatility, % loss at 158 F after aging
1.5% max
1.5% max
None
None
Hydrostatic pressure (to test water penetration):
Original Condition
Pass
Pass
Pass
Pass
After Folding test (cold crack, 4hrs @ 0F)
Pass
Pass
Pass
Pass
After Puncture test
Pass
Pass
Pass
Pass
After Indentation test
Pass
Pass
Pass
Pass
No evidence of surface wetness or other signs of water penetration was detected on any of the tested specimens.
Additional Test :
Seam, (lap joint) strength ASTM D751 CTI Standard – 8 lbs/in. min. / Composeal 30 – 69 lbs/inch / Composeal 40 – 85 lbs/inch
Specific Gravity: 1.29 @ g/cm3
Cold Crack: passed @ 53 F
ASTM Standard D1004, d 412 d1790, e 96 and FHA Spec. 4900.1 are also met by Composeal
*Measure of water/ chemical surface absorption
Made in USA
Composeal Gold Installation Instructions
Composeal Blue Vinyl Shower Pan Membrane How to Install
Solution for Types of Concrete Cracks
The post Composeal Blue Vinyl Shower Pan Membrane first appeared on Flooring Supply Shop Blog.