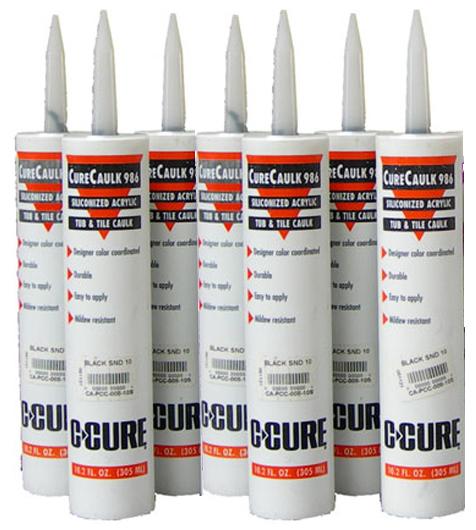 Product Description
CURECAULK is a superior quality siliconized acrylic latex caulk that is mold and mildew resistant.
The product forms a long-lasting, flexible, water tight seal that will resist cracking on most building materials, including glass, wood, ceramic, metal and stone.
CURECAULK is available in all of C-Cure's grout colors.
Basic Use
CURECAULK
fills joints between panels, cracks between walls and seals around tubs, showers, sinks and countertops, woodwork, baseboards, doors and window frames.
CURECAULK is an excellent adhesive for ceramic tile, glass, cork, wood, metal and acoustical tile, and is ideal for setting marble vanity tops to their bases.
Limitations
Do not apply when temperatures fall below 40°F (4°C), or if rain or freezing temperatures are expected within 24 hours.
CAUTION: Do not take internally.
Keep out of reach of children.
Packaging
10.3 oz. (.29 Kg) cartridge
INSTALLATION
Surface Preparation
Surface should be dry and clean, free of dust, loose paint, oil, grease and wax.
Construction – Expansion – Exterior Control – Isolation Joint
Carry theses types of joints through any subsequent finishing material.
Clean the joint and install open or closed cell backer rod to the proper depth as outlined in EJ171 in the Tile Council Handbook.
Application
Insert cartridge into caulking gun. Cut off tip to desired size. Apply caulk in a smooth continuous bead and force into crack.
CURECAULK may be tooled with a dampened putty knife or caulking tool.
Full cure is reached in 48 to 72 hours depending on the ambient temperature and humidity. When applied in areas exposed to moisture, wait at least 12 hours before using water. Unused portion of CURECAULK should be capped and stored in a cool, dry place and used within one year.
Clean Up
Clean hands and tools with water. Clean up misapplied sealant with a damp cloth or
Guarantee
The recommendations, suggestions, statements and technical data are based on the best knowledge available to C-Cure and are given for informational purposes ONLY and without any responsibility for their use.
C-Cure MAKES NO WARRANTY OF MERCHANTABILITY OR FITNESS FOR A PARTICULAR PURPOSE WITH RESPECT TO THE PRODUCT SOLD HEREIN except that the quality of the ingredients shall be in accordance with C-Cure specifications. It is expressly understood and agreed that the buyer's sole and exclusive remedy shall be replacement of defective products and under no circumstances shall C-Cure be liable for incidental or consequential damages.
C-Cure neither assumes nor authorizes any others to assume for it any liability with respect to furnishing of the product. Handling and use of the product are beyond the control of C-Cure, therefore, no warranty is made, expressed or implied, as to the results obtained from the use of the product or against any claims for infringement of patents resulting from the use of the product.
This writing constitutes a complete and exclusive statement of the understanding between C-Cure and buyer. There were no oral agreements or warranties, expressed or implied, collateral to or affecting the furnishing of the product. This understanding shall not be modified except in writing by an officer of C-Cure.
Members of National Tile Contractors Association, Materials & Methods Standards Association, Ceramic Tile Distributors Association.
NOTICE: The information in this bulletin is presented in good faith, but no warranty, express or implied, is given nor is freedom from any patent. In as much as any assistance furnished by C-Cure with reference to the safe use and disposal of its products is provided without charge, C-Cure assumes no obligation or liability therefore, except to the extent that any such assistance shall be given in good faith.
CURECAULK 986 TECHNICAL DATA
| | |
| --- | --- |
| A. Base | Siliconized water based elastomeric acrylic. |
| B. Solvent | Water |
| C. Colors | Almost unlimited color range, which can be matched to tile, fixture, etc. |
| D. Solids | 80% |
| E. Weight Per 10.5 oz. | 1 lb. (.45 kg) |
| F. Application Temperature | 40°F to 100°F (4°C to 38°C) |
| G. Consistency | Medium mastic |
| H. Open Time | 10 to 20 Minutes |
| I. Set Time | 48 Hours |
| J. Full Cure | 14 Days |
| K. Clean Up | Soapy water is best, or water. |
| L. Flammability | None (wet state) |
| M. Freeze-Thaw State | Do not freeze. |
| N. Odor | Slight ammonia |
| O. Mildew Resistance | Good |
| P. Shelf Life | 18 – 24 months when stored in original unopened container. |
| Q. Hardness | Shore A – 10 |
| R. Elongation | 115% |
| S. Tensile Strength | 39 psi (3.1 kg/cm2) min |
C-Cure Caulk Color chart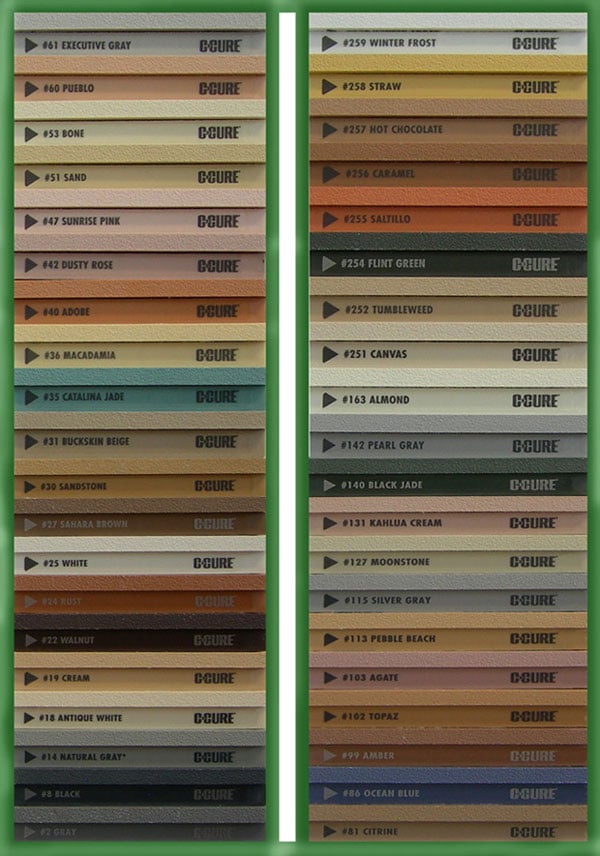 C-Cure Frequently Asked Questions
Grouts and Caulking Links
C-Cure Sanded Grout – C-Cure Non-Sanded Grout – C-Cure Caulking – Grouting Data Sheet
Waterproofing links
Pro Red Waterproofing 963 – SealGuard Waterproofing
Misc Setting Material Links
C-Cure MultiSet 917 – C-Cure Thinset 911 – C-Cure Thinset 910 – C-Cure Pro Full Contact 907 – Pro-Set Thinset – PermaBond FastSet 904 – PermaBond Ultra Mastic 1002 – Dry-Set Mortars Coverage – Non Shrink Grout
The post C-Cure Colorant Caulk 986 Tile and Fixture Caulk first appeared on Flooring Supply Shop Blog.