Tips on working with Tile Grip – Tile Grip the Non Slip solution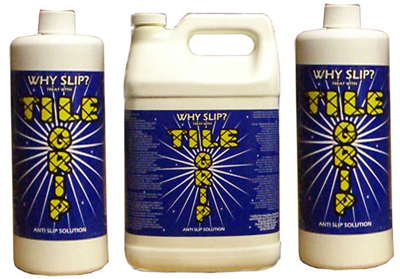 1. Never store in area where it will freeze. Or where children have access to it.
2. Clean up any area of spillage as soon as possible (RINSE WITH LARGE AMOUNT OF WATER)
3. In shower areas be sure that the floor isn't wall tile (it can't be treated)
4. When working outdoors and having evaporation problem, Only work on small area at time. Try covering the wet area with sheet of plastic to reduce evaporation while working. This can give protection from any wind that can or will increase evaporation.
5. Some outdoor tile that resembles a stone pattern may not be treatable due to the coating of its surface. It has a gritty surface that appears to resist slipping. This tile is extremely hazardous when wet. Tile Grip or any other treatment is unable to penetrate the surface.
6. When doing floors that have metal drain caps always coat the caps with heavy coat of petroleum jelly or wheel bearing grease. This will protect it from being etched.
7. Contractors that are treating large floors or pool areas have used large scrubbing machines in order to shorten the time it take to treat large area. A machine weight anywhere from 75 to 125 lbs has been used on these jobs.
8. Once stating a treatment do not get ahead of yourself. Only work on area size that can be done at a rate of 15 to 20 minutes at a time before processing any farther.
10. Marble is very soft, not a hard stone, it can be treated in a little as 3 minutes. You must work very fast and be ready to rinse immediately or it may discolor and could become damaged.
11. Once floors are treated they must be cleaned with cleaners that have PH of 8.5 – 9.5 are best. DO NOT use bleach or ammonia. to clean afterwards.
Product identity (as labeled): TILE GRIP anti slip solution
Contact Phone Number: (323) 731 8453
For more information, send a contact us at contact@flooringsupplyshop.com
Quart container (32 oz.)
One Gallon container (128 0z.)
5 Gallon Pail
55 Gallon drum
Large Quantity and Wholesale prices are available Contact flooringsupplyshop.com for more information.
Why Slip? – treat it with Tile-Grip
KEEP OUT OF REACH OF CHILDREN.
Sealers Links
Glaze N Seal Wet Look 2000 –  Glaze N Seal Wet Look II – Miracle 511 Impregnator Sealer
– Glaze N Seal Multi Purpose Sealer – Stone Defender Aerosol Grout Sealer – Glaze n Seal Stone Color Enhancer and Seal
Cleaning and Care links
Glaze 'N Seal Heavy Duty Cleaner – Glaze N Seal Paint and Sealer Stripper – Miracle Porcelain Ceramic Cleaner
Anti Slip Links
InvisaTread Application Instructions – InvisaTread Product Description – Glaze 'N Seal Grip N Seal – Tile Grip Anti Slip
The post Tips on working with Tile Grip first appeared on Flooring Supply Shop Blog.