PreFormed Ready for Tile Shower Pan
For faster installations Place it, Seal it, Tile it.
The Fin Pan PreFormed Shower Pan is a Ready to Tile, waterproof shower pan that can be installed in minutes, which reduces the time and labor involved with the old mud bed methods.
You will never go back to your old ways, once you install a PreFormed Ready to Tile Shower Pan.
It weighs a third less than comparable fiberglass or plastic showers.
The drain is built-in and adjustable for your chosen tile thickness.
It is easy to handle and install.
PreFormed Shower Pans are sturdy and waterproof, made of high-density polystyrene, fiberglass mesh, and a latex polymer liquid waterproof coating.
These seats install in a fraction of the time required for traditional methods
Most importantly, the pans come 100% waterproof and will never rot or degrade.
Shower pans come with a standard 6″ integrated side splash and curb so you don't need special framing or waterproofing.
Every pan is sloped to ¼" per foot and no mud float is needed.
Time saving… Waterproof… Worry Free. The difference is CLEAR.
Note: It is the user's responsibility to ensure waterproofing prior to tiling.
INSTALLATION
1. Before installation, plug the drain pipe from the bottom and fill shower pan with water for 24 hours to ensure there are no leaks. If leaks occur, repair with latex polymer liquid waterproofing supplied with pan.
2. Make sure subfloor is clean and level. Cut PVC or ABS floor drainpipe 5/8" above floor level.
3. Remove strainer and line up access to drainpipe from above.
4. TEST shower pan for fit and level before installing, Plug the inside of the drain pipe and fill the shower pan with water for 24 hours.
5. Remove pan and apply thinset with 1/2" x 1/2" square notch or 19/32" half moon trowel. Cover area below pan thoroughly.
6. Apply liberal coating of PVC or ABS solvent cement to drain pipe and inside drain where the connection will be made. Solvent choice based on drain type. Always follow solvent manufacturer's instructions..
7. Set pan into wet thinset and press firmly for solid contact.
8. Apply ProPannel

or any backer board of your choice to the walls, coming flush with the top of the shower pan sides.
9. Seal the joint between the backer board and the shower pan using a Latex Polymer Liquid Waterproof Membrane or Polyurethane Sealants and fiberglass reinforced mesh.
10. Install tile.
NOTE: It is the user's responsibility to ensure that the shower pan is waterproof prior to tiling.
Shower Pan Sizes with center drain location (In Stock except where *noted) Check out web site for more in stock sizes
* Please allow 5 days lead time for these models
Custom sizes available upon request. An exact drawing with dimensions, drain location, and curb location is needed.
**PreFormed Component's Warranty will be voided if pan is modified on the jobsite. Waterproofing should not be compromised. PreFormed Ready to Tile Components must be installed per Manufacturer's Instructions.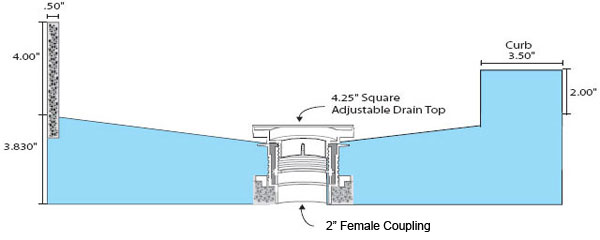 PreFormed

Shower Pan Cross Section & Drain Detail – Scale 1/4″ = 1′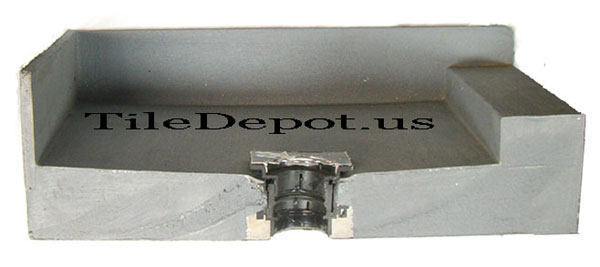 Curb dimension: front high 5 3/8″ – inside curb high 2″ – top curb 3 3/8″
–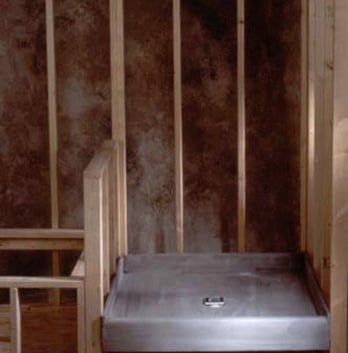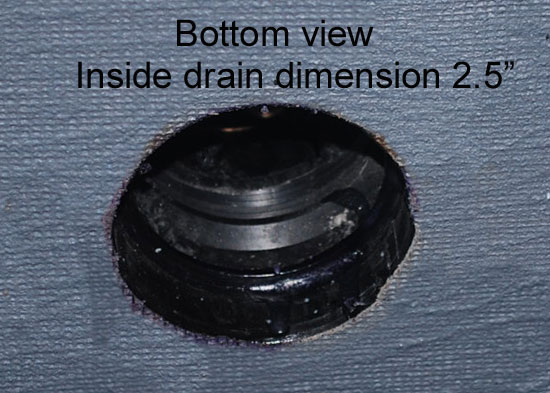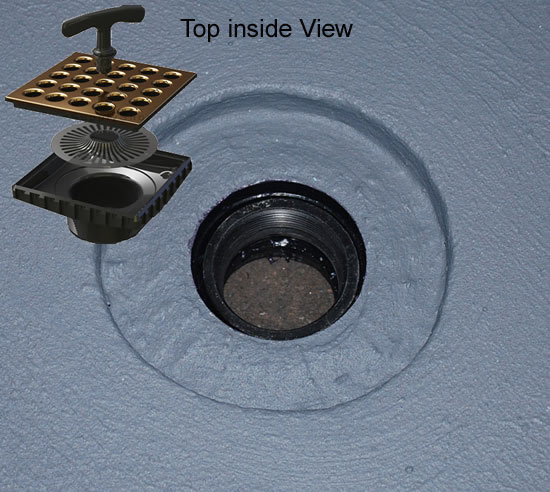 PreFormed Ready to Tile- Product Line Warranty
Fin Pan, Inc. warrants for a period of thirty five (35) years that PreFormed Tile Ready products meet or exceed applicable manufacturing standards in force at the time of manufacture.  Fin Pan will, at its option, repair or replace any product which proves defective due to manufacturing.  THERE ARE NO WARRANTIES OR GUARANTEES WHICH EXTEND BEYOND THE DESCRIPTION SET FORTH IN THIS WARRANTY AGREEMENT.  THE REMEDIES STATED HEREIN ARE EXCLUSIVE REMEDIES AND FIN PAN SHALL NOT BE RESPONSIBLE OR LIABLE FOR ANY INDIRECT CONSEQUENTIAL OR INCIDENTAL DAMAGES OR FURTHER LOSS OF ANY KIND WHATSOEVER, INCLUDING, BUT NOT LIMITED TO, DAMAGE TO THE BUILDING IN WHICH THE COMPONENTS ARE SITUATED, DAMAGE TO THE CONTENTS THEREOF, OR TO ANY OTHER PROPERTY OR PERSONS.  This warranty shall apply only if the product is used strictly according to applicable specifications, and/or instructions provided by Fin Pan for its use.  Fin Pan shall not be liable otherwise.
The PreFormed and ProPan Shower Pans now meet the requirements of IAPMO PS 106-2010 and are now are UPC listed.
Preformed Ready to Tile Product links
PreFormed Ready to Tile Shower Pan – ProPan Shower Pans –  Preformed Shower Pan MSDS – PreFormed Slope – PreFormed Niches – PreFormed Shower Seats – PreFormed Curb – ProPanel Lightweight Insulated Backer Board MSDS
The post PreFormed Ready for Tile Shower Pan first appeared on Flooring Supply Shop Blog.