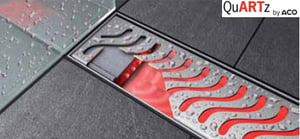 QuARTz By ACO INSTALLATION DRAWING
Shower Channel Concrete Slab Installation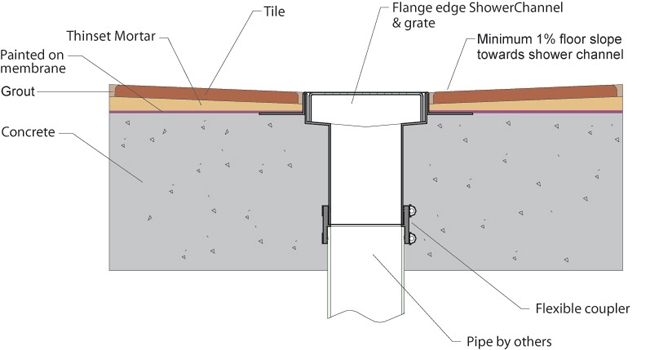 NOTES:
1. Applicable detail for floor slab and elevated slab.
2. Concrete slab structure should be sufficient strength to take weight of finished shower base.
3. Shower channel trench envelope should be "blocked out" during concrete slab pour to allow the shower channel to be installed separately from the main structural floor slab.
4. Pipe stub should be fully accessible to allow transition coupler to be installed prior to finished concrete pour around shower channel body.
5. Refer to hot mop painted membrane manufacturers regarding membrane application and properties.
6. Finished shower floor should slope a minimum of 1% (1/8″ per 1ft) to the shower channel.
7. Refer to ACO'S latest installation instructions for complete details.

Quartz Linear Drain Technical Product Support
Shower Channel Joisted Wood Floor Installation
The post Shower Channel Concrete Slab Installation first appeared on Flooring Supply Shop Blog.