Adjustable Shelf Bracket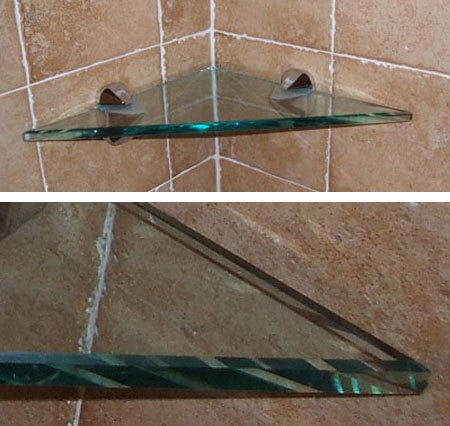 Typical Applications Include Bathroom Shelves, Displays, Speakers and Collectibles
These Adjustable Shelf Brackets are designed to work with 1/8 to 15/16 inch (3 to 24 millimeter) thick glass or wood shelves, up to 10 inches (254 millimeters) deep.
For maximum strength in drywall installations, brackets should be secured to a stud no more than 16 inches (406 millimeters) apart.
In concrete installations quality anchors are recommended.
The material directly behind the bracket could have an effect on the brackets performance. Hard materials such as concrete, tile or marble do not have the tendency to dent or collapse. However, depending on its condition, drywall can compress or dent and allow the front edge of the shelf to slant down. Therefore, the depth of the shelf and the amount of weight placed on it should be considered in this type of installation.
Maximum recommended weight per pair of DL631 Shelf Brackets correctly installed is 44 pounds (20 kilograms).
Height (Closed Position): 2-1/16 in
Includes Adjusting Screws 2" Mounting Screws, Foam Gasket
Installation Instructions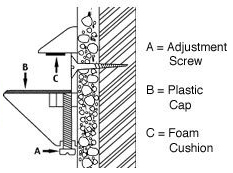 Loosen adjusting screw (A) to expose wall fixing hole.
Mark position on wall and level to other shelf bracket, no further than 16" apart.
Drill hole to the depth of the screw using a no. 16 (8mm) Masonry Drill
Insert wall plug to be level with or just below wall surface and fix securely to wall
Fit plastic cap (B)
6. Fit shelf ensuring it is located to the back of the shelf bracket.
Tighten adjusting screw (A) to grip the shelf.
To protect glass or polished surfaces, remove softening pad backing paper and apply as in drawing (C).
Shelf Bracket must be securely fixed to the wall with appropriate fasteners. Screws and multi-purpose wall plugs are provided, which will allow attachment to most type of walls.
10. The quality and thickness of the shelf, the number of shelf bracket, and the type of wall will affect the loading capacity.
Read all specifications above carefully.
The post How to Install an Adjustable Shelf Bracket first appeared on Flooring Supply Shop Blog.