Recommended for all interior walls.
Stain and fade resistant.
Easy to maintain Pool safe Tile

For most Glass Tile
Regular cleaning with a mild bathroom cleaner, window cleaner, or mild diluted dish soap and a soft cloth or sponge is recommended. Use cleaning products that don't
leave a residue behind. Rinse with a soft wet cloth. Buff dry with a soft cloth. Do not use acids or cleaners containing acids or oils, corrosive chemicals, or abrasive cleaners.
For borders with a combination of Stone and Metal or Glass, a regular cleaning with a neutral stone cleaner is recommended.
We recommend sealing all stone products with a high quality sealer (preferably a penetrating sealer). Make sure any excess sealer is removed from the surface of the glass and metal before it is allowed to dry.
For our Crackle Glass
This crackle glass must be sealed with a high quality penetrating sealer before installation to prevent moisture or grout from lodging in the texture of the glass.
Do's and Don'ts
– Do vacuum, sweep and mop floors frequently.
– Do clean surfaces with mild detergent or stone soap
– Do thoroughly rinse and dry the surface after washing
– Do blot up spills immediately
– Don't use vinegar, lemon juice or other cleaners containing acids on Marble, Limestone, Travertine or Onyx surfaces.
– Don't use abrasive cleaners
– Don't mix bleach and ammonia, this combination creates a toxic and lethal gas.
Glass Technical Data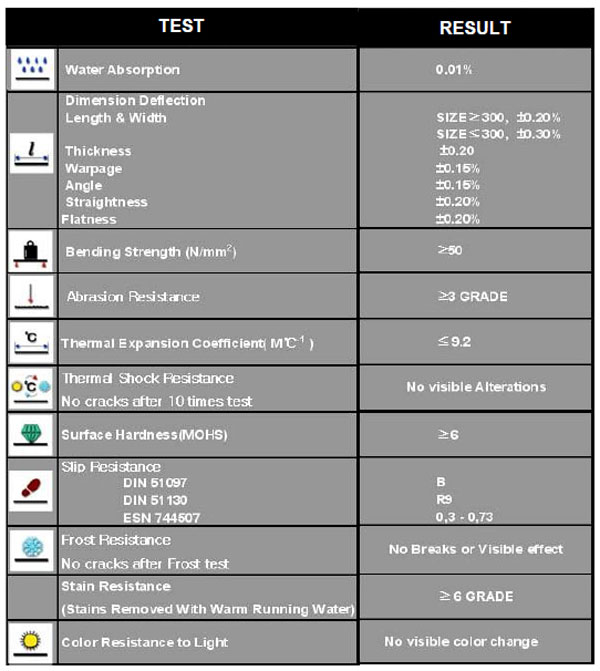 Glass Tiles Fixing Instructions
Wall glass tiles are easy to install. Extend a uniform layer white adhesive in the surface where you will fix the glass. We recommend the use of Mapei Adesilex P9 white, kerakoll H-40 flex, or similar adhesives from other commercial Brands. Spread the adhesive with a trowel, following the manufacturer's recommendations.
Once the homogeneous white adhesive layer has been extended (100% of the area), begin fixing the glass pieces, pushing softly and firmly so as to avoid holes or bubbles between the pieces and the wall. If an area is been without white adhesive, add some more.
Do not hit the glass with sharp objects.
Fix glass pieces leaving space between them (min 2-3mm.). If have to cut some pieces, you can use a sharp ceramic tile cutter. Grouting should only take place when the adhesive is fully dry.
Holes for the application of accessories must be made with a drill bit suitable for glass, very slowly.
For cleaning purpose we recommend the use of a glass cleaning agent and dry with a cleaning rag. Improper manipulation causes scratches and breakages. The use of detergents and abrasives (cleaning powders) could cause irreversible damages in the pieces. Any doubt, contact US.
Matt finished glass tiles: do not stain the glass side with adhesive when fixing them. For cleaning purposes we recommend the use of products for cleaning and maintaining stone and marble. It is advisable to make a test first.
Small color and size variations could appear in hand made glass tiles. Verify pieces before gluing. No claims will be accepted after pieces have been fixed.
INSTALLING GLASS TILE :
Installation Specifications for Glass Tile: Installers please read carefully before beginning installation!
Glass Tile Design Tiles are made by fusing cut glass in a high temperature kiln. Extra caution and attention to installation instructions is recommended for a successful installation.
To prevent simple mistakes when installing glass tile there are some basic procedures that are different from installing ceramic or stone tile.
Our glass tiles may be installed on exterior and interior wall areas, in hot or cold temperatures, and even in wet or dry locations. Fused glass tile is not recommended in high traffic floor applications and should not be exposed to high abrasion, thermal shock, impact, or installed on a flexible surface. However, our tumble-frosted glass can be installed on the floor.
Substrate:
Make sure that glass tile is installed over the proper substrate. This is one of the most important factors in ensuring a good installation.
Since glass tiles are transparent any crack in the tile is visible, the use of a crack suppression membrane is strongly recommended. Many substrates continue to cure and shrink over a period of months and a crack suppression membrane prevents shrinkage or movement of the substrate. If a crack suppression membrane is not used neither the manufacturer nor the dealer will accept any responsibility should any cracking occur.
Glass tile should be installed over a clean, sound, and flat concrete substrate, with a steel trowel and fine broom finish, free of contaminates including curing compounds.
Substrate should be free of cracks and in water areas should be waterproof. If necessary, use the installation material manufacturer's membrane for crack and water protection.
Allow for expansion joints whenever substrates change.
Do not install glass tile on Chipboard, Particleboard, Masonite, Press Wood, Plywood, or Asbestos Boards.
For pools and fountains we recommend installing s mortar bed according to TCA P601-98.
Installation Steps:
1. Flatten the area for tiling with white think-set mortar. (2-component, flexible acrylic thin-set mortar system formulated for exterior and interior wall installations).
2. Spread the adhesive with a notched trowel following the manufacturer's recommendations. Spread only as much adhesive that will be worked within a 15 minute time period.
3. Take off any protective paper or plastic paper on the mosaic.
4. Cover or "back-butter" each piece of glass tile with the flat edge of the trowel to provide a void-free installation and good contact with the mortar bed.
5. Glass tile should be set in place and tapped gently with a grouting float to insure 100% full bedding and a true surface. Allow to set until firm before grouting.
6. Excess adhesive must be cleaned from the surface and grout joints with a wet cloth or sponge while the adhesive is fresh.
7. When working with glass tile, it is important to immediately eliminate any voids or air pockets in the setting bed that can affect the visual qualities of the glass.
8. Glass tiles come in mesh backing on the back of the tile for easier installation and spacing however make sure to leave a minimum of a 1/16" (1.5mm) spacing between each glass tile sheets.
Grouting and Pointing Joints
Grout joints should be packed full and free of all voids and pits. Excess grout should be cleaned from the surface as the work progresses, while grout is fresh and before it hardens. Prior to grouting test a small area to make sure the surface does not scratch during grouting. It is recommended to use a latex additive in the grout for increased performance.
• No acids should be used for cleaning grout haze.
• Due to the impervious quality of glass, the grout will take longer to begin setting up.
• Use a damp sponge for the final clean washing and smoothing of the grout joints.
Cutting/Drilling:
Use a high quality wet saw with a diamond "cut-off" or carbide blade. We recommend using a tile blade designed for cutting glass.
• To prevent rough edges, glass tile must be cut in an extremely slow manner.
• Turn the tile upside down for cutting to minimize chipping or the colored backing.
• Cut edges should be stoned or sanded smooth after cutting.
Protection:
The contractor shall take all necessary precautions to protect the finished work from damage by other trades. Do not allow construction traffic on fresh tile or grout joints. Allow the grout to cure for a minimum of 7 days before aggressive use or steam cleaning.
Maintenance:
Use a glass cleaner and a soft lint free cloth for cleaning glass tile. To remove soap scum or water deposits a minimally abrasive cleaner and soft bristle brush can be used.
Stone – Glass – Metal and more care and maintenance Links
A Step by Step Guide to Installing Your Tile – Caring for Metals Tile and Trims – Ceramic Tile Flooring Care and Maintenance – Tile Guidelines – Important Information on how to purchase Tile – Caring for Natural Stone – Caring for Metals Tile and Trims – Installation and Spec for Glass Tile
The post Installation and Specifications for Glass Tile first appeared on Flooring Supply Shop Blog.