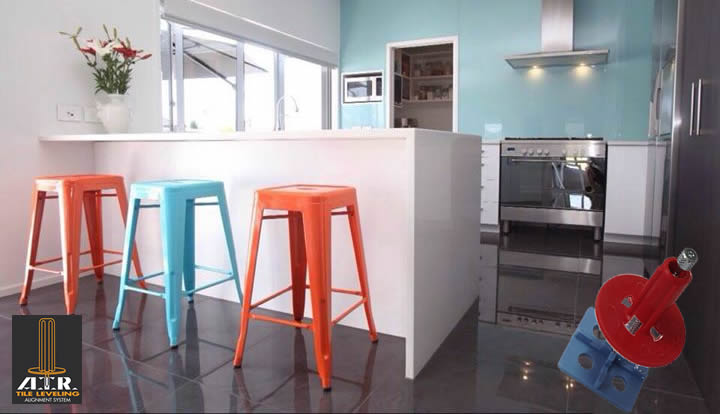 Now that spring has officially arrived, many homeowners are going to focus on finally getting around to those home improvement projects they were never got around to during the winter. One big change you can make to your home, that makes an even bigger impact on it's appearance, is getting new flooring.
There are, of course, hundreds of flooring options one has to choose from. A flooring type that has often gotten a bad rap is tiles. People have a misconception that they are pricey, difficult to install, and are delicate. What people don't think about is that, as is with everything, technology has completely changed tiles and how they're installed.
Tile now days are completely transformed, unique, and almost futuristic. Frosted glass tile along the walls of a shower can turn it into a spa like environment while dark porcelain tiles in the kitchen give it a Tuscan feel.. It has the ability to take a room to another level. While it's still popular in the traditional settings of the bathroom and kitchen (thanks to its water resistance), it's almost becoming popular in entry ways and walkways thanks to it's durability.
A big concern for many when installing tile is proper installation. Whether you do it yourself, or hire a professional, we've all heard the horror stories of jagged, uneven tile floors. As I previously mentioned, technology has transformed the installation process with much of that due to the invention of the ATR Tile Leveling System. The system is the only of its kind in that it is a simple, pull out tile leveling system.

Other tile levelers involve use of force, kicking, or even use of tools. I'm fairly certain the last thing someone wants to do when they install brand new tile floors is start kicking at the leveling system or taking a mallet hammer to the leveling system to try to get it out, running the risk of scratching or chipping a tile. This system is unlike others in that it is simply un screw in few spin or use 10mm socket.
Some advantages below
1. The universal Spindle removes cleanly and easily, without any force applied, eliminating risk of fragmenting tiles or leaving any unwanted obstructions behind
2. ATR Leveling System is also the only system not to leave any straps or obstructions between the grout joints once the spindle is removed
3. NO SPECIAL TOOLS REQUIRED, for the advanced professional a simple socket and a cordless drill may be used to install and remove spindles so you are not depending on a broken gun or a single gun on the job site
4. The only system that the spacing plates lock the tile into position giving you the most perfect intersection of the tile and straight lines without requiring consistent adjustments
5. no movement in tile position while twisting the spindle
6. Great labor saving 4 to 1 ratio
For those of you looking to remodel on a budget or simply prefer to do it yourself, there is a ATR Tile Leveling System that will give you the same results as with the professional kit. All you have to do are three easy steps: spread mortar and install tile, screw the spindle into the spacing plate and slide the plate under the tiles to align them, and turn the spindle until the tiles are aligned. It doesn't matter if you're installing tiles on your floor or walls, it's all the same for this system. Just like that, your "big project" for your home this spring, just got a little easier.
Spencer Blohm is a freelance home and lifestyle blogger for ViralHeat.com. He's currently been on a D.I.Y. binge and has established some unlikely friendships with the employees of his local hardware store.
The post Home Improvement things to know before your next Remodeling first appeared on Flooring Supply Shop Blog.