How To Seal & Maintain Concrete Interlocking Pavers & Brick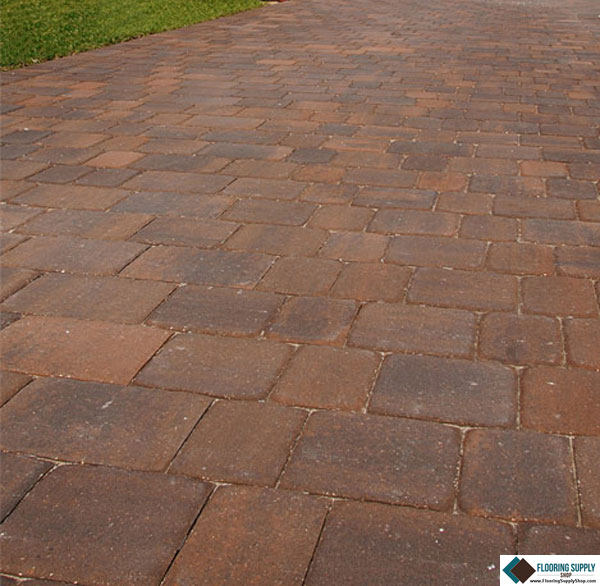 The following information is based on product application reports and manufactures information and is provided in good faith to assist the consumer. READ ALL INSTRUCTIONS AND PRODUCT LABELS COMPLETELY BEFORE USING. PRE-TEST IN AN INCONSPICUOUS AREA PRIOR TO APPLICATION TO DETERMINE IF THE DESIRED RESULTS ARE ACHIEVED.
Unsealed interlocking pavers & brick are subject to staining, fading, sand loss, and can sometimes develop weeds and mildew growth. With proper sealing and maintenance your pavers will be more likely to have a long lasting, beautiful and durable life and appearance. The sealer selection for Interlocking Pavers, brick and other types of sand set pavement material is generally based on the desired "finished" look and the degree of stain resistance required as well as the need for joint sand stabilization. Most paver installations will benefit from a sealer that has joint sand stabilizing properties. Use of Glaze 'N Seal's Paver Sealer & Joint Stabilizer will protect from stains, oil and fading as well as sand erosion.
| | | | |
| --- | --- | --- | --- |
| Recommended Product | Stain Resistance | Finished Look | Comment |
| Paver Sealer/Stabilizer | Excellent | Low-Medium Sheen | Water-based – Film-forming |
Surface Preparation
Newly manufactured concrete pavers should cure 14 days or more before sealing. Follow paver manufacturer's recommendations. Prior to the application of Glaze 'N Seal's sealer products, surface must be thoroughly clean. Remove all dirt, oil, grease, paint, efflorescence and any previous sealers that may not be compatible with the new sealer. General cleaning may be done using Glaze 'N Seal's alkaline base Heavy Duty Cleaner. Mix the concentrated detergent according to label instruction depending on severity of surface soils. For Efflorescence stains or hard water deposits, use Glaze 'N Seal's mild acidic cleaner Efflorescence Remover. Note…(When acid has been used for any reason, surface must be neutralized). For neutralizing, we recommend Glaze 'N Seal's Neutralizing Rinse. Always read cleaning product instructions and cautions with any cleaner.
After tamping down joint sand and sweeping the sanded areas for new installations, be sure the sand is at least 1/8 inch below the surface of the pavers. Make sure all sand residue and fine powder is removed with broom & blower before application of any film forming sealers. Allow any moisture in or on the surface of the pavers to dry at least 24 hours. Allow 48 hours or more if temperatures are cool or a pressure washer has been used. For best results the sand should be dry to its full depth before sealing. It is always recommended to test the sealer of choice in a small area first. Always read product label and directions carefully before beginning to use any sealer products.
Seal
Apply Glaze 'N Seal's Paver Sealer & Joint Stabilizer to a clean dry surface using a compressed air hand pump garden-type sprayer. Apply a heavy saturating coat of sealer. Ensure that all joints are flooded to maximize sealer soaking into the dry sand. Immediately squeegee any excess product down into the sand joints using a large foam or rubber squeegee. Avoid puddling on the surface. An optional second thin coat may be applied to the surface of the pavers after two hours if desired to increase protection & gloss. Ideal surface temperatures should be above 55° and below 85°.
After final coat, allow sealer to dry 2 hrs before foot traffic. Limit heavy traffic. Keep vehicular traffic and moisture off for 72 hours while sealer cure
Maintenance & Other Sealer Options For Concrete Interlocking Pavers & Brick
Seal
Maintain your pavers with periodic cleaning of grease, dirt, loose soil and hard-water stains with Glaze N Seal's (Heavy Duty Cleaner). For stubborn grease spots use Heavy Duty Cleaner in a more concentrated formulation. Rinse surface well with water.
Reapply maintenance coats of sealer as needed. All Glaze N Seal sealers are re-coatable. Make sure surface is clean and dry at time of reapplication.
If Considering Other Glaze 'N Seal Sealers For Concrete Interlocking Pavers & Brick, See Options Recommended From Chart Below
Stain Resistance: Stain (S ) Oil (O) Water (W)
*Economical water repellant. If a natural look with oil resistance is needed, use Stone Sealant Impregnator.
If a deeper wet look appearance is desired, Glaze 'N Seal's "Wet Look" Lacquer can be applied to an unsealed surface, When applying film-forming sealers as "Wet Look" Lacquer or Multi Purpose sealer, use 2-3 thin even coats. Minimize foaming. A solvent resistant spray applicator is recommend when applying "Wet Look" Lacquer".
Glaze N Seal's Natural Look Penetrating Sealer may be used to provide a long lasting water protection that looks natural on the paver surface. Glaze 'N Seal's Stone Sealant Impregnator will provide premium stain, oil and water protection that looks natural on the surface. When using penetrating-type sealers Stone Sealant Impregnator or Natural Look Penetrating Sealer, apply one liberal coat using a sprayer or roller. Do not allow excess Natural Look Penetrating Sealer to dry on the surface. Wipe up excess sealer before it dries. After 10-24 hrs check repellent by dropping water droplets on surface to check for water bead. If need apply second coat.
More information on how to clean Seal and maintenance your hard surface
The post Maintain Concrete Pavers and Brick first appeared on Flooring Supply Shop Blog.
Brick sealers
Glaze n Seal
Pavers and Brick
Pavers sealers
sealers
Stone Sealant Impregnator
stone solution sealers