Chameleon Tile and Stone Registers Overview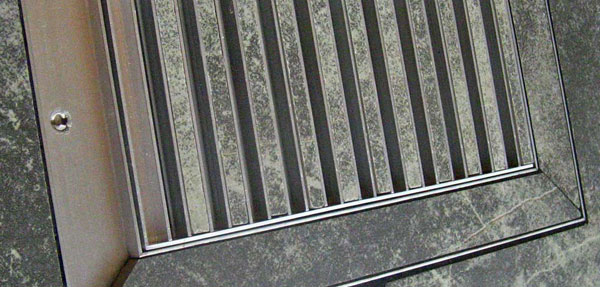 The Most Versatile Floor Register
Chameleon Tile & Stone Registers are used with ceramic tile, porcelain tile, slate, granite, marble, travertine, concrete, cork, hardwood and bamboo floors. Registers for either 3/8-inch or 1/2-inch material are available. Specify which thickness when ordering.
Made of sturdy aircraft-grade aluminum, Chameleon Tile & Stone Registers come in two parts: a cradle and a frame.
The installer cuts tile and stone materials with a ceramic tile wet saw.
For wood materials, the installer uses a power saw to cut pieces.
Pieces are then glued into the register's channels with clear silicone caulk.
The frame is installed directly on the subfloor, surrounded by tile or stone flooring.
Create a flush-mount matching register for tile and stone floors.
Integrate job site tile or stone flooring material with an engineering strength, aluminum frame.
Chameleon vents offer significant structural strength without having to sacrifice style for function.
Practical and Attractive
Flush-mounted Chameleons are a major improvement over standard heat vent covers. With their exceptional durability, they integrate with your hard-surface flooring for a perfect match. Chameleons come in all standard vent sizes and can be ordered in custom sizes.
Versatile
Use a Chameleon Tile & Stone register for ceramic or porcelain tile and with natural stone such as marble, granite and slate. These floor grates also can be used with concrete, cork, hardwood or bamboo. Chameleons can be mounted on a tile or stone wall as an attractive air return grille. For laminate flooring, choose the Chameleon Laminate Register.
Built To Last
Chameleon Floor Vent Registers are made in the USA of aircraft-grade aluminum and engineered to stand up to heavy foot traffic.
Three Easy steps and you done.
Within minutes, experienced floor installers or handy homeowners can easily cut pieces of flooring material to fit within the Chameleon's channels.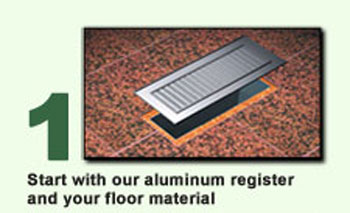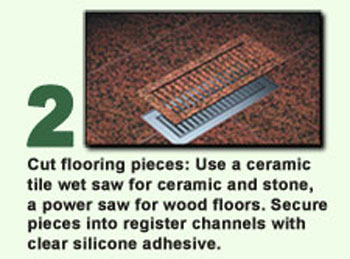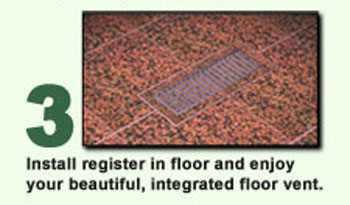 Chameleon Floor Vent Registers can be used with
Ceramic or Porcelain Tile
Natural Stone such as Marble, Granite and Slate
Concrete
Cork
Hardwood
Bamboo
Laminate Flooring
The cradle is removable. Dampers are an option, custom-ordered to fit all standard tile & stone register sizes (below).
Available in these standard sizes (in inches). Measure vent opening & order
2 1/4 x 10

2 1/4 x 12

2 1/4 x 14

3 x 10

4 x 8

4 x 10

4 x 12

4 x 14

6 x 10

6 x 12

6 x 14
Available in these two thicknesses: 3/8″ and 1/2″ Thickness
Custom available on request
Dampers available for each size
Made in the U.S.A
FAQ Chameleon Tile and Stone Registers
Installation Instructions Chameleon Tile Registers
Chameleon Tile and Stone Registers Overview
The post Chameleon Tile and Stone Registers Overview first appeared on Flooring Supply Shop Blog.
Chameleon Tile and Stone Registers
diffusers
floor grilles
floor register
Floor Vent Registers
register for tile
registers
vents