Sometimes it becomes very difficult to choose among the different types of tiles one can use at home, offices and other places. PEI Scale was established with the view to resolve these kinds of confusions and help people make a wise decision. The ratings, undoubtedly, prove beneficial for the consumers to decide as to which type of tile goes well with which kind of floor or wall surface.
Porcelain Enamel Institute, an organization concerned with the betterment of the porcelain industry since 1930, set up the PEI Scale to provide certain common and universally accepted yardsticks. These give appraisal of different types of tiles and their use, thereby, acting as a valuable guide for the consumers. The PEI Ratings are popularly resorted to while deciding upon which variety of tile is best suitable to meet their requirements. It gives a clear picture of the hardness of specific varieties of tiles and help in zeroing down to a particular type. Although ratings are given for both ceramics and porcelain tiles, people tend to focus more on the former at the expense of ignoring the latter which are equally important. However, it is advisable to pay attention to both while determining the right type of tile if one wants to get value for money.
The PEI Scale works by bringing to fore the resistance and endurance level of an enameled surface which gives a fairly clear idea about the kind of foot traffic it can survive as well as how durable it is. Once assigned, these are extremely helpful in taking decisions regarding their suitability in a given context of use. PEI Scale divides the various types of tiles under five different categories which are decided keeping numerous factors in mind.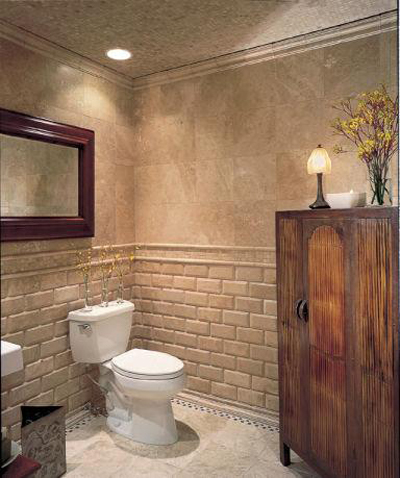 If on one hand tiles falling under class 0 are deemed unfit for flooring purposes; then on the other hand, there is class 1 that implies that the tiles categorized under them are suitable to be used for commercial and residential walls. Additionally, the tiles under class 1 are shown to be tolerant towards bare foot traffic. Similarly, class 2 can bear the burden of what has been called soft soled traffic and can comfortably be used for bath and wall floor, making them ideal for use in homes.
Class 3 tiles stands out from those mentioned so far as these find favor with both light commercial floors and all types of residential floors. Class 4 tiles are in a different league altogether as these are considered competent for catering to light industrial, institutional, and medium commercial areas. Tiles falling under the class 5 have been declared to be highly durable and resistant to extra heavy traffic. Furthermore, these are also hailed as chemically more resistant and tolerant towards dirt that is inimical to its quality.
Although PEI Scale can prove to be a useful aid in taking the crucial decision regarding the right type of tiles a person should purchase one must not bank on them exclusively. One must take into consideration other important factors like bond strength, glaze, hardness, shape, and dimension and water absorption, while taking a final decision.
Group I: Suitable only for residential bathrooms.
Group II: Suitable for general residential areas, except for kitchens, hallways or other heavy traffic areas.
Group III: Suitable for all residential and light commercial applications like offices and reception areas
Group IV: Suitable for any residential and moderate commercial applications.
Group V: Suitable for all residential and all commercial applications.
CLASS 0: Tiles technically unsuitable for floors.
CLASS 1: Residential and commercial wall and bare foot traffic.
CLASS 2: Wall and residential bath floor, and soft soled traffic.
CLASS 3: All residential floors and light commercial floors.
CLASS 4: Medium commercial, light industrial and institutional, moderate soiling.
CLASS 5: Extra heavy traffic, abrasive dirt, chemically more resistant.
Copyright © 2010 FlooringSupplyShop.com
The post PEI Scale Ceramic and Porcelain first appeared on Flooring Supply Shop Blog.
ceramic bathroom tiles
Ceramic tile
glass tile
mosaic tiles
PEI Scale
Porcelain
shower tile
stone