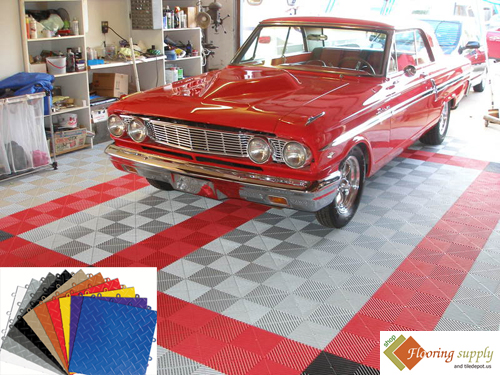 Garage is no longer a place for parking cars, it serves multiple purposes. It can be used as a storage space or even a work area. Depending upon the use of the garage, you can select the right flooring option. There are several garage flooring options available in the market amongst which you can choose as per your preference and budget.
A popular garage flooring option is tiles, plastic modular or ceramic. Ceramic tiles can be a good flooring option for the garage, only if you use the commercial grade thickness tiles. Do not use lower grade tiles as these may not be able to withstand the load of the vehicle. These tiles are available in an assortment of colors which can give a vibrant appearance to your garage. In order to achieve a different look you can use different tile colors and form various decorative patterns. You can also choose amongst different patterns and style to give a different look to it. Ceramic tiles are durable, affordable and easy to install. Other than this, one can even use plastic modular flooring which is inexpensive and available in various colors. These easily snap together with the help of rubber mallet, without any need for gluing or prepping. These are easy to walk on and offer protection from stains, which may be caused due to gas or oil. In case, these tiles do get damaged, you can replace them individually without having to install a whole new flooring.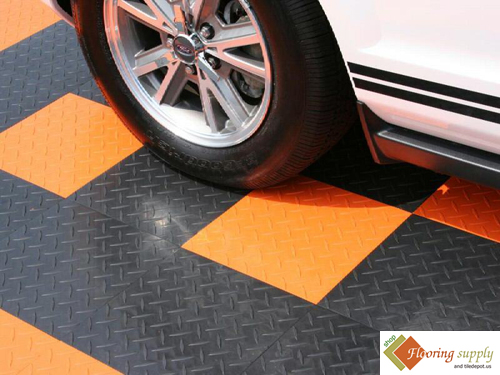 Garage flooring are usually made of cement. A cemented floor gives a monotonous look, hence in order to make your garage a little more appealing; one can resort to a number of options that can enhance the visual outlook. Painting is one of the most common and simplest garage flooring options, which adds color to the otherwise boring gray floor. It is important to choose the right kind of paint which can withstand the assault from things such as chemicals, heat, and obviously vehicle weight. In addition, it should bond effortlessly with the concrete slabs. It should not peel or scratch under consistent use. Epoxy and latex paints are most commonly used paints, which protect the concrete slab from dirt, oil and grease. These are available in wide range of colors and textures, which blends well with garage wall's color.
Floor mats are another viable option, especially for homeowners on a tight budget. These are available in different sizes, shapes and material, including laminate, vinyl and rubber. The floor mats are easy to install, highly durable and can withstand everyday wear and tear. In addition, these are resilient, stain resistant and require low maintenance. These mats shield the floor from moisture, dirt and mold build-up. You can yourself install these mats, which fit the exact size of your garage.
Hence, depending upon your budget and use of garage, you can choose amongst these flooring options. Moreover, with the right garage flooring option, you can make your garage, not only functional, but beautiful like any other part of your home.
Copyright © 2010 FlooringSupplyShop.com
The post Different Garage Flooring Options first appeared on Flooring Supply Shop Blog.
ceramic Garage tiles
commercial floors
Garage flooring
Garage tile Floor
plastic modular