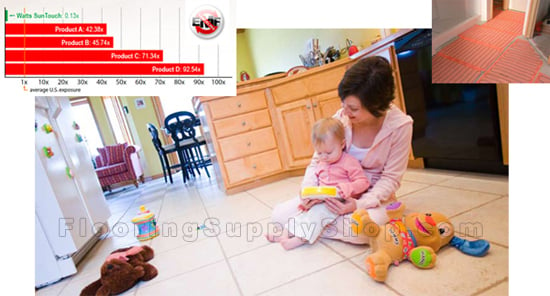 SunTouch Radiant Floor Heating is an underfloor heating system that aids in keeping the indoors as well as outdoors warm. A type of electric radiant floor heating, this low temperature heating system emits radiant heat from under the floor surface that heats the air; subsequently making the house warm. The twin, multi-stranded and oxygen-free copper heating elements form the heart of this system, augmenting its utilization and longevity. Furthermore, the strong synthetic Aramid fibers reinforce these heating wires and add to their longitudinal strength.
The dual-wire technology of SunTouch Radiant Floor Heating allows user to initialize the mat at the thermostat and end at any of the desired locations. Another benefit of this heating system is that the mat can be flipped and turned at 90° and 180°, so as to fill in virtually any shape. The wire can thus be easily released and fitted into angles or curves, leaving no gap. Moreover, the open weave design of the wire mesh facilitates strong bonding of the thinset to the surfaces, both above and below the heating mat. Typically, wire spacing is determined not to exceed 90° C for ideal floor warming application.
For maximum safety, the heating elements are woven to the underside of the mat, and are ringed by a fully shielded grounding jacket. This set up further extends the power lead to the grounding wire in the junction box for the thermostat. Besides the benefits provided by intrinsic features of the SunTouch Radiant Floor Heating, the system has also won accolades for its aestheticism. Unlike heat pumps and vents, this system is laid beneath the floor surface and is thus, completely invisible. Moreover, efficient installation of the floor heating system also avoids the risk of direct contact with the heating element.

This system further delivers an even radiant heat across the whole floor surface; whilst, heating the home from the floor up. All one has to do is program the thermostat as per the lifestyle, and the rest is assured by the system itself. Optimization of energy costs due to rapid distribution of heat, easy regulation of temperature, and precise control of heating are other advantages of the system. Moreover, the uniform heat spread does not create heat droughts that lift up dust and allergens. Thus, the SunTouch Radiant Floor Heating enables user to achieve a uniformly heated home in a healthy way.
Owing to all these advantages, the SunTouch Radiant Floor Heating has rapidly replaced conventional heating systems like boilers and heat pumps, which are inefficient as well as expensive.
You can learn more when you visit www.flooringSupplyShop.com
Copyright © 2010 FlooringSupplyShop.com
The post The Facts about SunTouch Radiant Floor Heating first appeared on Flooring Supply Shop Blog.
electric floor heating
floor heating
Heated floor mat
heated floors
Radiant Floor heating
radiant floor mat
sun touch heating system
SunTouch
tile heating
under floor heating