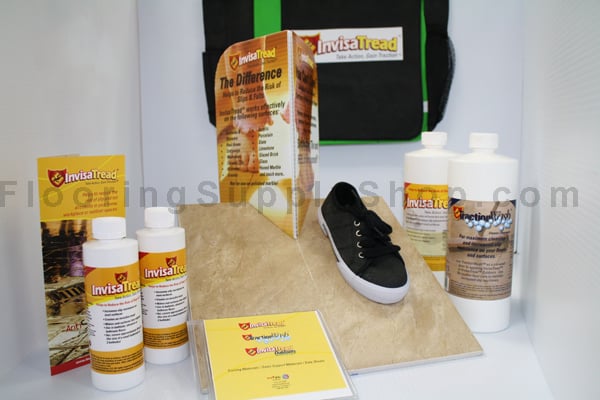 "Contractor's Toolkit" at the Total Solutions Plus 2010 tile contractors industry conference scheduled Nov. 4 to 6 in Naples, announced Todd Sherman, the firm's chief executive officer. InvisaTread is a new, safe-to-self-install anti-slip product available through national, regional and local distributors; the low-cost Contractor's Toolkit has been developed to offer tile and stone professionals an additional, affordable business line.
The annual cost of nuisance claims and legal settlements related to slip falls in the United States exceeds $10 billion annually. This does not account for the loss of productivity or lost opportunity cost. "Homeowners and commercial property owners would readily welcome a service that increases safety and lowers liability," Sherman said. "Although anti-slip products have been in the marketplace for 25 years, few tile and stone contractors have embraced them as a revenue stream until now."
Why? According to Sherman, the category of safe-to-self-install anti-slip products has been absent in the marketplace. Opportunities for individual contractors to get involved have been offered through costly franchises, or ventures requiring a large investment in a new business and costly product inventory requirements.
"Anti-Slip Solutions has changed both the chemistry and distribution model for anti-slip technology," Sherman said. "The development of the InvisaTread product began with the premise that the flooring industry needs a simple after-market solution to address a balance between too little coefficient of friction and too much. InvisaTread has been formulated with both the safety to the installer and the surface in mind."
InvisaTread increases the coefficient of friction (COF) of most hard-mineral surfaces while preserving their look and feel. The InvisaTread Traction System has been designed as an ongoing program that maintains increased traction for a number of years. And while the products are available to the DIY market, most homeowner and commercial landlords will prefer to engage contractors as surface experts, according to Sherman.
The InvisaTread Contractors Toolkit, at a $75 suggested retail price, includes over $50 in product and provides a training and certification program to ensure that tile and stone professionals have the skills and tools needed to sell the program, safely install the product, and provide guidance to their customers for ongoing traction management. The Kit includes product samples, surface spec sheets, marketing and demo tools, and, more importantly, support from distributors and Anti-Slip Solutions customer support line.
Early enthusiasm for InvisaTread® illustrates how hungry tile and stone contractors are for opportunities to expand their income-producing activities, Sherman noted. "We have met with hundreds of contractors, and they are excited about the opportunity to incorporate our product as a 'buy-as-you-go' add-on for their businesses," he said. "The kit, itself, can produce thousands of dollars in revenues, not to mention a long-term opportunity for contractors to grow their revenue streams by connecting with both new and existing clients."
Visit Anti-Slip Solutions at Total Solutions Plus 2010. The National Tile Contractors Association, the Ceramic Tile Distributors Association and the Tile Council of North America are sponsoring the conference and tabletop display event at the Naples Grand Beach Resort.
The post Anti-Slip Solutions to Unveil Invisatread Contractors Tool kit first appeared on Flooring Supply Shop Blog.
Anti-slip Solutions
Bath Tub Protection
Bathroom Safety
Child safety
Invisatread
Pool Safety
Safety Products
slip and fall protection