New Product Introduction InvisaTread® Anti-Slip Solution

The InvisaTread® line of anti-slip products provides a safe and easy to install solution to all of your slip problems.
InvisaTread does not change the look or feel of most surfaces and is safe for self-install.
Our slip resistant treatment increases the coefficient of friction on your floor making it less slippery when wet. InvisaTread is not a coating that will rub off, but rather a safe and effective process that will last for multiple years depending on traffic – you won't even know it's been applied to your floor until you feel the increased traction you get while walking on the wet surface. Everyone knows that the floors around your home, work or pool area are dangerous and slippery when they get wet.
Did you know that slip and fall accidents are the 2nd leading cause of emergency room visits in the United States? Applying InvisaTread to your floors will help reduce the risk of slip and fall accidents on wet floors and make your floors and surfaces a safer place for your friends and family and employees. InvisaTread can be applied to bathtubs & showers, porcelain, ceramic tile, granite, terrazzo, limestone, pool areas, honed stone, concrete, acrylic, slate, glazed brick, glass and more.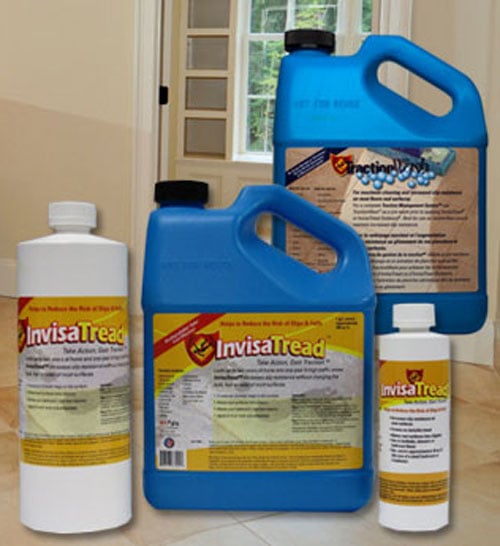 The InvisaTread® family of products is not recommended for Polished Marble.
The post Introduction InvisaTread Anti-Slip Solution first appeared on Flooring Supply Shop Blog.
Anti-slip Solutions
Bath Tub Protection
Bathroom Safety
Child safety
Invisatread
Pool Safety
Safety Products
slip and fall protection