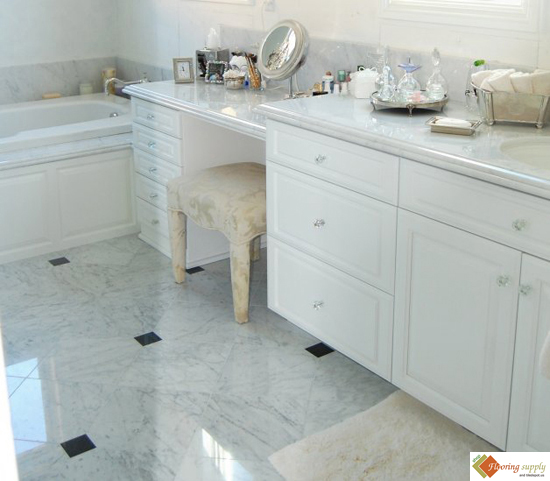 Of the numerous flooring options available, a lot of people are opting for Marble flooring for their homes. Marble flooring is not only durable but also adds to the visual appeal of the house. Hence, while considering to build or to renovate your house, you can consider Marble as the flooring option, that will give a whole new look to the place. Marble flooring is probably the best long term investment in home surfaces, which increases the overall value of your asset.
Marble flooring is also popular due to its availability in various styles, colors, designs and patterns; which can easily be coordinated to match any kind of home decor. Moreover, the smooth, shiny, glossy Marble is naturally available, which makes it a green flooring option. It is easy to install and if done properly, it has minimal chances of breaking. Marble is a poor conductor of heat which helps in keeping the house cool and comfortable, especially in areas with warm climate.
Attractive and exclusive, the beautiful natural stone is available in different varieties. The veining, which is also referred to as 'Marbleized', are small lines of color that give the stone its unique look. These stones are available in 'gloss surface' which makes it shiny and reflective. In contrast, if you want a dull surface, you can use Marbles which have undergone the tumbled process. 'Tumbling' is a process that distresses and ages the stone to make it look dull and buffed. One can even choose the honed Marble which has a flat, matte or satin finish. The honed Marble has a lower risk of etching, where due to everyday foot traffic the initial polish of the surface is removed.
In contrast to the giant slabs available earlier, Marble nowadays is available in tiles which are easy to handle and install. One can also use Marble to make mosaics and interesting patterns that increase the visual outlook of the place. The biggest advantage of Marble flooring is that it provides a durable and long lasting surface which never needs replacing.
However, Marble though, is not the most preferred choice for flooring amongst homeowners as it can be quite expensive. However, with its numerous benefits, the demand for Marble flooring is increasing every day.
It may also require occasional re-sealing, depending upon the foot traffic, and also polishing and buffing, in case it gets dull. Marble requires proper maintenance and cleaning. One must be careful not to use the cleaning agents which contain chlorine or are acidic as it can harm its sheen.
Marble is available in unique shades with sophisticated sheen. It is durable and easy to install that blends beautifully with every kind of decor. Moreover, this smooth and polished surface provides an elegant feel to the place. Hence, if you are looking for a great flooring option for your home, which not only is durable but beautiful as well, choose Marble flooring; since it offers a timeless visual appeal and a grand look.
Copyright © 2010 FlooringSupplyShop.com
The post Marble Floors Good or Bad first appeared on Flooring Supply Shop Blog.
ceramic bathroom tiles
Ceramic tile
Flooring Tile
glass tile
granite
marble
Metal Tile
mosaic tiles
shower tile
stainless steel tiles