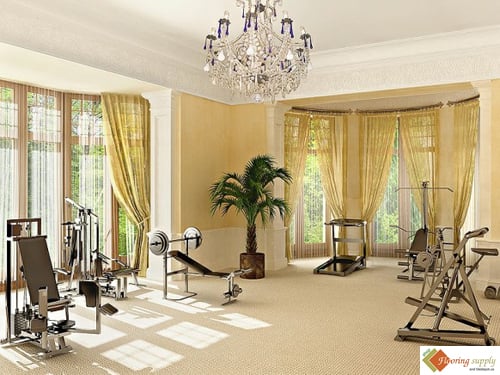 Being healthy is what every individual yearns for, and the chase for fitness is ongoing for ensuring a better lifestyle. Shortage of time in today's busy life makes it impossible to regularly visit gyms, fitness clubs, and other such places. In order to solve this problem, homeowners are increasingly opting for personal home gyms.
Home gym is a great addition to your home, as you have the freedom to exercise whenever you get time. Whatever short-term expenses you incur in designing the home gym, proves beneficial in the long run. This is so because you do not to spend money on paying any fees or on traveling to the fitness center. Hence, a home gym aids in keeping you and your family healthy along with saving a good amount of money.
Arranging gymnasium equipment in your house is a simple process, but designing the gym room properly can become tedious, for which, you need to be little patient, until the room becomes operational. There are several experts who can assist you in arranging and maintaining a home gym. With their guidance and assistance, you need to make a few right choices while designing the room, so that you own a gym where you would love to go and spend quality time by exercising.
Select a room that is large enough to accommodate various exercising equipment. In case your room is not that large, you can put a wall-size mirror to visually enhance the size of the room. Make the room interesting and attractive with the help of happy colors, wall murals and artwork. You can even hang photos of models on the wall with the ideal body you are striving to achieve. Additionally, you can also install music system in the room so that you can enjoy relaxing music while exercising. If you wish, you can even install a television set, where you can catch the latest news updates or matches while exercising.
With the advancement in technology, there are several user-friendly exercising equipment available in the market. Amongst these options, you can easily find equipment that matches your requirements and budget. Buying a treadmill is the best choice if you enjoy walking or jogging; however you should purchase bicycle if you enjoy cardiovascular workout.
It is usually recommended that before you purchase any of this equipment, you must consult an expert. It becomes all the more important to seek professional help if you are totally unaware about the various equipment. You should only purchase branded equipment, as these are safe and often come with a guarantee against manufacturing defects. Additionally, keep in perspective the size of the gym room while purchasing equipment so that you buy only those equipment that will easily fit into the room.
Thus, considering your requirements and budget, along with these simple guidelines, you can easily design your home gym.
Copyright © 2010 FlooringSupplyShop.com
The post Home Gym A Great Addition to Your Home first appeared on Flooring Supply Shop Blog.
fitness equipment home gym
fitness home gyms
home gym exercise equipment
strength training gym