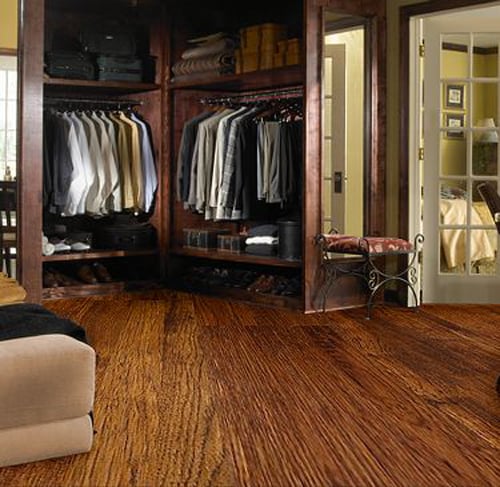 Wood paneling adds rich elegance to the decor of any place, be it a living room, dining room, foyer or stairways. Since ages, it has been one of the most preferred home decorating styles, which is not even too difficult to maintain. The Hardwood Molding or Paneling is available in wide range of options, varying in terms of surface finish, patterns, layout, and dimensions. Depending upon your choice, you can either go for waist high paneling or for entire wall wood paneling. For an old-world charm, you can choose amongst different styles like Queen Anne, Colonial, or Georgian. Not only does it adds a touch a class to the room, but can also be used for concealing visible wiring, switchboards or any kind of wall imperfections.
There are different types of wall paneling options to choose from, such as the raised wood panels. The raised wood panels represent the colonial period of American architecture and are available in just about any type of wood. These are generally installed in the lower third of the wall and transform it from ordinary to extraordinary, along with adding class to room. However, if you wish to add old west character to your home, you can select the knotty pine wood paneling. Mostly sold as tongue and groove boards, the wood surface of these panels has knots and strong grain, giving uniqueness to the room.

Another popular wood paneling option is the cypress wood panels that are sold as tongue and groove panels. These are highly sought-after by homeowners because the cypress wood panels are not only appealing and beautiful but are also resistant to insects, rot or decay. Cypress wood paneling may not be the cheapest option available but it is still a great investment that can drastically enhance the appearance of any house and add to its value. In contrast, a more economical but attractive wood paneling option is the beadboard, which is a wood siding with vertical lines, also referred to as beads, engraved on the surface. In order to achieve a stunning outcome, you can install these in a similar fashion as raised wood panels. You also have the option to choose between the veneered and solid wood beadboard panels.
You can also opt for the recessed and flat wood paneling that are often installed on the lower half or third of the wall. These are generally plain and simple, and are often finished naturally or painted, instead of being stained. It is advisable to seek assistance from an expert craftsman regarding the layout, for getting the desired results. Besides these, there are various other wood paneling options available in the market, such as rough sawn plank boards and log siding.
Depending upon the desired results, you can choose dark or light wood wall paneling to change the overall look of your house. Since there are numerous shades of wood available in the market, it can easily blend with any kind of decor. Moreover, these are easy to install and can be done by experienced DIY enthusiasts, without much inconvenience. Owing to all these features, wood paneling has increasingly become one of most preferred choices for enhancing the beauty and character of your home.
Copyright © 2010 FlooringSupplyShop.com
The post Add a Touch of Class by Installing Hardwood Paneling first appeared on Flooring Supply Shop Blog.
Hardwood floors. Laminate flooring
hardwood molding
wood paneling