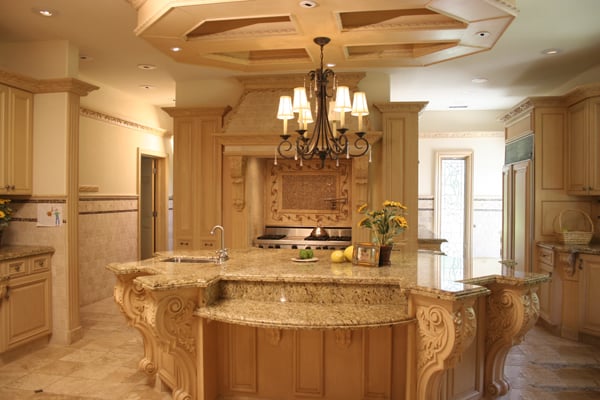 It is generally believed by homeowners that kitchen and bathroom are two of the most important areas for a renovation project. This is so, since these areas are exposed to high moisture content, and the flooring in these areas gets affected by moisture very easily. Some of the factors that can affect your decision to select a flooring option for your kitchen include; your budget, design consideration and your usage of the kitchen.
Most people select different flooring for each room in their house. However, selecting common flooring in all the rooms of the house is a popular trend that is becoming popular day by day. So if you are looking to change the flooring of your kitchen, you can select the same flooring as that in the surrounding areas. This continuity will give your house a more comfortable and attractive look. Some flooring options such as stone can be laid in the kitchen as well as other surrounding rooms effectively.
Going green is the latest trend in kitchen flooring. Flooring material such as stone, tile and porcelain would be ideal in your kitchen. Furthermore, wood and wood laminate would also enhance the aesthetic look in your kitchen. However, in case you are opting for wood or laminate, you should select a dark shade and thick grained flooring for maximum utility.
While selecting flooring for your kitchen you should give more emphasis to practicality rather than aesthetics. For example, if you have kids and pets in your house you should opt for a strong and durable option, such as stone. This is so since other material such as hardwood and laminate can scratch easily. Even certain varieties of porcelain, which is considered to be a tough material, can crack and chip easily in the kitchen.
In case you are looking for a low budget option that offers aesthetics, as well as durability, then laminate would be the ideal choice. Laminate would imitate the looks of hardwood flooring, but would offer better durability. Furthermore, the cost of installing laminate flooring is quite reasonable as compared to other flooring options. The low cost and high aesthetics of laminate make it a preferred choice, not just for the kitchen floor, but for floors in other rooms as well.
Talking to a professional flooring contractor is generally a good idea since they would be able to determine the right flooring option for your kitchen. A professional will not only help you determine your flooring requirements but will help you with the purchase process as well. A flooring contractor will ensure that your kitchen flooring offers maximum value for your investment in it.
Kitchen is one of the most actively used locations in a house; therefore, it becomes essential to select the right flooring option. Not only should the flooring match with the decor of your house but should also be easy to maintain and clean. Vinyl, stone and laminate are considered to be ideal options for the kitchen floor. The right floor will go a long way, in the way your kitchen looks
Copyright © 2010 FlooringSupplyShop.com
The post Flooring advice for your kitchen first appeared on Flooring Supply Shop Blog.
Ceramic tile
counter tops
DIY
kitchen flooring
kitchen remodeling
kitchen tile